Shopping for an adjustable workbench is a bit like putting a puzzle together. All of the features you choose fit together like puzzle pieces to create a satisfying finished product.
Yet if you lose a puzzle piece, or in this metaphor, forget to include a feature in your workbench's design, the end product can feel incomplete.
Adjustable workbenches play an important role in your lab or manufacturing space. Designing the perfect workbench involves considering how the space will be used and who will use it. Here are 6 items all adjustable workbenches should have to ensure your workers are not only efficient and productive, but happy.
The right lift mechanism

The proper weight load capacity

Ample storage space

Organizational tools

Countertops that withstand your conditions

Attachments and casters for final touches
The Right Lift Mechanism
Adjustable workbenches are just that … adjustable. They essentially shorten or elongate the legs of the bench so that an employee can sit or stand at a supportive level. This feature allows employees of all sizes and heights to adjust the workbench to a more comfortable level while working.
There are typically four types of adjustable workbenches available:
Slot adjustment

Hand crank

Hand crank with hydraulic features

Electric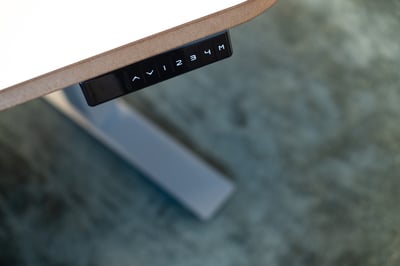 Which lift mechanism is best? The answer to that question often depends on several factors, such as your budget, the number of workers who use the same bench, the lift capabilities of your employees, and the level of ergonomics you wish to achieve in your workspace.
Slot Adjustment Bench
A slot adjustment bench allows a worker to make adjustments by raising the work bench legs and removing bolts or spacers. While employees can adjust the height of the bench, this design isn't the most ergonomically-friendly option because it requires the worker to manually lift the bench.
Hand Crank Workbench
A hand crank adjustable height workbench is also manual in design, but allows employees to rotate a hand crank to lift or lower the bench. A hand crank makes the process easier for workers, but if there are heavy objects on the bench, it may be difficult to raise and lower the worksurface.
Hand Crank Workbench With Hydraulic Features
When cranked, the hand crank workbench with hydraulic features uses hydraulic fluid in the cylinders to force the shafts in the adjustable workbench legs to elevate. This pressure that lowers or lifts the work surface makes the process easier, especially with heavy duty workbenches that hold heavy loads. Depending on the workbench you purchase, hydraulic adjustable versions can lift up to 1,000 pounds.
Electric Workbench
An electric adjustable height workbench provides the highest level of ergonomic support because an employee can lift or lower the surface with the simple push of a button. If there are heavy work tools on the bench, a bench with an electrical component will also require less physical effort to raise the bench than hand cranking the bench.
Depending on the model, you may be able to preset positions for convenience as well. This can come in handy if multiple workers use the same bench in multi-shift operations. However, electric workbenches are often among the most expensive to buy. Yet this type can also typically handle higher weight capacities, and you don't have to worry about oil leaks that may come with hydraulic benches over time with heavy use.
The Proper Weight Load Capacity
As we mentioned above, the type of adjustable workbench you choose must be able to support the tools and other items used on a daily basis. It's important to examine the weight of the tools and materials that your employees are using before you choose an adjustable bench.
Heavy duty benches will typically support weight load capacities of about 5,000 pounds. However, the width of your workbench can impact how much it can support as well. For example, if the workbench is 96 inches wide, the weight capacity will usually go down to 4,000 pounds.
Standard workbenches can handle weight load capacities of between 750 and 1,000 pounds. Extra heavy duty workbenches can handle much heavier objects, with weight load capacities as much as 20,000 pounds.
Ample Storage Space
While workbenches have tabletops where employees can perform tasks, many workbenches also store tools and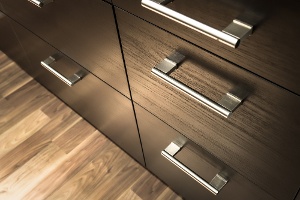 accessories used during a worker's shift. Customizing the design of your workbench to include storage space is an important consideration that can easily be overlooked.
Manufacturers that make workbenches in bulk often don't offer many options when it comes to storage space. That's why it's important to work with an industrial furniture company that is experienced in working with companies like yours to design a product that enhances productivity in your space.
For example, an adjustable workbench with drawers can come in a variety of designs and configurations. Here is one example that shows the different possibilities using the same amount of space:
Four 3-inch drawers and two 6-inch drawers

Two 3-inch drawers and three 6-inch drawers

Eight 3-inch drawers

Four 3-inch drawers and one 12-inch drawer

Four 3-inch drawers and one 12-inch locker (with left or right opening)
Design elements like full extension and heavy duty roller bearing slides, which allow you to effortlessly open and close drawers, are important to consider as you design your drawers, as are your security requirements and handle options.
Other storage features to consider include upper storage cabinets and a lab bench shelf. Shelves can be customized in size, material and load-bearing capacity as well. For example, laminate shelving can hold up to 250 pounds when evenly distributed, while steel shelving can carry up to 300 pounds.
Organizational Tools
In addition to storage solutions, an adjustable workbench that has ample organizational tools can take its design to the next level.
Some organization features to consider include:
Articulating monitor arms that can accommodate flat screens and laptops

Keyboard trays that can be added to any work surface or articulating arm

CPU holders that can be fixed or adjustable

Pegboards that can be added between the uprights to attach tools

Bin rails or panels to store parts and accessories
Don't forget to consider any lighting needs as well when trying to organize your workspace. An out-of-place desklamp can get in the way of an organized space, so when designing an adjustable workbench, consider solutions like under-shelf bulbs that brighten up specific areas or above-head lighting.
With the right design, items like electrical strips, outlets, USB ports and emergency power sources can be strategically placed on or around the adjustable workbench for a highly organized space.
Countertops That Withstand Your Conditions
If the countertop material that rests on your workbench can't withstand the conditions of your space, your workbench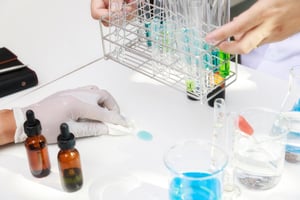 won't function as intended. You'll be left with a large unusable adjustable workbench despite all of its other benefits.
There are several table top worksurfaces to consider. Your options primarily revolve around which harsh conditions you have present in your workspace.
Here are some of the most commonly found materials in laboratories and manufacturing spaces:
Phenolic Resin: Typically used in labs, and are designed as one solid, lightweight countertop that is durable and long-lasting.

Epoxy Resin: Durable and non-porous, and holds up very well under harsh and extreme conditions such as high heat.

Solid Surface: Solid surface countertops are often made from acrylic or polyester resins and feature a filler material. They are non-porous and water-proof, and feature many different customizable looks.

Chemical Laminate: This countertop choice is budget friendly and is produced by layering melamine resin, layers of wood fibers and phenolic resin-impregnated Kraft paper with a decorative substrate. They are highly protective against chemical agents.

High Pressure Laminate: Used for basic, non-extreme applications. While they are functional and durable, they're also very affordable.

ESD laminate: This material provides a safe work surface for environments where static electricity is a concern. As an added benefit, ESD laminate surfaces are also resistant to staining and chemicals that include acetone, gasoline and 10% ammonium solutions.

Stainless Steel: Resistant to bacteria, rust and corrosion. They also are stain and heat resistant. This makes stainless steel an ideal choice for laboratories where high heat and open flames are used.

Butcher Block: Traditionally used in woodworking and basic assembly applications. While this type of countertop is sturdy, it's also porous and can dent easily. This type of material likely isn't an appropriate choice for a laboratory workstation unless used in non-work areas or in labs where abrasive chemicals are not handled.
The budget you have for the design of your workbench will also play a significant role that may leave you choosing one material over another. For example, phenolic resin and epoxy resin are two very similar materials in the benefits that they offer, including high resistance to bacteria and chemicals.
Where they differ is their resistance to high heat exposure and their price. Epoxy resin is extremely resistant to continuous high heat exposure, but that benefit comes at a cost. Epoxy resin typically runs as much as $100 to $200 per square foot. On the other hand, phenolic resin is just $15 to $18 per square foot (and increases based on modifications specific to your needs).
If continuous high heat exposure is not a concern for your adjustable workbench, but you need the other benefits that both materials offer, choosing phenolic resin can be the better option for your budget.
Attachments And Casters For Final Touches
Now it's time to put the final touches on your adjustable workbench design.
Attachments can increase the comfort of your workbench, as well as make it more ergonomically-friendly.
For example, a footrest tube is a simple steel bar that is mounted between the legs on opposite sides of the bench, while a footrest pan is made of steel tubing and includes a steel pan that can be tilted up or down for an operator's comfort. The pans often include non-slip friction tape.
Another option is a freestanding footrest. This type of footrest connects to the leg, but has independent adjustments for the foot pan height and angle. A freestanding footrest is often used in clean room applications.
If you need a workbench that is mobile, you will want to make sure you include casters as part of its design. Casters are a key part of what makes a mobile workstation furniture movable. However, a caster isn't simply a wheel. Casters also help determine how much a workstation can hold and contribute to the overall height of a workstation.
Casters, which fit at the end of the legs, should align with the weight load capacity of your bench. Casters bought through an office supply site may only hold a few hundred pounds, for example. In an industrial setting, casters that have a weight load capacity of closer to 1,000 pounds when using all four casters are more suitable.
Other features to look for include:
Whether all four wheels lock

If they swivel in place, whether when locked or unlocked

Whether they are adjustable in height
Casters also come in a variety of sizes, from 1.25 inches to 4 inches, depending on the size of your workbench.



An Adjustable Workbench Manufacturer For Your Needs
The best adjustable workbench manufacturer will offer the customizations suggested above, as well as help you consider any details you may not be thinking of as you design the perfect workbench for your space.
Laboratory furniture manufacturers should be experienced in your industry and offer supplemental products that further maximize your workbench like industrial furniture chairs.
High quality companies will also thrive at communicating with their clients by providing reliable lead times and delivery options. Designing an adjustable workbench is just one part of an important process … getting it to your facility in a timely manner ensures your manufacturing processes can continue on a timeline that works best for your business.