When you are building a lab, selecting the countertop material is one of the most important tasks. Chemical Laminate is one of the options that is worth consideration.
What is Chemical Laminate?
Chemical laminate is produced by layering melamine resin and layers of wood fibers and phenolic resin-impregnated Kraft paper with a decorative substrate that gives the countertop it's pattern. This creates countertops that are readily available in a variety of patterns, colors and designs.
Laminates are often used in homes in kitchens and bathrooms. But the specially treated laminates used for lab countertops are designed to stand up better to harsh conditions and exposure to chemicals than the versions created for home use.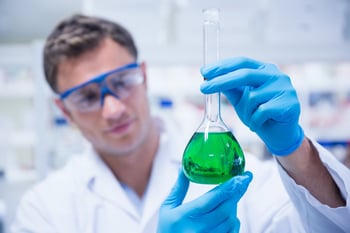 Properties of Chemical Laminate
The work surface of a counter made from this specialty laminate is decorative as well as functional, because its layers provide color or pattern that shows on the surface. They are designed to offer light to moderate resistance to non-flammable, non-corrosive and non-volatile chemicals.
This laminate countertop is not recommended for prolonged exposure to wet conditions or high heat, because the surface will eventually break down. However, it will hold up well under exposure to many chemicals. This makes it functional and durable.
Why You Should Select Lab Countertops Made from Chemical Laminate
If you are looking for laboratory work surfaces that look good and hold up to chemical exposure, you may find that these countertops are a good choice for the following reasons:
Heat Resistance - Chemical resistant laminate countertops resist heat up to 275° F.
Lead Time - They are available relatively quickly.

Moderate Price -

It is less expensive than epoxy resin and stainless steel.

Chemical Resistance -

stands up to acids, bases, salts, halogens, organic chemicals, solvents and biological materials.
Because they are readily available in a variety of shapes and sizes, including custom layouts, you can easily and cost-effectively create an attractive lab that stands up to many chemicals.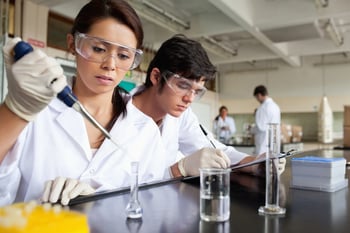 However, this type of laminate may not be the right choice for labs that work with high heat processes or flammable chemicals. Prolonged exposure to water may cause the countertop to delaminate along edges and seams, so they are best used in labs with dry chemicals or where spills are easily cleaned. They offer low fungal, bacterial and corrosion resistance. They can also scratch or chip under impact with sharp objects, so they are not good for use as a cutting surface.
In addition to their good looks, easy availability and chemical resistance, these lab countertops are a good choice. They are less expensive than countertop materials such as stainless steel, and more durable than materials in many countertops that cost the same or less.
These laminate countertops are ideal in any lab that performs tests that require easily decontaminated surfaces that are chemical resistant and hygienic as well as decorative. They are often used in dental and pathology labs, darkrooms, product test labs, urology labs and mixing areas in chemical mixing areas in beauty salons.
If lab operations are a core part of your business, you need countertops that will stand up well to the unique conditions in your lab. You can see a comparison of the top 5 materials to consider for your lab countertops in our previous article.
However, the best way to decide on the best mix of cost and countertop properties is to work with an expert in laboratory countertop materials and design.