You purchased chairs for your laboratory or industrial space less than a year ago and you are already having issues with them...casters are falling off, the seats are tilting and functions are no longer working.
The problem is that you bought inexpensive chairs to save money.
Cheap prices often lead to low quality and higher higher costs in the long run, especially when they are used in laboratory and industrial applications.
A high-quality chair plays an important role in the safety, comfort and health of your employees.
Even in industrial workplaces, many employees spend long periods of time sitting. That's why it is important to find a chair that ergonomically supports your employees but also has the functions to help ensure their productivity and safety.
Purchasing any piece of furniture for your workspace is a big investment. So, managers must make sure they are getting the best bang for your buck.These chairs must not only suit your employees' needs, but also maximize your return on investment.
To help navigate your options, we've compiled a list of features that should be considered when making this investment.
Material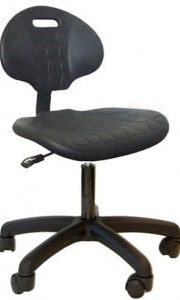 Quality materials and design are important in any setting, but especially in laboratories and industrial settings.
There are three options that are typically used in laboratory and industrial applications...fabric, vinyl and polyurethane.
While fabric may provide more comfort, it typically doesn't wear as well as vinyl, particularly when chemicals are present. Vinyl, on the other hand, typically resists stains more, is easier to clean, and is more durable.
Polyurethane is another tough material that is synthetic and appropriate for work in harsh conditions.
If static electricity poses a danger in an industrial setting, choosing a fabric or vinyl that prevents a charge created by friction should be another consideration.
To learn more about how these materials stack up, you can read our article, Vinyl vs Fabric - Which One Is Best?
Comfort
Poor posture over a long period of time can lead to several health complaints, from back pain to tension headaches and even slipped discs. Investing in chairs that keep employees comfortable and productive can minimize these risks.
Ergonomic chairs include features such as:
Sturdy frames

Adjustable heights

Comfortable backrests and seats
It's also important to choose seating that can be customized for comfort, since a workforce typically features various body types. Some chairs have weight limits as well, so look for options where each employee can use them safely and comfortably.
Warranty
With any investment, ensuring that there is a warranty with good coverage is essential. When buying a product, you get what you pay for. But, it's always a good idea to ensure there is a good warranty in place in case any chair needs to be repaired or replaced prematurely.
Look for manufacturers that give at least a 7-year warranty for parts and replacement.
If there is no warranty, don't waste your money.
Here are some other questions to ask when investigating a chair's warranty:
When does the warranty begin - time of purchase or delivery?

Should you register the chairs to validate the warranty?

What situations void a warranty?

Who is contacted should a claim need to be made - seller or manufacturer?

Does the warranty guarantee replacement, or are there situations where the manufacturer will instead service the chair or provide a transaction?

How long does it take for a warranty to be honored and the chair to be replaced or serviced?

Is there an option to extend the warranty? What is the cost, and is it worth the additional investment?
Service
Some chairs may require routine service, so it's important to check whether manufacturers will provide servicing, or if that responsibility falls to internal personnel. This is important because some warranties will become void if a chair is serviced by unapproved technicians.
If an industrial chair requires a more specialized technician, this may be an additional cost that should factor into your overall decision.
When examining this component, take into account the expected usage of the chair. If a chair is used regularly on a daily basis or multiple shifts, the more important performance will be.
Third-Party Certification
Quality of workmanship is an important factor when considering purchasing industrial furniture. After all, ensuring the durability of each chair helps maximize the return on investment.
However, knowing whether a chair will perform as advertised is difficult unless the product has been third-party certified. The Business Institutional Furniture Manufacturer's Association (BIFMA) performs rigorous testing on office furniture to make sure it meets the highest standards.
The American National Standards Institute (ANSI) also has put into place more than 1,200 standards to protect consumers, the workforce and public.
To determine whether a chair meets the combined standard from both organizations, a series of tests are conducted. Various parts of the chairs are tested, including the:
Back pull

Unit base

Seat drop and seating impact

Swivel and tilt mechanisms

Stability

Arm strength

Back durability

Caster durability, swivel and rolling

Foot-ring durability
Read more about why you should only purchase ANSI BIFMA-approved furniture in our article, The Benefits Of Purchasing ANSI BIFMA Certified Laboratory Chairs.
Price
Although cost is often a top consideration with any purchase, the sticker price isn't the only item to examine. The price of the chair is not the only cost included in the total cost of ownership.
As mentioned above, other factors can influence the price of a chair, including service fees, warranty issues and amount of use. Other items that can add to the total cost of the chair over its lifetime include:
Assembly costs

Repair costs

User efficiency

Additional operating costs
Bottom Line
It can be a challenging task to find the right industrial or laboratory furniture for your operations. Finding the right supplier can help streamline this process and support your decision. A good supplier will help find the chairs that meet the needs of your workers, and will provide assistance during the buying process - and beyond.
Buying office furniture can be a significant investment, but by following these tips on what to consider when researching your options, it will help ensure you are satisfied with your purchase - now and in the long-term.