When it's time for an upgrade of your mobile workstation furniture, you are faced with what can feel like an overwhelming host of choices.
After all, industrial or laboratory workstations can make or break a workspace, impacting productivity, efficiency and employee health.
If you're in the process of upgrading a current workstation or designing a new workstation, there are several factors to consider, from the amount of storage space you need to your company's long-term outlook.
Designing a good workstation is a bit like putting together a puzzle. Individually, the pieces serve their own purpose. But when put together, they create a well-configured, productive workstation that serves as an important tool in your workspace.
Need some ideas on what pieces have the most impact on a mobile workstation? Here are 6 must-have upgrades for your mobile workstation furniture.
1. A Caster Isn't Just A Wheel
There's more to a caster than its wheels when it comes to heavy duty workstations in industrial workspaces. Casters, which allow for the movement of a mobile workstation, are important because they help determine how much weight a workstation can hold if it is mobile. They also contribute to the overall height of a workstation.
If you are upgrading your workstation, make sure you take into consideration the casters that will support it. Casters bought online may only hold a few hundred pounds and are more suited for office environments.
In an industrial setting in which heavy duty workstations are used, you will want to incorporate casters that have a weight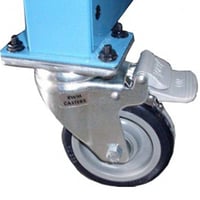 load capacity of around 1,000 pounds when using all four casters.
Other features to look for include:
Whether all four wheels lock

If they can swivel in place, whether when locked or unlocked

Whether they are adjustable in height
2. Work Surfaces For Long-Term Planning
When upgrading the work surface of your mobile workstation, it is important to determine what tasks will be performed at the workstation now AND what tasks may be performed in the future.
Choosing the right work surface can have long-term implications, especially if your laboratory or manufacturing space expands or changes the work performed there altogether.
It's important to get this upgrade right now so that you don't have to undergo another costly upgrade down the road.
If the countertops on your workstations must be resistant to bacteria, chemicals, corrosion, moisture, heat or other damaging elements, you will want to check out our article, Top 5 Materials To Consider For Your Lab Countertops, which breaks down the pros and cons of phenolic resin, epoxy resin, stainless steel, chemical resistant laminate and high pressure laminate.
Other materials to consider are ESD laminate (if sensitivity to static is a significant issue) and butcher block (if woodworking and basic assembly applications are only being performed).
3. Storage And Organization Is A Must
Additional storage is one of the most common reasons for an upgrade of mobile workstation furniture.
Maximizing your industrial workbench with drawers is important because you want to provide employees with the setup they need to be both efficient and comfortable.
For example, when upgrading the drawers of a workstation, look for features like full extension and heavy duty roller bearing slides. These will allow you to effortlessly open and close drawers no matter their contents.
How drawers are configured can also impact storage space. Although larger drawer dimensions mean more storage space, the configuration of the drawers can make a difference in practical use. For example, the same space can hold eight 3-inch drawers or two 12-inch drawers.
If security of a workstation's contents is a concern, look for drawers that can be locked, whether they are keyed the same or differently.
Other organizational accessories that can be upgraded and that help promote productivity include:
Shelving and upper cabinets

Pegboards that can hold tools

Keyboard trays and articulating monitor arms

Bin rails or panels that can hold parts and accessories
4. Critical Utility Options Not To Miss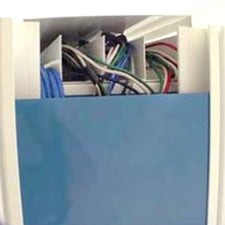 Utility options are critical tools needed during the assembly of products and other applications. When upgrading, consider some of the following options to enhance a workspace:
A utility ductway for data, air and gas that can be attached to the upright

Overhead lighting, such as LED lighting, which can prevent the need for a desktop lamp

Under shelf lighting that uses LED lighting to provide extra illumination

Power poles that allow wires to drop from the ceilings

Electrical power strips that can be mounted for easy access
5. The Right Seating
While the workstation itself tends to get much of the focus during an upgrade, don't overlook the right seating. After all, the best workstation set-up is a marriage between a workbench and seat.
A high-quality industrial furniture chair plays a significant role in the safety and comfort of employees.
Like workbench tops, a chair's material is an important consideration when upgrading. Typically, three types of material are used in laboratory and industrial applications:
Fabric

Vinyl

Polyurethane
Fabric provides the most comfort, but does not stand up to wear and tear as well as vinyl, particularly when chemicals are present. Polyurethane is a tough material that is synthetic. For environments that have harsh conditions, polyurethane is a great choice.
For spaces that have electrostatic discharge requirements, ESD chairs are also available.
Because employees often spend long periods of time sitting, ergonomic support is also important. Ergonomically-supportive chairs feature sturdy frames, adjustable heights and comfortable backrests and seats.
6. Ergonomic Support For Healthier Employees
Ergonomics goes beyond seating as well. Ergonomically adjustable hydraulic benches have a positive impact on employee productivity in the workplace because they allow workers to choose whether they want to sit or stand.
By using a manual, hand crank or electric control, employees can raise or lower a workbench. This ergonomic design allows a user to lift both the entire work surface and shelves at the same time.
Ergonomically-designed drawers also help optimize a workspace and help prevent repeated strains to the body. Ensuring a workstation has drawers that are easily reachable and accessible can make a major difference in the well-being of your employee.
Customization Is Key
The key to getting the best upgrades that meet your needs is working with a workstation manufacturer that customizes.
To get the most out of your workstation design, the best industrial furniture company will:
Work with you to determine your exact needs

Help you improve workflow with your upgrade

Determine which materials are best for your current and future applications

Offer options for reconfiguration should another upgrade be needed

Emphasize safety and adhere to cleanliness requirements
A manufacturer should also be able to provide you with a clear picture of how your workstation will function in your workspace and complete your design in a timely manner without sacrificing quality.