An adjustable height workbench is an asset to any lab or manufacturing place. This important piece of industrial furniture not only improves productivity, but boosts worker safety as well.
Yet when designing your adjustable height workbench, it's important to get the most out of the workstation. Just like when you build a home, you want to choose a design that best meets your needs and preferences. Not doing so may still leave you with a nice home, but not the ideal living space.
While there are many different ways to customize an adjustable workbench, here are three features you won't want to overlook.
1. The Lift Mechanism
One of the greatest benefits of an adjustable height workbench is its ergonomically-friendly design. Ergonomics centers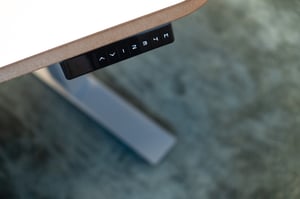 around maintaining a relaxed position that minimizes stress on a person's joints and muscles. The height of a workstation impacts this.
Adjustable workbenches essentially shorten or elongate the legs of the bench so that an employee can sit or stand at a supportive level. This feature allows employees of all sizes and heights to adjust the workbench to a comfortable level.
You typically have four lift mechanism options for your industrial adjustable workbench:
Slot adjustment

Hand crank

Hand crank with hydraulic features

Electric
With a slot adjustment bench, a worker must make adjustments by raising the work bench legs and removing bolts or spacers. This type of bench allows employees to adjust the height of the bench, but isn't the most ergonomically-friendly option because it requires the worker to manually lift the bench.
On the other hand, a hand crank adjustable height workbench is also manual in design, but allows employees to rotate a hand crank to lift or lower the bench. A hand crank makes the process easier for workers, but if there are heavy objects on the bench, it may be difficult to raise and lower the worksurface.
Enter the hand crank workbench with hydraulic features. When cranked, the hydraulic fluid in the cylinders force the shafts in the legs to elevate. This pressure that lowers or lifts the work surface makes the process easier, especially with heavy duty workbenches that hold heavy loads. Depending on the workbench you purchase, hydraulic adjustable versions can lift up to 1,000 pounds.
For many work environments, an electric adjustable height workbench provides the highest level of ergonomic support because an employee can lift or lower the surface with the simple push of a button.
If there are heavy work tools on the bench, a bench with an electrical component will also require less physical effort to raise the bench than hand cranking the bench. Depending on the model, you may be able to preset positions for convenience as well. This can come in handy if multiple workers use the same bench in multi-shift operations.
Is one better than the other? The answer to that question often depends on your facility's needs, as well as your budget.
A hand crank adjustable bench still allows your workers to adjust the height of the bench, but may be more budget-friendly depending on what other customizations you include. No electricity is required, so the work station isn't tied to a particular location.
However, an electric adjustable height workbench is faster, it requires less effort, it can typically handle higher weight capacities, and you don't have to worry about oil leaks that may come with hydraulic benches over time with heavy use.
2. The Work Surface
The work surface on your bench is one of the most important features you will choose. In fact, the countertop you select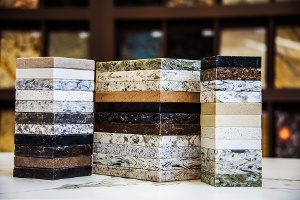 can make or break the entire design. That's because if the material can't withstand the conditions of your lab, your workbench won't function as intended.
There are several table top worksurfaces to consider, including some of these that are most commonly found in laboratories and manufacturing spaces:
Phenolic Resin

:

Typically used in labs, and are designed as one solid, lightweight countertop that is durable and long-lasting.

Epoxy Resin:

Durable and non-porous, and holds up very well under harsh and extreme conditions such as high heat.

Solid Surface:

Solid surface countertops

are often made from acrylic or polyester resins and feature a filler material. They are non-porous and water-proof, and feature many different customizable looks.

Chemical Laminate

:

This countertop choice is budget friendly and is produced by layering melamine resin, layers of wood fibers and phenolic resin-impregnated Kraft paper with a decorative substrate. They are highly protective against chemical agents.

High Pressure Laminate:

Used for basic, non-extreme applications. While they are functional and durable, they're also very affordable.

ESD laminate

: This material provides a safe work surface for environments where static electricity is a concern. As an added benefit, ESD laminate surfaces are also resistant to staining and chemicals that include acetone, gasoline and 10% ammonium solutions.

Stainless Steel:

Resistant to bacteria, rust and corrosion. They also are stain and heat resistant. This makes stainless steel an ideal choice for laboratories where high heat and open flames are used.

Butcher Block:

Traditionally used in woodworking and basic assembly applications. While this type of countertop is sturdy, it's also porous and can dent easily. This type of material likely isn't an appropriate choice for a

laboratory workstation

unless used in non-work areas or in labs where abrasive chemicals are not handled.
Our article, Top 5 Materials To Consider For Your Lab Countertops, helps you narrow down some of the factors that should be considered when choosing a good quality work surface.
3. Storage And Organization
Even an adjustable workbench with drawers can come in a variety of designs. One of the ways you can customize the design of your drawers is by choosing a configuration that best meets your lab space's needs. \
There are several different drawer options when it comes to how you configure them. Here is one example. In the same amount of space, you could fit:
Four 3-inch drawers and two 6-inch drawers

Two 3-inch drawers and three 6-inch drawers

Eight 3-inch drawers

Four 3-inch drawers and one 12-inch drawer

Four 3-inch drawers and one 12-inch locker (with left or right opening)
Drawer configuration is just one of the decisions you shouldn't overlook. Design elements like full extension and heavy duty roller bearing slides, which allow you to effortlessly open and close drawers, are important to consider, as are your security requirements and handle options.
If your workspace requires heavy security, you might want to consider locks on drawers, which can be keyed the same or all differently. Handle options include plastic cup handles, aluminum cup pull handles, full finger steel pull handles that run the length of the drawer, lab-grade aluminum handle pulls and chrome wire pulls.
Other storage and organization features include:
Utility drawers

that come in a variety of sizes and configurations

Shelving

that can be installed below or above the work surface

Upper storage cabinets

with flipper doors

Articulating monitor arms

that can accommodate flat screens and laptops

Keyboard trays

that can be added to any work surface or articulating arm

CPU holders

that can be fixed or adjustable

Pegboards

that can be added between the uprights to attach tools

Bin rails or panels

to store parts and accessories
Finally, a mobile industrial workbench will include casters that make the workstation movable. Make sure the casters are industrial strength and can withhold the weight of your adjustable height work table.
The Right Manufacturer Is Important
While there are several companies that manufacture adjustable height workbenches, working with the right one is important to help ensure you get the workspace your employees need in order to thrive.
Laboratory furniture manufacturers should be experienced in your industry and have a good idea of what types of customizations can help your workers maximize their productivity. They should also offer the customization opportunities we addressed above, as well as others like industrial furniture chairs and electrical components like overhead lighting.
The best manufacturers will think of details even if you aren't considering … a sign of exceptional customer service. Quality companies will also provide reliable lead times and delivery. When you're working on a time constraint, you need your workbench when it is promised so that you can ensure your manufacturing process continues in a timely and efficient manner.