Solid surface countertops provide several advantages in a lab space, from their practical features to their attractive aesthetics.
However, despite the benefits this type of material provides, solid surface may not be best for your laboratory work surfaces.
Other materials such as chemical laminate countertops might be a better choice, especially if your lab deals with harsh chemicals.
Below are the differences between solid surface and chemical laminate countertops, as well as some of the other materials available to you that may be a better choice for your application.
What Is Solid Surface?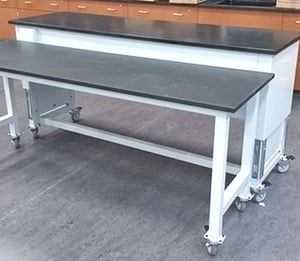 Solid surface countertops are widely seen in kitchens and bathrooms and are typically made from a solid synthetic material. They're popular among renovation experts who appreciate their versatility and durability.
Solid surface is similar to a plastic in that it is often made from acrylic or polyester resins and features a filler material. From an aesthetic standpoint, several pieces can be used across a large area of countertop space because solid surface countertops generally feature invisible seams.
In industrial or laboratory settings, solid surface countertops offer attractive and often needed qualities. These include their non-porous and practical features. They are also water-proof, which makes them a logical solution adjacent to sinks.
Not all materials used in solid surface countertops are appropriate for laboratories where harsh chemicals are used, however. It's important to evaluate the chemicals used in your lab to determine what type of countertop can withstand these conditions.
What Surface Is Best For Laboratories?
It depends on a lot of factors, but the chemicals and substances you use in the laboratory is one of the most important factors. However, cost and your future plans as a laboratory are likely important considerations as well.
Chemical laminate countertops are a budget-friendly choice that offer several protections that laminate countertops and other solid surface countertops do not. They are produced by layering melamine resin, layers of wood fibers and phenolic resin-impregnated Kraft paper with a decorative substrate that gives the countertop a pattern.
Though laminates are popular for use in kitchens, bathrooms and office settings not considered to have harsh conditions, specially treated laminates can be used in additional environments such as laboratories.
That's because they are designed to hold up to chemical exposure of acids, bases, salts, halogens, organic chemicals, solvents and biological materials. Chemical laminate also has the additional benefits of:
Being heat resistant up to 275 degrees F
Offering a shorter lead time in general
Pricing moderately (less expensive than epoxy resin and stainless steel - two popular types of material found in labs as well)
Chemical laminate countertops come in a variety of sizes and include custom layouts, allowing you to create an attractive space even in a sterile laboratory.
Our article, The Benefits Of Using Chemical Laminate For Your Lab Countertops, shares how chemical laminate countertops are made and how their properties compare to other choices on the market.
What Are Other Options If These Aren't Right?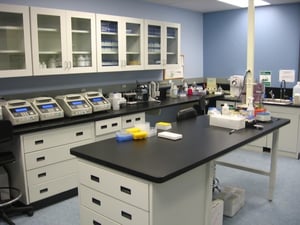 Despite their benefits, solid surface countertops and chemical laminate countertops might not be right for your lab. This may be true if you work with high heat processes or flammable chemicals.
This also may be true if your countertops are exposed to prolonged periods of water that could cause damage, especially along the edges and seams, or you handle substances that cause corrosion.
If this is the case, you may benefit more from countertop types such as phenolic resin, which offers high bacterial, chemical, fungal, moisture and scratch resistance. It can also withstand heat up to 350 degrees F.
Phenolic resin is also comparable in price to chemical resistant laminate. It's typically used in labs where test results depend on non-contamination and work surfaces need to be chemical resistant.
Another option for you may be epoxy resin, which also offers high bacterial, chemical, fungal, moisture and scratch resistance. This type of material also holds up well in very extreme conditions, including continuous heat exposure above 350 degrees F and high impact fractures. Though this is one of your most durable options, it is also one of the most expensive options.
What If I'm Not Sure?
You know you need countertops that will stand up to the conditions of your lab. However, it can be difficult to know which material not only is right for your current needs, but your future needs as well since businesses continuously evolve.
An expert in laboratory countertop materials and design can help you choose which material is right for you based on not only your application, but your budget and aesthetic preferences as well.
A high-quality countertop manufacturer will also work with you to customize your preferences in a timely manner so that you can rest assure your long-term investment is the right choice for your lab's future.