Utilizing practical storage solutions sets every lab technician up for success.
The average U.S. worker spends 2.5 days a year looking for important stuff. Collectively, people spend an astounding $2.7 billion a year replacing things they already have because they can't find them when they need them.
When you spend 15 minutes every time you need your safety goggles or the right flask, you cannot be productive.
The features on a lab bench can make a significant difference to the organization of a workspace and employees' productivity. If storage space isn't practical, ample and easy to use, productivity can suffer.
Even worse, expensive lab equipment can get lost, stolen, contaminated or damaged. But when a lab bench is designed with the user in mind, you promote an organized and productive lab environment.
There are three ways to boost organization:
Boosting surface space by adding a lab bench shelf (or more)
Maximizing storage with drawers
Customizing with details based on the type of lab and its workers
Boosting Surface Space by Adding Shelves
Shelves keep workspaces clutter-free. They store frequently-used items in sight while holding them in a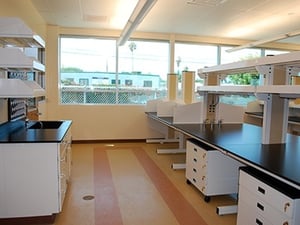 safe place where they can't easily tip, fall or get in the way.
Items that might require shelving include:
Microscopes
Testing equipment
Centrifuges
Hot plates and flasks
Scales
Tube mixers
Homogenizers
Shelves can be customized in size, material and load-bearing capacity to align with specific uses. There are typically four types of shelving for lab benches.

Laminate shelving: Available in various depths and can match your bench work surface. Can hold up to 250 pounds when evenly distributed, but with design can carry more. Clean room underseal available.
Steel shelving: Steel shelves have a front lip to keep items on the shelf. They also come in various depths and the standard shelf can carry up to 300 pounds when evenly distributed.
Wire lab bench shelf: These are 12 inches deep and made of heavy gauge wire finished with an epoxy powder coat of silver zinc. The front wire lip keeps items in place as these shelves can tip at 15 degrees for easy access. However, these can only hold about 50 pounds.
Split shelf frame: This lab bench shelf provides shelving but also allows for extra mounting of various storage solutions and tools. Double-sided frames let you mount on both sides.



Maximizing Storage With Drawers
It's not practical to keep every item on the workbench in plain view. Lab benches should include adequate drawers. But a drawer is more than a drawer in a lab bench. A well-designed set of drawers maximizes available space.
When choosing drawers for a lab bench, consider:
Ergonomics: How will lab workers use the drawer, how frequently and from what position? Design the drawer to limit strain for smooth opening and closing from the typical seated or standing position.
Design: Lab bench drawers must be durable, able to hold the required weight and still slide effortlessly. For some purposes, a large drawer makes sense. But for others, a series of small drawers can maximize space and function.
Security: If you must lock up certain samples, controlled substances or dangerous chemicals within an individual workstation during breaks and lunch, you need a lockable drawer. Every lab bench should have a small drawer for purses, wallets, keys and other personal items unless employees keep those in a locker.
Configurations: You can configure each workspace with a combination of different sizes with trays and shelves to optimize organization.
Handle options: Often an overlooked design feature, handles matter. Handles promote hand comfort with repeated opening and make the drawer easy to open from different angles.
Customizing With Details
No one lab bench works for all settings. Whether your team is engaged in research, testing, development or diagnosis, they have specific lab bench needs.
It's important that you work with a lab bench manufacturer who has the design and manufacturing knowledge to customize your workstations to maximize space, comfort, safety and productivity.
For example, here are some of the additions you can customize your lab tables with:
Shelving systems
Upper storage cabinets
Utilities drawers
Articulating monitor arms
Keyboard trays
CPU holders
Pegboards
Bin rails for sorting components
Power supply options
Adjustable lighting
Lab surfaces that don't corrode or damage when used as you plan to use them
Sealants and coatings
Clean room specs
Anti-static
Utility ducts
Casters
Hydraulics
More Than a Lab Bench Shelf
Proper lab bench designs set your lab team up for productive days, accurate results and a safe work environment.
Figuring out what features your team needs isn't easy when you have so many options. The best lab bench manufacturer can help you determine what shelving and storage options you need for your workspace to help increase productivity.
Learn more about what a high-quality and experienced lab bench manufacturer should offer in our article, Buyer's Guide: What To Look For In A Workstation Manufacturer.