Let's face it, your choice in countertops is important for your laboratory project.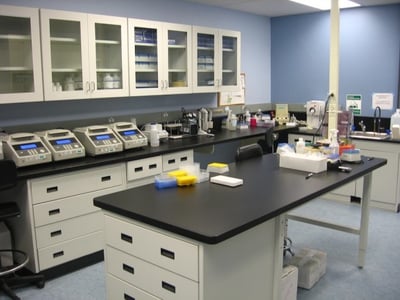 They are the backbone of your lab. It's your primary workspace and houses your expensive equipment and lab tools. You will do most of your work there, and need functional and effective laboratory work surfaces for taking notes, running your experiments and other lab related functions.
Each lab has its own set of functional requirements, so it is important to understand your choices when it comes to selecting materials for your workspace.
Today, we will look at two of the most popular choices for laboratory countertop materials (phenolic vs epoxy resin) and discuss their strengths and weaknesses and in the battle of the surfaces, we will declare a clear cut winner.
The Old Standard
Epoxy resin for years was the standard in most laboratory environments because of its high heat resistance and ability to withstand exposure to caustic chemicals.
Epoxy resin counter tops are made from a mixture of materials then cured as a solid continuous product. Epoxy resin countertops are a mixture of resin, silica, a hardener, and filler, which are molded and oven cured as a solid slab.
As far the features and benefits, it is a durable choice for many kinds of labs. It is non-porous, water and moisture resistant.
It is often used around sinks and areas that are subjected to any kind of moisture. It is resistant to heat and chemicals, resists discoloration and will encounter blistering and cracking only under very extreme conditions.
It can take a beating and continue to look like new for years. The durability of this product is built-in, not added as layers or coatings.
Epoxy resin countertops are popular in many types of labs including: educational labs, hospitals and medical labs, research R&D labs, pharmaceutical labs, biological science labs, microbiology and biomedical labs, molecular pathology, and industrial testing.
Here's the rub. There is only one manufacturer of epoxy resin in the world right now which makes sourcing it a problem. Because of a backlog in the manufacturing process, it creates a longer lead time for your project. It has become hard to get.
It is also a very heavy product, much more so than phenolic resin, which adds significant weight to your materials, and adds cost particularly when you factor in shipping costs to your final order totals.
Finally, it is a very rigid product and can be difficult to work with particularly with projects that have any degree of customization.
For these reasons, we recommend phenolic resin in 95% of our jobs. Here's why.
What Is Phenolic Resin?
Phenolic resin maintains 90% of the characteristics of epoxy at a fraction of the price.
Phenolic resin countertops are composite panels manufactured by layering natural kraft papers that have been saturated with phenolic resin and processed under high heat to form a solid surface composite panel.
These counter tops are lightweight, hard, durable and highly chemical resistant. They are oil and moisture resistant and are resistant to most bacteria and fungus. Phenolic resin is an excellent choice for laboratory environments with continuous heat exposure up to 350°F (176°C).
Phenolic resin countertops are excellent choices for environments where lab experiments must be performed in an environment free of contamination. In this type of environment, hygiene, cleanliness, chemical and stain resistance are of utmost importance.
Phenolic Resin Countertops and table tops meet the requirements of most laboratories while at the same time bringing a range of additional benefits. These benefits include chemical, wear and water resistance.
Because of the variety of chemicals used in experiments, worktops in these types of laboratory environments are particularly vulnerable and must be constructed of materials that can withstand spills, resist scuffs and abrasions and hold up well against impact and stress cracking. These countertops will perform well for many years, keeping your lab clean looking and running efficiently.
Phenolic resin is an easy material to work with from a manufacturing standpoint lending itself well to customization, and it is much less expensive when compared to epoxy.
It is readily available which means shorter lead times on your projects.
The Difference
When it comes time to select the materials for your laboratory counters for most applications the choice is pretty clear – phenolic resin.
Functionally both epoxy and phenolic resin products are very similar. Phenolic resin is an easier product to work with from a manufacturing standpoint, and lends itself well to any project with a degree of customization.
The primary difference is heat handling capacity. As previously mentioned phenolic resin countertops perform very well with continuous heat exposure up to 350°F (176°C).
Epoxy resin will handle higher continuous heat loads including open flame and will maintain its looks and functional characteristics in severe laboratory conditions.
For lab environments that deal with sustained exposure to high heat or severely caustic chemicals, epoxy may be the better choice, but for most applications phenolic resin is your clear cut winner and new champion.