The legs of an adjustable workbench are one of its most important components. While they are often an overlooked feature when customizing your workbench, they play an important role in its strength and functionality.
When designing your adjustable workbench, don't forget to consider your options when evaluating these five details:
Hydraulic vs. electric control
Durability and strength
Weight load capacity
Attachments
Casters
Hydraulic Vs. Electric Control
Adjustable workbenches promote better health and allow you to incorporate an ergonomically-friendly design into your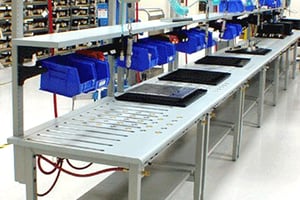 workspace. Employees can choose to position their work surface at a level that suits their needs, making it more comfortable to work. The result is a healthier employee, which can reduce the risk for injuries and worker's compensation claims.
Adjustable workbenches essentially shorten or elongate the legs of the bench so that an employee can sit or stand at a supportive level. The height of the work surface can minimize stress on a person's joints and muscles.
When choosing a workstation for your facility, you typically have two choices when it comes to the adjustable feature:
A hydraulic bench that allows workers to use a manual hand crank handle to raise and lower the work surface
A bench that comes with an electric control that lifts and lowers the bench with the push of a button
So which is better: Hydraulic or electric control? Both can be adjusted based on the employee's height or working preferences. However, an electric controlled bench has a few additional benefits.
If there are heavy work tools on the bench, a bench with an electrical component will require less physical effort to raise the bench than hand cranking the bench. Depending on the model, you may be able to preset positions for convenience as well. This can be beneficial if multiple workers use the same bench over the course of several shifts.
Electric controlled benches are also faster and you don't have to worry about oil leaks that may come with hydraulic benches over time with heavy use.
Durability And Strength
As you construct your workbench, the legs you choose play an important role in the industrial furniture's durability and strength. If your goal is to have a workbench that can withstand heavy duty use, you should choose table legs that complement all of the other features.
For example, heavy duty benches are often constructed with 14 gauge steel, all welded with 2" square legs for long-lasting durability and strength.
For even a higher level of strength, extra heavy duty benches are constructed with 12 gauge steel. They are also welded with 3" square legs for more support. An extra heavy duty bench may come with pre-punched floor mounting plates on the legs for additional stability.
If your workplace doesn't require industrial furniture constructed for heavy duty use, legs designed for standard benches will likely be sufficient. Standard benches are typically constructed from 16 gauge steel. They are fully welded and have 2" square legs.
Weight Load Capacity
The legs of a workbench also play a major role in how much the furniture piece can support. The size of legs above often directly correlate with how much weight the workbench can handle.
Weight load capacity is an important consideration since many manufacturing spaces involve the use of heavy materials and equipment. A heavier duty workbench with larger legs will provide more durability and therefore be a safer investment.
Below are typical weight load capacities:
Extra heavy duty workbenches: between 10,000 and 20,000 lbs.
Heavy duty benches: 5,000 lbs.
Standard workbenches: Between 750 and 1,000 lbs.
One additional note: With heavy duty benches, if the workbench is 96 inches wide, the weight capacity will usually go down to 4,000 pounds.
Attachments
In addition to customizations like an industrial workbench with drawers, laboratory work surfaces, shelves, electrical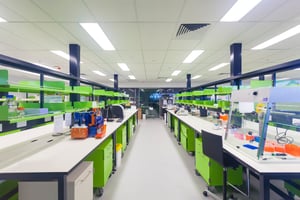 outlets and more, there are leg attachments you can select that increase comfort and support stability.
A footrest tube is a simple steel bar that is mounted between the legs on opposite sides of the bench, while a footrest pan is made of steel tubing and includes a steel pan that can be tilted up or down for an operator's comfort. The pans often include non-slip friction tape.
Another option is a freestanding footrest. This type of footrest connects to the leg, but has independent adjustments for the foot pan height and angle. A freestanding footrest is often used in clean room applications.
Casters
A key part of mobile workstation furniture is the part that makes the work table movable: casters. A caster isn't just a wheel, however. Casters also help determine how much a workstation can hold and contribute to the overall height of a workstation.
It's critical to ensure the workstation you order has casters that can support it if your adjustable workbench is mobile. Casters, which fit at the end of the legs, may only hold a few hundred pounds if bought online through an office supply site, for example.
In an industrial setting, casters that have a weight load capacity of closer to 1,000 pounds when using all four casters is more suitable. Other features to look for include:
Whether all four wheels lock
If they swivel in place, whether when locked or unlocked
Whether they are adjustable in height
Casters also come in a variety of sizes, from 1.25 inches to 4 inches, depending on the size of your workbench.
Customization Opportunities Are Key To Best Design
Working with industrial workbench manufacturers that offer customization opportunities helps ensure your facility or laboratory will get the type of workbench you need, from top to bottom.
Even adjustable legs can make a difference in the health and safety of your employees, which is why they are important items of your workstation that shouldn't be overlooked.
While you have several choices to customize the design of your workbench's legs, it's important to work with a high quality and experienced manufacturer who prioritizes safety, can provide you with a product that meets your needs and safety requirements, and will deliver your workbench within your project's timeline.