The dental industry has evolved greatly in the last century. Just a hundred years ago, antibiotics hadn't even been discovered yet, clinics were basic and procedures were painful.
The 21st century paints a much different picture. Keeping up with the advanced technology that fills dental laboratories today requires a high-quality lab bench that is durable and hygienic.
When ordering a dental lab bench, its design, materials and the accessories you choose can make the difference between a well-run lab and inefficient workspace. Here are some of the most important components a dental lab bench should include to ensure your lab is up to date.
A Countertop That Protects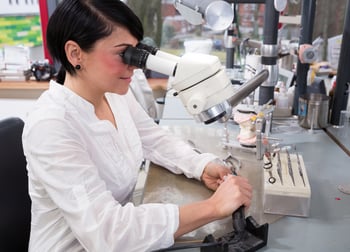 The work conducted in dental laboratories is extensive. A typical day can include developing dental products like crowns, bridges, dentures or orthodontics. Lab technicians rely on dental workstations that are designed to last and can withstand the conditions that accompany a manufacturing environment.
One of the most important features of a dental laboratory bench is its countertop, since this component is often the first line of defense against the tools, cleaning products and other chemicals used in dental labs.
Which countertop your workspace needs often depends on your application, the chemicals you use in your lab and any other environmental concerns you may have. For example, dental prosthetics are often made using a furnace, hot liquids and high-speed tools. A workspace countertop must be able to handle these extreme conditions to ensure long-lasting use.
Here are six popular countertop materials commonly used in dental lab spaces:
Epoxy resin

is flame retardant, which is one of its most attractive properties. It can withstand continuous heat exposure above 350 degrees F and is highly resistant to bacteria, fungus, corrosion, chemicals, water, moisture and scratches. Epoxy resin also holds up well against impact and stress fractures, and is easy to clean.
Phenolic resin

is highly resistant to bacteria, chemicals, fungus, moisture and scratches. It is moderately to highly resistant to corrosion, and can withstand continuous heat exposure up to 350 degrees F. Phenolic resin also holds up well to impact and stress fractures. However, phenolic resin is not flame retardant, so if your dental lab routinely uses open flames, this might not be the best choice of countertop material.
Stainless steel countertops are non-porous. No liquids or substances can penetrate the material, preventing bacteria and mold from forming or getting trapped. Stainless steel can also withstand continuous heat exposure above 1500 degrees F. It is highly resistant to fungus and moderately resistant to chemicals and corrosion. However, it has a low resistance to scratches and can dent easily on impact.
Chemical resistant laminate

is often used in labs where chemicals are present and used often. In addition to its high chemical resistance properties, this material can also withstand heat exposure up to 275 degrees F and is available in different designer looks. However, it offers low resistance to bacteria, corrosion, fungus, water, moisture and scratches.
HPL Laminate

can be a great choice for dental labs or dental offices where x-rays are conducted. While HPL doesn't hold up well against bacteria, chemicals, corrosion, fungus, water and moisture, it does perform well in dry applications.
Solid surface countertops

are softer than many other materials, allowing them to be molded and shaped in several ways under heat and pressure. This material offers protection against bacteria, mildew and stains because they have an extremely low porosity. This promotes a cleaner, more sanitary workspace, and is a great choice for dental practices.
Electrical Sources Within Reach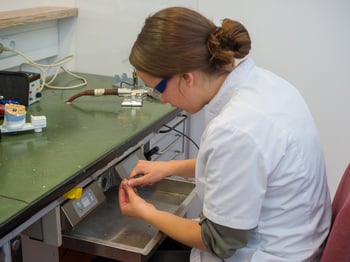 Dental laboratories are often full of tools and equipment used to cure, cast and complete dental products. A dental lab bench should offer easy access to outlets, but keep in mind there's other aspects you should consider as well that can impact the productivity of your employees.
Items to consider include:
Where outlets are placed
How much power/voltage is required for the specific equipment used in your lab
If two- or three-pronged outlets are needed
Whether USB outlets are needed
The weight and dimensions of instruments and equipment used at the lab bench and whether they need to be on the worksurface or next to the workstation
If an emergency power source is required
Whether any special lighting is needed that would require additional outlets
Whether any dust collector tools are needed that would require outlets placed in a certain location for optimal dust collection
The placement of these power sources is also important when designing a lab bench that is ergonomically-friendly. Some of the most recently available data for manufacturing injuries shows sprains, strains and tears are among the leading types of injuries for workers. Taking into consideration where electrical components are placed can help avoid costly worker injuries and downtime.
An Adjustable Height Feature For Better Health
Another feature that promotes ergonomic health is an adjustable hydraulic component. Dental lab benches can be designed to allow technicians to adjust the height of their lab bench using a manual, hand crank or electric control.
This feature allows workers to choose whether they want to sit or stand. This also prevents dental technicians from having to adjust the work surface or any shelving by lifting it themselves.
Adjustable workstations also allow employers to easily adapt a lab bench to accommodate a wide variety of people. Considering many lab technicians may use the same workbench, this feature offers a diverse workforce the opportunity to avoid a bench that only offers one or two fixed desk configurations.
An adjustable feature also allows users to work using their bodies' optimal "neutral position," which is the posture where your body is at its strongest and most efficient.
Storage And Organization Tools For Productivity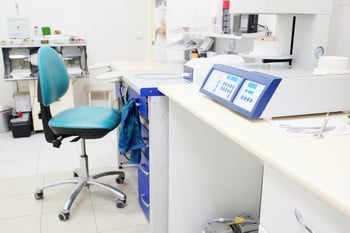 When designing a dental lab bench, it can be easy to focus on the countertop and any electrical components needed to get the job done. However, storage and organization tools can impact the productivity of that space as well.
Customizing a dental lab bench is a great way to increase efficiency through the addition of items like:
Utility drawers that come in a variety of sizes and configurations
Shelving that can be installed below or above the work surface
Upper storage cabinets to hold dental lab equipment
Articulating monitor arms that can accommodate flat screens and laptops
Keyboard trays that can be added to an articulating arm
CPU holders that can be fixed or adjustable
Pegboards that can be added between the uprights and used to hold tools
Bin rails or panels to store other parts and accessories
You can read more about other design features that can promote better organization in our article, How To Customize An Industrial Workbench With Storage.
Customization Is Key
Today's dental labs require durable and hygienic countertop materials, electrical sources that meet the needs of the workspace, an adjustable height feature that promotes better worker health, and storage and organization tools that enhance productivity.
Ensuring that you receive all of these qualities in your lab bench often requires the help of an experienced industrial lab furniture manufacturer. While there are plenty of dental lab benches available on the web or sitting in warehouses waiting to be purchased, most of these are one-size-fits-all.
The best manufacturers will offer several opportunities for customization and assist you with figuring out your exact needs so that your dental lab is safe, clean and productive.