Because of the role laboratory work surfaces play, many companies that are updating their spaces or constructing new labs to keep up with today's demand for testing facilities are considering epoxy resin countertops.
But what is epoxy resin, and is it right for your space? Here are five things to know about this top work surface as you evaluate your options:
How epoxy resin is made
Epoxy resin benefits
What sets epoxy resin apart
Cost of epoxy resin
Alternatives to epoxy resin
How Epoxy Resin Is Made
Epoxy resin countertops are made from a mixture of materials that are then cured as a solid continuous product. These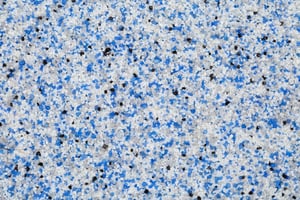 materials primarily include epoxy resin and silica, but also typically include a hardener and a filler.
This combination of materials are then molded and oven cured. This heat permanently sets the material into a solid slab.
For those who want to customize the look of their worksurfaces, properties of the mixture can be modified to provide specific characteristics, including color.
It's important to note there is a difference between laboratory grade epoxy resin and DIY epoxy resin. It is important to ensure any epoxy resin countertop your purchase for your lab has been tested for best practices and to make sure it can withstand the harsh conditions of this type of workspace.
Epoxy Resin Benefits
Epoxy resin is considered a top material for spaces that routinely experience harsh conditions. This material is heavy duty, durable, non-porous and holds up very well in an extreme environment.
Because of its high water and moisture resistance, epoxy resin is often used around sinks and areas that are subjected to any kind of moisture.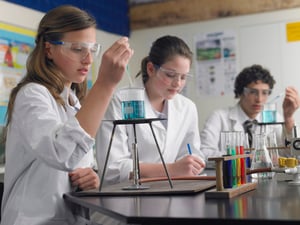 Epoxy resin also offers the following benefits:
High bacterial resistance
High fungal resistance
High corrosion resistance
High chemical resistance
High scratch resistance
Continuous high heat exposure
Flame retardant
Holds up to impact and stress fractures
Epoxy surfaces also resist discoloration, blistering and cracking even under the harshest conditions. The extreme high chemical and heat resistance means epoxy work surface components will appear new even after years of hard work.
It's also important to note that the rich color and chemical resistance qualities permeate the entire epoxy work surface consistently, meaning you don't have to depend on a surface coating for protection or use.
What Sets Epoxy Resin Apart
Epoxy resin features two key qualities that sets it apart from other materials commonly found in laboratories…the ability to withstand prolonged heat exposure and the fact that it is flame retardant.
In fact, epoxy resin can withstand continuous heat exposure above 350 degrees F and exposure to open flames, making it perfect for withstanding some of the most extreme conditions found in labs.
Because of these high-performance benefits and the ones outlined above, epoxy resin countertops are popular in a wide range of labs including:
Educational labs
Hospitals and medical labs
Research R&D labs
Pharmaceutical labs
Biological science labs
Microbiology and biomedical labs
Molecular pathology
Industrial testing
Cost Of Epoxy Resin
There is a major downside to epoxy resin that is important to take into consideration when evaluating your countertop material options...Cost.
Epoxy resin is one of the most expensive materials used in labs on the market. It can run as much as $100 to $200 per square foot.
There is also only one manufacturer of epoxy resin in the world right now, which makes sourcing it a problem. Because of a backlog in the manufacturing process, it creates a longer lead time for your project, which can be costly for you if you have to delay projects while you wait for your order to be completed.
Epoxy resin is a heavy product as well. This adds significant weight to your materials, and adds cost particularly when you factor in shipping costs to your final order totals. It's also a very rigid product, making it more difficult to customize, which can add to overall order costs since a high level of expertise is needed to achieve a personalized look.
Alternatives To Epoxy Resin
While cost is a major concern for many companies considering epoxy resin, the good news is that there are other materials that may work for the application of your lab.
Phenolic resin, in particular, offers many of the same benefits as epoxy resin. Phenolic resin countertops are composite panels manufactured by layering natural kraft papers that have been saturated with phenolic resin and processed under high heat to form a solid surface composite panel.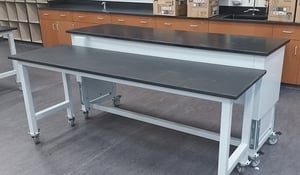 Phenolic resin material offers:
High bacterial resistance
High chemical resistance
Moderate to high corrosion resistance
High fungal resistance
High moisture resistance
High scratch resistance
This material also holds up well to impact and stress fractures, and perhaps best of all, is a fraction of the price when compared to epoxy resin. Pricing typically averages $15 to $18 per square foot and increases based on modifications specific to a lab's needs.
Where phenolic resin differs from epoxy resin that may make it not the right choice for a lab is in its heat resistance. Phenolic resin can withstand continuous heat exposure, but only up to 350 degrees F. It is also not flame retardant.
While phenolic resin is one of the closest materials you will find to epoxy resin, there are several other materials that can be considered for a lab space as well, including:
Stainless steel
Chemical resistant laminate
High pressure laminate
You can read more about the differences between these in our article, Top 5 Materials To Consider For Your Lab Countertops.
Work With A Manufacturer
Navigating your options to best meet the needs of your specific laboratory or manufacturing space can be challenging. A quality manufacturer that can help you understand the differences between the materials available to you and help you evaluate which options meet your budget, application requirements and customization preferences.
When seeking a company that manufactures epoxy resin or another type of material for your countertop, look for a partner that:
Can meet your timeline
Will work with your budget
Offers alternatives that still meet your requirements
Offers customization opportunities
As the need for specialized lab services increases, being prepared for future applications is critical to securing growth for your company. The best manufacturing partner will help ensure you choose the best material for your current application and any future applications.