Purchasing any piece of industrial furniture takes a lot of planning and consideration. An industrial workbench, however, is a key piece found in any facility. And, with any significant purchase, it is important to get the choice right.
If you're considering buying an industrial steel workbench for your laboratory or manufacturing facility, here are six things to keep in mind before you finalize any purchase order.
1. Steel And Stainless Steel Are Not The Same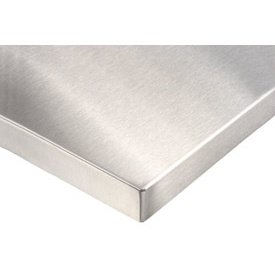 Despite their similar name, steel and stainless steel feature different component ingredients. Steel is iron forged with carbon, usually containing less than 2% carbon and 1% manganese, according to the World Steel Association. Steel also contains trace amounts of sulphur. oxygen, phosphorus and silicon.
Stainless steel has the additional ingredient of chromium and often other alloying elements that enable the metal to resist corrosion. Nickel's recipe, for example, varies depending on the application. This can make it a bit more expensive than carbon steel.
Are there any benefits to choosing one over the other? Because steel often has a lower carbon content than stainless, it is a stronger material. Although stainless steel is a bit weaker, it is not susceptible to rust because of its higher carbon content and addition of chromium.
Steel typically has a powder coat finish, which resists cracking, peeling and chipping. The powder coat is also abrasion, corrosion and chemical resistant.
Stainless steel is a non-porous surface, meaning liquids cannot penetrate into it. This helps prevent bacteria, mold and other common germs from building up.
Both options are more affordable than wood casework and have similar benefits:
Moderate chemical resistance
High fungal resistance
High water and moisture resistance
Stainless steel, however, can be upgraded to medical 316 stainless still if needed for a laboratory's application.
2. Steel Workbenches Can Be Used In A Variety Of Settings
Steel workbenches are a great choice for many different types of labs, including pharmaceutical manufacturing and research, animal research, food research and testing, autopsy and biosafety.
However, steel workbenches also work in a variety of other settings as well, including hospital operating rooms, product testing facilities, photographic dark rooms, electronics manufacturing and dental facilities.
3. Durability Is Important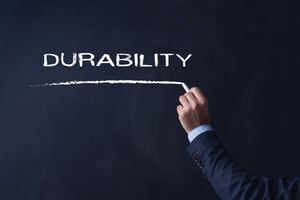 There are a lot of qualities that attract buyers to industrial workbenches that feature a modern look with metal or steel finishes. However, it's important to keep in mind that just because a workbench features an industrial look does not mean it is constructed to withstand the harsh conditions of your space.
Commercial grade workbenches, on the other hand, typically hold up well against harsh chemicals and other items found in a lab, such as cleaning agents and sharp or heavy objects.
That said, different aspects of your lab may call for the use of steel vs. stainless steel, so it's important to determine which type of steel is more appropriate for the conditions of your workspace
4. You May Need To Account For ESD Complications
If you're in an environment that includes electrostatic requirements, such as electronic assembly or aerospace manufacturing, you'll need to ensure your industrial steel workbench includes specialized components.
Electrostatic discharge is a natural occurrence in which electricity is passed through the body, or other conductor, and discharged onto an object. These discharges can be costly, can destroy expensive equipment and can stop experiments in their tracks.
Your workbench will likely require an ESD laminate surface that has an embedded carbon layer, which dissipates the static. ESD dissipation rates should be greater than 10/6th but less than 10/9th. The surface should also be capable of handling 100,000 ohms.
Although ESD bench tops can be assembled to any type of frame, in an industrial or manufacturing setting, your workbench should feature durable steel frames with grounding bolts attached to each end of the table.
5. Your Countertop Choice is Important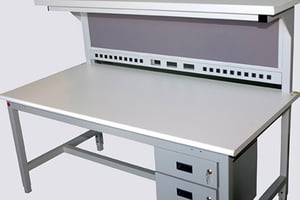 In addition to ESD laminate countertops, you have several choices available to you. While some facilities choose a stainless steel countertop based on the reasons outlined above, there are other options available that may better suit your facility's needs. Any of these can be constructed on top of a steel workbench base.
Phenolic resin countertops, for example, offer high resistance to bacteria, chemicals, fungus and scratches. This type of material, which is manufactured by layering natural kraft paper that has been saturated with phenolic resin and processed under high heat, also is moderately to highly resistant to corrosion. It can withstand heat exposure up to 350 degrees F, but is not flame retardant.
Epoxy resin, on the other hand, is flame retardant and can withstand heat exposure above 350 degrees F. This may be a good choice for your facility if it operates using flames and requires all of the same protections that phenolic resin provides.
Other options include chemical resistant laminate, high pressure laminate (HPL) and wood (or butcher block). You can read more about the advantages and disadvantages of some of these materials in our articles, Top 5 Materials To Consider For Your Lab Countertops and Steel Vs Wood | Which Is Best For Your Lab Furniture?
6. You Can Customize Your Steel Workbench
Every workspace has different needs, and the best industrial furniture manufacturers should be able to customize your furniture to meet your facility's specific needs. In fact, one of the key differences between purchasing an industrial steel workbench from an experienced manufacturer and buying one online from a seller likely overseas that produces everything in bulk is that you are getting a customized experience.
So what types of components should you consider when designing your steel workbench?
In lab spaces, cabinets should be sturdy, which is why steel and stainless steel are good choices. As with anything else, you want cabinets that will withstand the test of time. While steel and stainless steel can be dented, it is very difficult to puncture, so you don't need to worry about piercing the material or chipping paint.
You can read more about this type of cabinet in our article, Top 6 Benefits Of Stainless Steel Cabinets.
Other components to consider include:
Shelving: These should be sturdy and resistant to wear, tear, chemicals and rusting. Like workbenches, shelving can be constructed using steel or stainless steel.
Storage Space And Organizational Tools: In addition to cabinets, storage and organizational options include utility drawers, articulating monitor arms, keyboard trays, CPU holders, pegboards and bin rails or panels.
Utility Options: Utility ductway for data, air and gas can be attached to the upright portion of the workbench. Electrical power strips can also be mounted to the work surface or upright for easy access.
Lighting Options: These include overhead LED lighting, which can prevent the need for a desktop lamp but provide additional lighting to ceiling lights.
Drawer Handles: Drawer handles should be easy to wipe down and be able to be cleaned with stronger detergents that won't rust, corrode, scratch or wear down the surface. Stainless steel and steel are two good options since these materials can withstand the repeated use of detergents and other cleaning materials.
You can read more about ways you can customize your workbench in our article, Industrial Workbench Ideas To Improve Your Space.


A Specialized Source For Information
Although purchasing an industrial steel workbench takes a lot of thought to ensure you choose the best design and materials for your work area, it can be difficult to sort out which are the best fit for your facility.
It's important to work with an industrial furniture manufacturer that specializes in the type of workbench you need, rather than relying on an online site that doesn't provide you with the personalized service you deserve.
The best industrial furniture companies will help you figure out your exact needs, bring your ideas to life, emphasize safety and deliver your workbench in a timely manner.