Solid surface countertops have several practical features and attractive qualities. Yet despite these strengths, solid surface countertops also have some drawbacks that may not make it the right countertop for your workspace.
Solid surface countertops are made from a non-porous, homogeneous material that maintains the same composition throughout the countertop. Solid surface is similar to a plastic in that it is often made from acrylic or polyester resins and features a filler material.
While this material is popular in kitchens and bathrooms, it's also used in many industrial settings as well because of its versatility and durability.
Below are some of the pros and cons of using solid surface countertops in your workspace, as well as some of the environments where this material can thrive.
Pros Of Solid Surface Countertops
One of the greatest advantages of solid surface countertops is that they feature a non-porous surface. This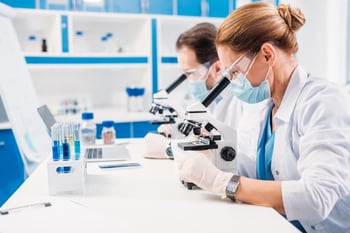 water-proof feature keeps bacteria and mildew away. Surfaces are also resistant to stains.
From an aesthetic standpoint, solid surface counters are also in high demand since they generally feature invisible seams. That means several pieces can be molded to fit perfectly together and used across a large area of countertop space.
Other pros of solid surface countertops are:
Durability: Because the material is homogeneous, it fares better when impacted compared to multi-layered countertops like laminate.
Easy to maintain: Solid surface countertops don't require extensive care when it comes to cleaning. In fact, they are easy to clean using soap and water or a mild cleaner.
Easy to repair: When minor damage does occur, it can be easily repaired by sanding the damaged area out with sandpaper or an orbital sander.
Cons Of Solid Surface Countertops
Solid surface countertops are not resistant to many of the harsh chemicals found in laboratories. Other cons of this material include:
Not heat resistant: Solid surfaces can discolor or crack when they come in contact with heat. For work environments that regularly use open flames or other heat sources, this can be problematic.
Can scratch easily: Although solid surface countertops can withstand some impacts, it doesn't fare well when it comes to scratches since it is softer than other materials like epoxy resin.
Aesthetics can suffer: While this material's seamless lines are a big selling point, because solid surface countertops can scratch easily, their aesthetics can suffer. This is especially true when glossy finishes are used.
Are They Right For Your Workspace?
After reviewing the solid surface countertops pros and cons above, you may be wondering, "Are solid surface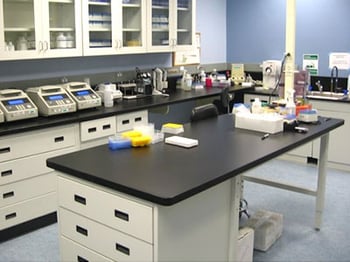 countertops right for my workspace?"
That likely depends on your application and budget. Solid surface countertops can range greatly in price, but generally falls in between $50 and $200 per square foot.
That price range is on the higher end when compared to other materials found in labs. Yet materials like phenolic resin and epoxy resin tend to hold up better against the harsh conditions found in labs like chemicals and corrosion.
However, because solid surface countertops are softer than many other materials, they can be molded and shaped in several ways under heat and pressure. They can also be designed to imitate the look of other materials like granite and marble.
There are many environments in which solid surface countertops work well. Because they have an extremely low porosity, this promotes a cleaner, more sanitary workspace. Offices and labs that require hygienic areas, like doctor's offices and dental offices, can benefit from using solid surface countertops.
Solid surface countertops are also found in the food service industry and in food labs, since they offer a high-end appearance yet offer protection against bacteria, mildew and stains. Because solid surface countertops can be customized into a variety of shapes and in a variety of colors and patterns, many restaurants utilize this material to create signature dining surfaces.
Alternatives To Solid Surface Countertops
If your workspace regularly uses harsh chemicals and high heat sources, solid surface countertops may not be the right choice. Because solid surface countertops can run at the top end of many budgets, there are also other alternatives available that can provide the same protections against water and moisture, but at lower costs.
Phenolic resin, for example, offers high bacterial, chemical, fungal, moisture and scratch resistance. It can also withstand heat up to 350 degrees F. Phenolic resin averages between $15 and $18 per square foot and increases based on modifications specified to a lab's needs.
Epoxy resin countertops offer high bacterial, chemical, fungal, moisture and scratch resistance, but also hold up well against continuous heat exposure above 350 degrees F. Epoxy resin is a more expensive choice, however, ranging between $100 and $200 per square foot.
Another type of countertop is chemical laminate, which is a more budget-friendly choice that offers protection against exposure to acids, bases, salts, halogens, organic chemicals, solvents and biological materials. It is generally mid-price when compared to other materials, ranging between $20 and $80 per square foot.
It can be difficult to determine which material is best for your workspace. When weighing whether solid surface countertops or another material is right for your application, keep in mind both current and future needs of your workspace since many laboratories and businesses continuously evolve.
A high-quality countertop manufacturer will also work with you to customize your preferences in a timely manner so that you can feel confident that your purchase is a long-term investment that will withstand the test of time in your workspace.