Choosing the right industrial workbench can be difficult. As you've probably noticed, there are a lot of choices on the market from a variety of industrial workbench manufacturers.
Picking which one works best for your environment depends on a lot of factors, primarily what you use your workbench for and how it should function. If storage is a priority, certain accessories can solve space issues in your workspace as well.
As technology evolves, you also know the importance of conforming your workbench to any regulations and safety requirements that must be followed.
To help you navigate your options, we've outlined below some customizable features you'll want to consider as you decide which workbench best meets your needs.
Weight Load Capacity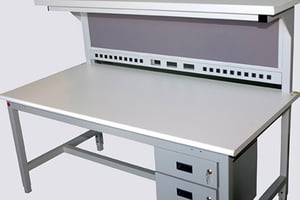 One of the first pieces of information you'll need to know to secure the right workbench for your space is what it will be used for. Before purchasing any type of industrial furniture, it's important to know at what level you need it to perform.
With industrial workbenches in particular, the weight load capacity plays an important role in safety and function. Workbenches typically are available in three capacities:
Heavy Duty: Heavy duty benches have around a 5,000-pound weight load capacity. However, the width of the workbench can impact its load capacity. For example, a 96-inch wide workbench would have a load capacity of around 4,000 pounds.

Extra Heavy Duty: Extra heavy duty workbenches typically feature between 10,000- and 20,000-pound weight load capacities.

Standard: Standard benches usually have a lower weight load capacity, ranging between 750 to 1,000 pounds.
Workbench Construction
The construction of your workbench directly impacts its durability and strength. Construction varies depending on if it is Heavy Duty, Extra Heavy Duty and Standard.
Heavy Duty: These benches usually are constructed with 14 gauge steel, and feature 2-inch square steel legs for long-lasting strength. A lower shelf or horizontal bar gives it more structural stability, and leveling foot plates allow for floor anchoring to improve stability.

Extra Heavy Duty: These benches are constructed with 12 gauge steel, and are welded with 3-inch square bench legs. A lower shelf and pre-punched floor mounting plates on the legs also give the bench added structural stability.

Standard: This type of bench is typically constructed from 16 gauge steel. They also are fully welded and have 2-inch square legs. They also may include a lower shelf or foot rest bar, and usually come with floor leveling glides or optional casters.
Workbench Countertops
One of the most challenging aspects to choosing the right workbench is choosing the right countertop for that workbench.
Details to consider include the countertop's resistance to chemicals, abrasives, heat and moisture, as well as its cleanability and price.
There are several types of counters to choose for your bench top. Here are a few of the most common:
High Pressure Laminate: These tops are used for basic, non-extreme applications. While they are functional and durable, they're also very affordable.

ESD Laminate: This type of work surface is ideal for applications where parts and materials are sensitive to static and need protection.

Phenolic Resin: These tops are typically used in labs, and are designed as one solid, lightweight countertop that is durable and long-lasting.

Epoxy Resin: Durable and non-porous, this work surface holds up very well under harsh and extreme conditions such as high heat.

Stainless Steel: A stainless steel top is resistant to bacteria, rust and corrosion. It also is stain- and heat-resistant, so this is an ideal choice for environments where high heat and open flames are used.

Butcher Block: Traditionally used in woodworking and basic assembly applications, this type of countertop is sturdy, but is porous and can dent easily.
Need more information about workbench countertops? Our article, How Should I Decide Which Top To Use For My Lab Workbench?, explains how to make your investment last as long as possible.
Storage Options
You need storage space. Customizing your industrial workbench is a great way to add storage options to your work area, as well as increase productivity while saving space.
Some space-saving options you can choose when customizing your workbench include:
Utility drawers that come in a variety of sizes and configurations

Shelving that can be installed below or above the work surface

Upper storage cabinets with flipper doors

Articulating monitor arms that can accommodate flat screens and laptops

Keyboard trays that can be added to any work surface or articulating arm

CPU holders that can be fixed or adjustable

Pegboards that can be added between the uprights to attach tools

Bin rails or panels to store parts and accessories
Final Note
Whether it's for a medical laboratory, manufacturing space or research facility, customizing an industrial workbench can solve any storage, durability and safety issues.
Workspace systems that maximize space also create more efficient work areas overall.
Although the above information is just some of the features to consider when choosing an industrial workbench with adequate storage, manufacturers can further provide you with any information you need to make a solid decision.
Almost all manufacturers provide technical data sheets that expand upon the information outlined above. They also have used several of the products in the market and can offer their experiences to help you determine the best workbench for your application.