Designing a lab bench table can feel a bit like putting together a puzzle. There are many pieces that go into creating the right workbench for your lab.
And, if just one piece isn't right, your whole project can be thrown off, leaving you frustrated that the work you did to put it together didn't work the way you wanted it to.
Knowing ahead of time where it's easy to go wrong can save a lot of headaches in the long run. So what are the top 5 snafus lab managers make when designing a lab bench table?
Not designing it for their specific application
Overlooking storage and organizational features
Forgetting that ergonomics is important
Not ensuring electric sources are within reach
Getting spooked by budget restraints
Not Designing It For Their Specific Application
Not all lab benches are the same. Depending on your application, you will require specific features and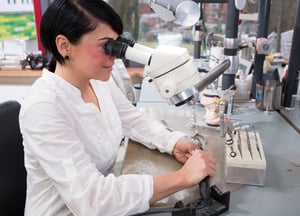 qualities.
For example, an electronics lab bench needs proper ESD protection. Electrostatic discharge, or ESD, is a natural occurrence in which electricity is passed through the body or other conductor and discharges onto an object. It's a significant problem for many industries and can damage or even ignite flammable mixtures of vapors in labs.
A portable lab bench that is used for on the go needs casters that offer support, mechanisms that lock the wheels and the right weight capacity for the heaviest equipment that may be set on it.
Your application may call for extreme levels of cleanliness, which impacts the type of countertop you place on top of the lab bench. Materials like epoxy resin and phenolic resin offer high levels of protection against bacteria, fungus, corrosion, chemicals and moisture. Chemical laminate countertops also offer a high level of protection against substances found in many labs.
Lab managers should never use a one-size-fits-all approach to designing a lab bench. It simply won't work because each laboratory has its own set of requirements. This is also why ordering lab bench tables from companies that mass produce industrial furniture using a cookie-cutter approach may not yield the best results.
It's best to work with an industrial manufacturer that can customize your lab bench table based on the specific requirements of your lab.
Overlooking Storage And Organizational Features
A lab bench table can be designed to include more than four legs. A table can also include storage options such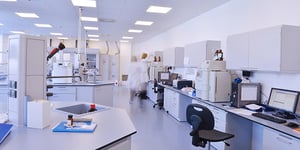 as shelving and drawers.
These storage options offer lab workers a space to store their tools, which enhances their productivity.
When evaluating how to add storage features to your lab bench table, consider:
The types of equipment you need to store (tools, microscopes, etc.)
Whether you need shelving and where it should be placed (above or under the table)
Number of drawers and the configuration of those drawers
What safety features may be necessary on drawers, such as whether they require locks
There are also organizational tools that designers can include with lab bench tables that help maximize an lab technician's space. These include pegboards, keyboard trays, articulating monitor arms, and bin rails or panels that can hold parts and accessories.
Forgetting That Ergonomics Is Important
When lab technicians sit at a workstation for long periods of time, this can feel unnatural to the body. To create an environment where workers are healthier and happier, more and more companies are incorporating the concept of ergonomics into their workplace design.
What is ergonomics? Ergonomics is designing a job or workspace to fit the worker so that the work is safer, the worker is healthier and production is more efficient.
Research shows that companies that embrace ergonomics save more money over time. In fact, a Washington State Department of Labor and Industries study found that when a company reduces ergonomic risk factors, businesses benefit. A dip in injury claims, lost workdays and costs all follow.
The study also found that by implementing more ergonomic-friendly workstations, companies increased their productivity by 25%.
There are several ways to make a lab bench table more ergonomically-friendly. One of the most popular methods is to make the work surface adjustable. Adjustable workstations allow workers to choose whether they want to sit down or stand up. Employees simply use the manual hand crank or electric control to lift and lower the bench to a comfortable height. Some controls also allow you to preset positions for convenience.
Another option is to choose an ergonomically-friendly chair for the lab bench table. These supportive chairs feature sturdy frames, adjustable height features and comfortable backrests and seats.
Not Ensuring Electrical Sources Are Within Reach
While lab managers can place lab bench tables near an electrical source in a workspace, a common snafu that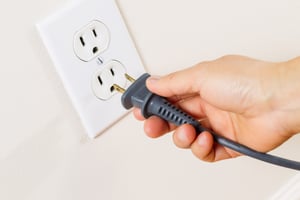 they make is underestimating the number of outlets needed and the voltage required for their specific equipment.
When designing a lab bench table, consider adding both electrical sources as part of the plan. To ensure workflow is not interrupted, consider the following:
How much power/voltage is required for the equipment used in your lab
If two- or three-pronged outlets are needed
If international outlet plug options are required
If USB outlets are needed as well
If you require an emergency power source
If you require electrical power strips that can be mounted for easy access no matter where the lab bench table is placed
It's also a good idea to examine utility options while you're taking a closer look at electrical needs. Consider whether overhead lighting is needed as part of your lab bench table, as well as whether any shelves that are attached require lighting under them. Don't forget to check if a utility ductway should be added to your table to feed wires through.
Getting Intimidated By Budget Restraints
Finally, taking into account budget restraints is a common part of a lab manager's role. Very few have an open checkbook when designing any part of their lab, including a lab bench table.
The good news is that there are many components of a lab bench table that can be replaced with a more inexpensive option, and often, those cost-friendly options provide similar benefits.
For example, whether a phenolic vs. epoxy resin work surface is best is a common question among lab managers. Epoxy resin provides one distinct advantage over phenolic resin in that it can withstand continuous heat exposure above 350 degrees. Phenolic resin can withstand continuous heat exposure up to 350 degrees.
In almost every other way, they both provide similar benefits like high bacterial and chemical resistance. However, phenolic resin is significantly less expensive than epoxy resin, providing a budget-friendly option for lab managers who need a countertop material that withstands harsh conditions often found in a laboratory.
It can be difficult to navigate the many different choices you have for a lab bench table, which is where an experienced manufacturer or supplier can step in and provide guidance. It's just as important to give the same amount of consideration to the company you are about to work with as the lab bench table you are considering.
The best manufacturers or suppliers will:
Work with you to determine your exact needs
Take into consideration your budget when making recommendations
Help you improve workflow
Determine which materials are best for your current and future applications
Emphasize safety and adhere to cleanliness requirements
Work with you to deliver your product in a timely manner
Keep open communication with you about manufacturing lead times
The best manufacturers will ensure your budget restraints will not compromise the type of lab bench table you need and will offer reasonable solutions to design challenges you face along the way.
For more ideas on how to create the best lab bench table for your workspace, our article, How To Customize An Industrial Workbench With Storage, dives into additional considerations to keep in mind when evaluating your options so that you can make a solid decision with all the information you need for your lab.