Choosing the right industrial workbench is important to maintaining an efficient space. When that workbench must be mobile, however, simple additions can keep workflow moving and productivity high.
Here are some of the items your mobile industrial workbench should include.
Casters For Mobility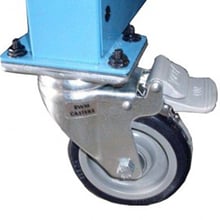 Casters are perhaps the most important component of increasing the mobility of an industrial workbench. Workstations on wheels optimize workflow because they equip employees with a workbench that can be moved to where the work must be done.
Mobile workstations also can ease the burden of having to relocate stations as the needs of a company change. Casters allow for this to happen quickly and with less effort and downtime.
However, not all casters are created equally. If you have a heavy duty workbench, it is important to ensure your casters will adequately support that weight. Casters bought online may only hold a few hundred pounds and are more suited for office environments.
In an industrial setting, make sure you incorporate casters that have a weight load capacity of around 1,000 pounds when all four casters are in use.
Casters also can impact the height of a workstation, so keep that in mind when selecting the type of caster you prefer for your workbench. Other features to look for include whether all four wheels lock, if they can swivel in place when locked or unlocked, and whether they are adjustable in height.
A Workbench Top That Meets Your Application
Mobile industrial workbenches are often useful in industrial and laboratory settings that are continually evolving in application.
New technology and projects are constantly emerging, which is why it's important to keep in mind what's on the horizon for your company when choosing the material that will sit on top of your workbench. These new applications may require that a workbench be move to another area of the facility, and it's critical that this workbench be able to withstand any new application requirements.
When choosing a workbench top, you will want to ask yourself the following questions:
What chemicals are used currently or could be used in the future in my workspace?
Do I need a workbench top that provides abrasive or moisture resistance?
Will my workers use sources of heat?
What is my budget?
In a manufacturing or laboratory setting, some of the most common materials used for workbench tops include:
Materials like phenolic resin, epoxy resin and stainless steel tend to be more resistant to bacteria, chemicals, fungus, corrosion and moisture. However, these can be higher in price. Chemical resistant laminate holds up extremely well to chemicals, but not to other contamination sources like fungus and bacteria.
High pressure laminate is one of the most economical options, but they must be used in a chemical-free setting. ESD laminates are popular in environments where static electricity is a concern.
For more information about these materials, check out our article, Types Of Industrial Workbench Tops.
Space-Saving Options For Evolving Needs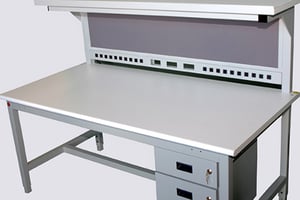 If you're looking into a mobile industrial workbench versus a stationary workspace, it's important to keep in mind that the requirements of your workspace may change in more ways than only location.
Adding storage and other space-saving options to a workbench is a great way to remove the need for taking up additional expensive space.
Some space-saving options that can be included in the design of a mobile workbench include:
Utility drawers that come in a variety of sizes and configurations
Shelving that can be installed below or above the work surface and move with the workstation when it moves
Upper storage cabinets that can move with the workstation
Articulating monitor arms that can accommodate flat screens and laptops
Keyboard trays and CPU holders that can be fixed or adjustable
Pegboards that can be added between the uprights to attach tools
Bin rails or panels to store parts and accessories.
When considering drawers for a workbench, keep in mind that while storage space is an important consideration, so are other aspects such as whether they lock. If these drawers currently house chemicals or there is a possibility that they could house chemicals eventually, look for a design that incorporates locks.
Ergonomic Benefits
Some of the most recently available data from the U.S. Bureau of Labor Statistics shows sprains, strains and tears are among the leading types of injury in manufacturing.
Incorporating ergonomics into a mobile industrial workbench design is important since this practice focuses on refining a product's design so that it is better optimized for human use. This, in turn, increases productivity and boosts safety in a workspace.
Like stationary workbenches, mobile workbenches can be designed so they are adjustable, allowing working to choose whether they want to sit down or stand up at the bench simply by using a manual, hand crank or electrical control.
Don't forget ergonomic chairs as well, which can help support employees who spend long periods of time sitting.
Customization Opportunities
When choosing a mobile industrial workbench, look for a company that will customize the workbench based on your current needs and future needs. An experienced workbench manufacturer can help you determine which features are key to boost productivity and bring those ideas to life in a timely manner.
Even items that are essential to making a workbench mobile like casters can be customized. With several choices available to you, look for a high-quality and experienced manufacturer to ensure you are getting the best product that meets your workers' needs.