Industrial furniture is a significant investment for any lab. The furniture you choose has a direct impact on the cleanliness, productivity and safety of your lab.
Industrial look furniture certainly has the clean appearance and sleek design that is highly desired. However, shopping for furniture that has an industrial look and feel is simply not enough to protect employees and your application from the harsh conditions many labs experience.
Industrial style furniture will not withstand the conditions of your laboratory or warehouse space. Only certified industrial furniture that meets rigorous standards can do this.
Here's why your lab furniture should go beyond aesthetics, as well as where you should shop to get the best of both worlds … durability and style.
Materials Matter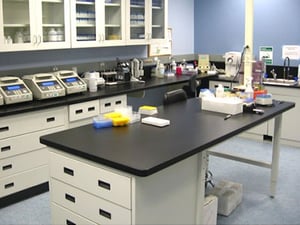 Typical furniture that features an industrial chic look won't be constructed using the same materials that are used to build industrial furniture.
Industrial furniture is built with materials that can withstand corrosive substances or other dangerous chemicals. Furniture found in labs should be able to withstand other extreme conditions as well, like moisture, bacteria, heat and heavy equipment.
Rather than only metal, concrete and wood, lab countertops in particular are constructed using materials like phenolic resin, epoxy resin and chemical resistant laminate. Each of these materials has its own benefits and appropriate applications. But in general, they are much more resistant to chemicals, heat and other conditions found in laboratories.
Even the material in a chair can set it apart from a standard office chair. Most chairs found at the local office supply store are made of a material like cloth that will not hold up to laboratory conditions. Industrial furniture manufacturers know this, which is why they focus on using materials like vinyl or polyurethane.
In industrial, laboratory and manufacturing environments, static electricity often poses a danger as well. To help combat static electricity, specially-manufactured ESD chairs and ESD laminate work surfaces can provide that layer of protection that you cannot get from an office furniture manufacturer.
Customization Is Key
When purchasing furniture at wholesale prices or from furniture stores, customization opportunities are typically not available. And just like your laboratory has its own unique purpose, your lab has its own unique set of requirements that may require customized solutions.
An industrial furniture manufacturer will work with you to meet:
Storage needs you have, such as cabinets, shelving and drawers (while ensuring these pieces meet chemical storage requirements)
Countertop requirements that are durable and resistant to chemicals you use and other harsh conditions in your lab
Safety requirements including furniture that meets ergonomic support or helps protect against dangerous conditions such as electrostatic discharge
Other needs such as utility and lighting options, electrical systems and fabric specifications
It's important to keep in mind that the applications your lab performs may change over time. A quality industrial furniture manufacturer will work with you to not only meet any customized needs you have now, but any that might occur in the future as your laboratory grows in size and application.
You Get What You Pay For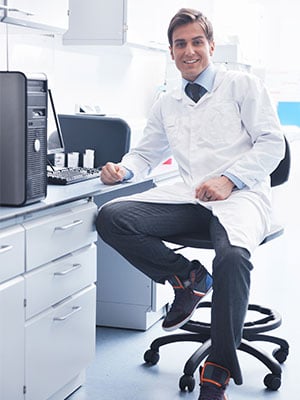 The old adage, "You get what you pay for," couldn't be more true when it comes to furniture that has an industrial look versus actual industrial furniture.
When shopping for furniture, you will notice a difference in price among the two, with industrial furniture typically having a more expensive price tag. That's because industrial furniture is created to withstand harsh environments, unlike furniture created for aesthetic purposes only. Industrial furniture is also designed with other top features, including:
However, if you instead purchase inexpensive furniture for your lab to save money upfront, you'll still likely pay more in the long run. Cheap prices typically don't equal top quality, and you may need to replace pieces of furniture more often, especially if they are used in a lab where chemicals and other damaging substances exist.
Industrial Furniture Companies Are Specialized
If you are looking for the look of industrial furniture with all the benefits that certified industrial furniture provides, it's important to work with an actual industrial furniture manufacturer, rather than buying online.
The best industrial furniture companies will:
Help you figure out your exact needs, including storage requirements, design and must-have materials
Work with you to bring your ideas to life so that you end up with the product you want
Emphasize safety and ensure all furniture pieces can withstand the conditions of your specific lab
Deliver your product in a timely manner that meets any project deadlines
Purchasing the wrong furniture that does not meet the needs of your laboratory can be a costly mistake. If you want the best bang for your buck, it is better to work with an experienced industrial furniture company that has your back and values you as more than just a sale.