What is phenolic resin? Phenolic resin is a compound that combines phenol and formaldehyde, creating large networks of permanently bonded molecules.
Depending on the balance between phenol and formaldehyde, and whether the catalyst is an acid or a base, the phenol formaldehyde resin properties vary.
Below we'll explore what makes phenolic resin a popular choice across several industries, including in manufacturing and laboratory environments where it is a go-to material for harsh and extreme conditions.
Desired Properties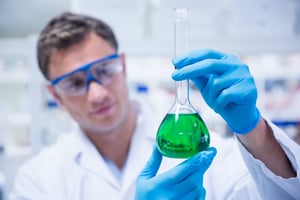 Products made with phenolic resin are desirable for many manufacturing and laboratory locations because they have great heat resistance and can withstand harsh chemicals, making them ideal for volatile environments.
Phenolic resin is also non-conductive and flame resistant. These high resistance properties make this material a good choice for environments that require compliance with fire safety, smoke emission, combustion and toxicity standards.
In addition to good thermal insulation and excellent durability, phenolic resin is also easy to mold into a variety of shapes and complex contours. These qualities make them adaptable to several environments that we'll explore below.
Uses In Industry
Phenolic resins have been used widely across various industries, from use in 3D printers to mine ventilation, offshore pipes, electronics, ballistics, aerospace, and rail and mass transit systems. They are even used in constructing different types of products like brake pads, billiard balls and special coatings for metal that increase mechanical strength.
Phenolic resin can also be blended with neoprene rubber to make adhesives that offer thermal stability and toughness. This adhesive can often withstand high heat resistance up to nearly 200 degrees F.
As discussed above, the balance between phenol and formaldehyde, and whether the catalyst is an acid or base, can determine how the material is used and the benefits it provides.
For example, using water and a base with excess formaldehyde creates a polymer called a resole. A resole is often used with heat and pressure to create a strong bond between layers of plywood. This durability can be especially beneficial in environments that are routinely exposed to water or other harsh conditions.
When excess phenol and an acid catalyst is combined (called a novolak), the resulting thermoplastic is ground into a powder, mixed with a filler and used in heated and pressurized molds. This material is then used in heat-resistant objects such as handles and knobs for appliances and cookware or electrical connectors.
Particularly in manufacturing and laboratory environments, phenolic resin offers an excellent choice for companies looking for durable countertops.
Phenolic resin countertops are manufactured by layering natural kraft paper that has been saturated with phenolic resin and processed under high heat. The result of this process is one solid, lightweight countertop that is durable and long-lasting.
A Go-To For Extreme Environments
Phenolic resin is a top material for laboratory work surfaces because of its ability to hold up to impact and resist stress fractures.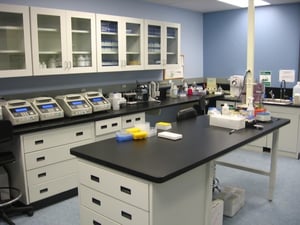 Other benefits phenolic resin countertops include:
Moderate duty
High bacterial resistance
High chemical resistance
Moderate to high corrosion resistance
High fungal resistance
High moisture resistance
High scratch resistance
Continuous heat exposure up to 350 degrees F
Phenolic resin countertops also look great in a lab because they are one solid, lightweight piece that can be made in almost any configuration and shaped to the required size.
Although this material is flame resistant, it is not flame retardant. That means it will eventually burn at high temperatures
Phenolic Resin Cost
Phenolic resin countertops are a good long-term investment and fit into many budgets since they are typically mid-priced compared to other materials.
In fact, phenolic resin is often compared to epoxy resin, the traditional standard for lab environments. While epoxy resin is a durable choice and offers many benefits, phenolic resin provides 90% of the same benefits, but for a much lesser price.
Epoxy resin countertops can cost as much as $100 to $200 per square foot, whereas pricing for phenolic resin costs an average of $15 to $18 per square foot and increases based on modifications specific to your needs.
Phenolic resin is also typically readily available, shortening lead times. That's an important factor for many labs since time is money. There are fewer epoxy resin manufacturers than phenolic resin manufacturers, so you may face longer lead times (and project timelines) if you need epoxy resin.
You can read more about what makes phenolic resin a good long-term investment for your lab or manufacturing space in our article, Phenolic Resin Price: Deal Or No Deal?
Ready For The Future Of Diagnostic Testing
Like many sectors of the healthcare industry, COVID-19 has changed diagnostics. While much of this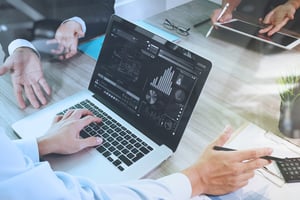 shift was out of need, a change in home-centered healthcare is now coming out of desire as well.
Patients are more aware than ever of the benefits and ease that come with at-home diagnostic testing, and laboratories have an opportunity to meet this need.
At-home testing spans far beyond COVID tests. According to a report published by MarketWatch, the glucose test segment is expected to grow as the number of diabetic patients in the world continues to rise. There are more than 460 million people between the ages of 20 and 79 with diabetes in the world, according to the International Diabetes Foundation. That number is expected to rise to 700 million by the year 2045.
Particularly for laboratories that handle making or processing diagnostic tests, Top Lab Grade Phenolic Resin provides a safe choice.
As mentioned above, one of the advantages of using phenolic resin as your countertop material is that it is highly resistant to chemicals. In fact, manufacturers routinely perform scientific tests to ensure these lab countertops are resistant to common chemicals found in laboratory settings, including acids, bases, salts, halogens, organic chemicals, solvents, biological stains and most conventional cleaning agents.
What To Know About Phenolic Resin Suppliers
If phenolic resin seems like a good fit for your lab, your next decision involves choosing a supplier or manufacturer.
With many laboratories still dealing with supply chain issues and labor shortages, it's important to work with an experienced manufacturer that will deliver your purchase in a timely manner and ensure phenolic resin is the right material to meet your needs.
In addition to offering customizations, keep these tips in mind when choosing a supplier or manufacturer:
Customer service is more than a few phone calls. The best phenolic resin supplier will make sure you are considering every detail necessary before you make a purchase. This includes customizations and other design considerations.
The best manufacturers will take the time to send one of their manufacturing representatives or a dealer representative to your facility if you need assistance. A design staff is often on hand as well to help you work out the details of your project.
Lead times are realistic. The location and the number of customizations that you require can impact your lead time. If your countertop is across the country, you can expect an additional 7 to 10 days for shipping. If it's out of the country, that wait can be significantly longer (which is just one reason why working with an American-based furniture company is important).
Never work with a manufacturer that offers unrealistic lead times for your countertop. Relying on false promises can cause you headaches and costly project time.
Shipments should be protected. When looking at a supplier, ask about how shipments are protected. The best companies will deliver their product using their own truck or a trucking company that they trust and use frequently. They typically don't use common carriers that pick up several products along the way to your destination to make a trip financially feasible. The latter can delay and open your shipment up to damage.
A Quality Investment
If your laboratory is taking or may take on new applications in the future, it is a good idea to invest in a countertop that can withstand even the harshest laboratory conditions.
While used across many industries, phenolic resin is a great choice for laboratory and manufacturing settings that produce extreme conditions, making this material a wise long-term investment in ever-changing fields.