A workbench isn't just a workbench when you are upgrading furniture in your industrial space. In fact, there are many details you can customize that increase efficiency and improve workflow.
One of these customizations involves how you configure and design drawers in the workbench. You may be wondering, 'Are there really that many choices when it comes to drawers?'
The answer is, yes! And, the best industrial furniture manufacturers will give you those options, allowing you to choose what's best for your space and your staff.
Below, we'll explore what some of your options are, and why customization is so important in industrial and laboratory workspaces.
Your Best Drawer Options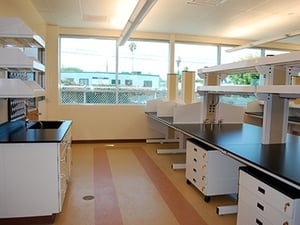 If you're looking to upgrade your existing industrial furniture, choosing the right workbench for your space can be more complicated than you may have thought. Your employees have a lot of work to accomplish, and it's important for you to provide them with the setup they need to be both efficient and comfortable.
Though just one characteristic of a workbench, the number and configuration of drawers in this piece of furniture plays an important role in whether your employees' needs are met.
When sizing up your needs, here are some options to consider.
Ergonomics: Ergonomically-designed drawers help optimize your workspace and help prevent repeated strains to the body. It may not seem like a major feature, but ensuring your workbench has drawers that are easily reachable and accessible can make a major difference in the well-being of your employee.
Design: When examining the design of the drawers in your workbench, look for features like full extension and heavy duty roller bearing slides. These features allow you to effortlessly open and close drawers no matter their contents, while larger drawer dimensions mean more storage space.
Security: If working in a space where security is an issue, look for workbenches that allow you to include locks on the drawers when customizing, and whether they need to be keyed the same or differently.
Configurations: There are several different drawer options when it comes to how you configure them. Here's one particular example. In the same amount of space, you could choose:

Four 3-inch drawers and two 6-inch drawers
Two 3-inch drawers and three 6-inch drawers
Eight 3-inch drawers
Four 3-inch drawers and one 12-inch drawer
Four 3-inch drawers and one 12-inch locker (with left or right opening)
Knowing what you will need to store in this drawer space will help you determine which configuration is best for your setup.
Handle options: Depending on your manufacturing space, you may want to customize your handle options as well. Choices can include:

Plastic cup handles
Aluminum cup pull handles
Full finger steel pull that runs the length of the drawer
Lab grade aluminum handle pulls
Chrome wire pulls
As you can see, a drawer isn't just a drawer when it comes to industrial furniture. But what about other customizations you'll need to weigh when it comes to designing your own industrial workbench with drawers?
Other Workbench Customizations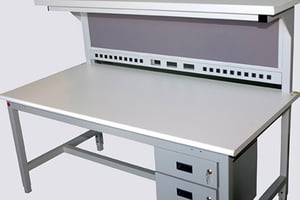 As technology has evolved, you know the importance of conforming your workbench so that it meets any regulations or safety requirements in your workspace.
Some other characteristics you'll want to consider when choosing the best workbench with storage space include:
Weight load capacity: Knowing what you will use the workbench for is an important first step in determining which workbench to purchase. You typically have three choices:

Heavy duty: Around 5,000-pound capacity, though width can impact this
Extra heavy duty: 10,000- to 20,000-pound weight load capacity
Standard: 750- to 1,000-pound weight load capacity
Construction: This reflects the durability and strength of the workbench. Again, these typically come in three choices:

Heavy duty: Typically feature 14 gauge steel, with 2-inch square steel legs for long-lasting strength
Extra heavy duty: Typically feature 12 gauge steel, welded with 3-inch square bench legs
Standard: Typically feature 16 gauge steel, welded with 2-inch square legs
Countertops: One of the most challenging aspects of choosing a workbench is selecting the right countertop. This is important because the countertop may need to be resistant to chemicals, abrasives, heat and moisture. There are several surfaces available, ranging from high pressure laminate to butcher block. Our article, What Are Laboratory Cabinets And Countertops Made Of? further explores your choices.
Other storage options: In addition to drawers, you'll need to consider other storage options, such as shelving, upper storage cabinets, CPU holders, pegboards, bin rails or panels, and utility drawers.
Our article, How To Customize An Industrial Workbench With Storage, provides additional advice on how optimizing these choices can increase productivity while saving space.
Why Customization Is Key
Although we've outlined some of the choices you should consider when choosing an industrial workbench with drawers, it's important to note that not every industrial furniture manufacturer offers you these options.
Working with a manufacturer that customizes to meet your specific needs is important in helping you solve any storage, durability and safety issues you face when purchasing industrial furniture.
Personalization matters, and the best manufacturers will:
Bring your ideas to life
Offer options in a time frame that gets your lab up and running as soon as possible
Emphasize safety
Consider your needs as your company grows
Streamline the process without sacrificing cleanliness requirements
Purchasing lab furniture, including industrial workbenches, is a significant investment. Manufacturers are the best source of information as you navigate your choices, and the best companies should be able to answer any questions you have regarding materials, configurations and your budget.