Today, it's more important than ever for laboratories and manufacturers to ensure their countertops perform for the work needed in labs.
Laboratory worksurfaces must also be able to withstand the harsh chemicals needed for continuous sterilization to maintain cleanliness standards.
At a time when COVID-19 is sweeping across the globe, this pandemic has caused many facilities to reconsider whether the materials they use in their labs every day are right for the work they are doing
As federal governments continue to take steps to expand the testing of the novel coronavirus, more and more microbiology laboratories are having to equip their spaces with the right materials that can withstand the constant use of cleaning agents.
The good news for these laboratories is that advanced technology has produced worksurfaces that are up to the task and can withstand powerful chemicals without experiencing damage.
TopLab Grade Phenolic Resin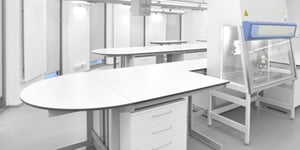 For laboratories conducting research on COVID-19 or are tasked with handling COVID-19 tests, Top Lab Grade Phenolic Resin provides a safe choice.
Phenolic resin countertops are typically manufactured by layering natural kraft paper that has been saturated with phenolic resin and processed under high heat. It can also be made from impregnated wood pulp. Whichever method is used, the result is one solid, lightweight countertop that is durable and long-lasting.
Most important for many labs today, phenolic resin worksurfaces are highly resistant to bacteria, fungi and chemicals.
In fact, the phenolic resin countertops typically undergo scientific testing to determine just how resistant they are to common chemicals found in laboratory settings. Each test involves applying five drops of a reagent on the surface at room temperature. Those drops are then covered with a watch glass. After 24 hours, technicians rinse off the surface with water and evaluate whether any damage to the countertops had occurred.
Chemicals tested include different concentrations of:
Acids like hydrochloric acid and sulfuric acid
Bases like ammonium hydroxide and sodium hydroxide
Salts like copper sulfate and silver nitrate
Halogens like iodine
Organic chemicals like dimethylformamide and formaldehyde
Solvents like acetone, benzene and trichloroethylene
Biological stains like acridine orange and Congo red
Most conventional cleaning agents
In addition to offering chemical resistance, phenolic resin surfaces are also:
Moderate duty
Moderate to highly corrosive resistant
Highly moisture resistant
Highly scratch resistant
Phenolic resin surfaces can withstand continuous heat exposure up to 320 degrees F and hold up well to impact and stress fractures. Some phenolic resin countertops have Class A and B fire rating and can be self-extinguishing, so it is important to know what you are getting before you purchase .
These characteristics make phenolic resin surfaces a great choice for biological, chemical, clinical and analytical labs. They are also ideal for labs that perform experiments or tests where results depend on non-contamination and require laboratory work surfaces that are exceptionally chemical resistant, impervious and hygienic.
Other Options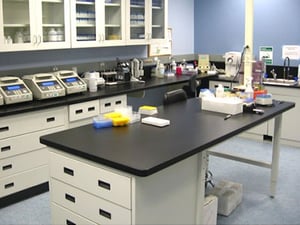 For a laboratory setting, epoxy resin work surfaces are another high-quality option.
Epoxy resin countertops are made from a mixture of materials and then cured as a solid product. They are durable, non-porous and hold up very well under harsh and extreme conditions.
That makes this type of material ideal for fields and settings such as biological science, education, hospitals, industrial testing, medical, microbiology, and research and development labs.
Laboratories that perform experiments and tests while using harsh chemicals, open flames and instruments that create extreme heat can also benefit from the use of epoxy resin work surfaces. In fact, they can withstand heat exposure above 320 degrees F.
That is because epoxy resin countertops are heavy duty and offer:
High bacterial resistance
High fungal resistance
High corrosion resistance
High chemical resistance
High water and moisture resistance
High scratch resistance
Epoxy resin is also flame retardant and holds up to impact and stress fractures.
Although they are higher in price compared to other materials, epoxy resin is one of the most durable materials, making this material a sound investment for most extreme lab conditions.
Other materials that might offer a better option to meet the conditions of your lab can be found in our article, Top 5 Materials To Consider For Your Lab Countertops.
Evolving Needs
While many people consider countertops a long-term investment, it's now more important than ever to keep in mind that the scope of your laboratory or manufacturing space may evolve as needs change.
As the fight against coronavirus continues, so will the need for labs that can keep up with testing and research demands. Having the right work surfaces that can withstand the rigorous cleaning requirements during this process is essential.