There's a quote that says "Time is our most precious commodity." In a work environment, your space might be a close second.
That's because the way your workspace is designed has a direct impact on efficiency and workflow. And, when it comes to industrial workbenches, they can make or break a space.
Choosing the right workbench and customizing it with useful components can improve your space, giving it the boost it needs to enhance production while meeting all industry regulations.
Below we'll explore a few ways you can upgrade your space simply by utilizing your industrial workbench to its full capabilities.
Maximize Your Drawers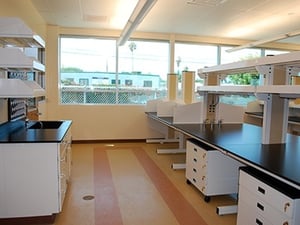 A drawer isn't just a drawer when it comes to industrial workbenches. Though it's just one component of a workbench, a drawer can play an important role in whether your employees' needs are met.
When looking for ways to improve the impact your workbench has on your space, consider the following:
Whether the drawers are ergonomically-designed: Ergonomics help optimize your workspace and help prevent repeated strains to the body. By ensuring your workbench has drawers that are easily accessible, it can make a major difference in the well-being of your employees.
Whether they provide security: If keeping chemicals or other items safe is a priority, look for drawers that include locks, and consider whether they need to be keyed the same or differently.
Whether you can customize the configuration: There are several different drawer options when it comes to how you can configure a workbench. If you're considering adding a workbench to your space, look for a company that will configure the drawer space based on how it benefits your employees the most. For example, in the same amount of space, you could choose four 3-inch and two 6-inch drawers, or eight 3-inch drawers.
Other design features on your drawers can improve you space as well, such as full extension and heavy duty roller bearing slides, and various handle options.
Include Other Accessories
Workbenches can come with a host of other accessories that can maximize workflow, preserve space and provide workers with needed tools easily within reach. These include:
Shelves that can be used below or above the worksurface for easy-to-access storage
Upper cabinets that usually feature flipper doors and provide extra storage in the work space
Footrests, which come in the form of a horizontal bar, an ergonomic pan that attaches to the horizontal bar or a freestanding foot rest
Electrical power strips, which can be mounted to the work surface or upright for each access
Utility options, such as a utility ductway for data, air and gas that can be attached to the upright
Lighting, including overhead LED lighting, which can prevent the need for a desktop lamp but provide additional lighting to ceiling lights
Articulating monitor arms, which can accommodate flat screens and laptops
Keyboard trays that can be added to any work surface or articulating arm
CPU holders that can be fixed or adjustable
Pegboards, which can be added between the uprights to attach tools
Bin rails or panels, which can be attached to the uprights and hold plastic bins for storage of parts and accessories
Workbenches can also be customized to include ESD grounding kits, which allows the grounding of the bench in workspaces where there are ESD requirements. You can read more about the importance of meeting ESD requirements in our article, What You Need To Know Before Buying An ESD Workbench.
Pick The Right Capacity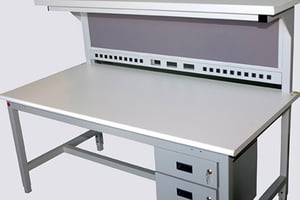 Industrial workbenches make handling and storing heavy equipment possible. The potential function of a workbench diminishes when it does not meet a certain weight load capacity and strength.
That's why knowing what you will use the workbench for is an important first step in determining which one to purpose when striving to improve your space. (It's also important to think ahead about potential uses as your operations grow.)
You typically have three choices in weight load capacity:
Heavy duty: Around 5,000-pound capacity, though width can impact this
Extra heavy duty: 10,000- to 20,000-pound weight load capacity
Standard: 750- to 1,000-pound weight load capacity
The construction of the workbench also plays a role in its durability and strength. This, as well, typically comes in three choices:
Heavy duty: 14 gauge steel, with 2-inch square steel legs for long-lasting strength
Extra heavy duty: 12 gauge steel, welded with 3-inch square bench legs
Standard: 16 gauge steel, welded with 2-inch square legs
Choose The Right Countertop
Without the right countertop, your workbench simply becomes an office desk.
Countertops play an important role in improving your industrial space. That's because certain materials provide better resistance to chemicals, abrasives, heat and moisture.
If you're looking to make improvements to your space, you'll want to take into account the type of surface on your workbench.
There are several surfaces available, including:
High Pressure Laminate: Basic and for non-extreme applications, but are durable and affordable
ESD Laminate: For use in applications where parts and materials are sensitive to static and need protection
Phenolic Resin: Solid, lightweight countertop that is durable and long-lasting
Epoxy Resin: Durable, non-porous and hold up very well under harsh conditions; ideal for high heat conditions
Stainless Steel: Resistant to bacteria, rust and corrosion; also stain and heat resistant
Butcher Block: Traditionally used in woodworking and basic assembly applications
You can read more about which surface is right for your workbench in our article, What Are Laboratory Cabinets And Countertops Made Of?
Take Advantage Of Customization
Purchasing industrial furniture can be an overwhelming experience, with all the choices available for customization.
However, when you work with a company that creates a unique design only for you, it ensures not only safety regulations are met, but that you have created a configuration that is best suited for your workspace.
An industrial furniture company will:
Help you figure out your exact needs, including what materials are appropriate for your application and how you can improve workflow
Emphasize safety, so that you can streamline the process of getting the workbench you need without sacrificing cleanliness requirements
Bring your ideas to life, so you know exactly how your workbench will look and fit in your space
If you're in the process of adding or upgrading a workbench in your space, a high-quality industrial furniture manufacturer can help you customize a solution that works for you - ensuring your needs are met in a timely manner using a little creativity and a lot of experience.