When purchasing industrial furniture, often the top of the piece gets top billing.
Whether it's the material used for the workbench tops, the fabric for lab chairs or the storage options, industrial furniture legs are often overlooked as an important customizable option.
Each part of a piece of furniture plays a significant role in the productivity of that space. This includes the legs, which can make a difference in how that furniture is used.
If you're not convinced just how important industrial furniture legs are, here are some reasons that may change your mind.
Strength And Durability Are Directly Impacted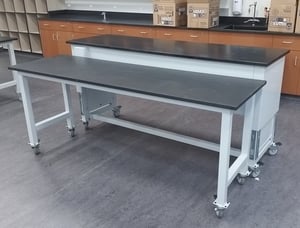 In an industrial or laboratory setting, the legs on an industrial workbench directly impact whether this piece of furniture can be used for average, everyday use or in a heavy duty capacity.
If you need your workbench to withstand heavy duty use, you should choose a type of leg that can support this.
When evaluating your workbench options, make sure you look for an industrial furniture company that offers you the following options:
Heavy duty benches: These are usually constructed with 14 gauge steel, welded with 2" square legs for long-lasting durability and strength.
Extra heavy duty benches: These are usually constructed with 12 gauge steel, all welded with 3" square legs for extra strength.
Standard benches: This option is typically constructed from 16 gauge steel. They are fully welded and have 2" square legs.
In addition, to the legs themselves, a lower shelf or horizontal bar can be attached to the legs to provide greater structural stability. This is especially important on the heavy duty and extra heavy duty benches.
For extra heavy duty benches, look for an option that provides pre-punched floor mounting plates on the legs. This provides additional stability.
Legs Help Determine How Much Weight Is Supported
Industrial furniture legs directly impact how much weight a piece of furniture can support. Using the types of workbenches outlined above, here is an example of how the legs determine the amount of weight that can be supported:
Heavy duty benches: These typically have a 5,000 lb. weight load capacity. However, if the workbench is 96" wide, the weight load capacity will usually drop to 4,000 lbs.
Extra heavy duty workbenches: These can support anywhere between 10,000 and 20,000 pounds.
Standard workbenches: These will usually only support between 750 and 1,000 lbs.
If the scope of your manufacturing space involves the use of heavy equipment, the legs you choose for your workbench are critically important.
Workplace Safety Is At Risk
According to an OSHA report, for every $3 spent on worker's compensation claims, $1 of that is due to a lack of ergonomic protection.
More managers are beginning to embrace ergonomics for warehouse workstations because this important concept helps prevent injuries and promotes the well being of workers. The design of a workstation impacts the everyday movements of workers, and any movements that deviate from the natural positions of a body can increase the risk of injury. These include:
Extending or flexing your back
Twisting at the waist
Bending laterally
Although sitting or standing in one place is often part of the job, an adjustable hydraulic workbench can help an employee sit or stand at a comfortable and supportive level by simply using a manual, hand crank or electric control. This type of bench essentially shortens or elongates the legs of the bench to increase comfort and reduce the risk of unnatural body movements.
The legs and ergonomic quality of an industrial furniture chair should also be a consideration when purchasing. An ergonomic chair should offer adjustable heights and durable casters attached to the legs for swivel and rolling capabilities.
Casters Make Your Furniture Mobile
Chairs aren't the only piece of industrial furniture that can be mobile. In fact, casters can be attached to the ends of workstation legs as well to create a mobile workspace.
Workstations on wheels optimize workflow because they equip employees with a station that can be moved to where the work needs to be done. Often, floor plans need to be adjusted as well for efficiency. Casters allow this to occur quickly and without the need for heavy duty lifting.
It's important to remember, however, that casters help determine the amount of overall weight a workstation can hold. When upgrading your workstation, make sure you consider the type of casters that will support it. Casters can also impact the height of a station.
Other features to consider include whether the casters include the ability for the wheels to lock, if they can swivel in place and whether their height can be adjusted.
Customization Is Key
Now that the reasons why industrial furniture legs aren't your average type of support, how can you ensure that you take advantage of what this important piece of a furniture's design offers? The key is to work with an industrial furniture manufacturer that offers customization.
Personalization matters in an industrial furniture company because it ensures you are meeting all regulations of your industry while designing a piece of furniture that meets the needs of your space.
Even customizable items that attach to the legs like footrests and casters can make a significant difference in the health and safety of your employees.
With several choices in the marketplace, it's important to work with a high-quality and experienced manufacturer to ensure the highest levels of safety and productivity are achieved.
Our article, Why You Shouldn't Overlook Industrial Workbench Legs, further explores the options available to you as you bring the ideas for your workspace to life.