I often get asked whether it is better to get fabric or vinyl chairs for workers in a lab. The short answer is…it depends!
It depends on what you are doing in your lab, whether you are using liquids or chemicals, if you have clean room or ESD requirements and how often the worker gets in and out of the chair.
The quality of the vinyl and fabric being produced today is much better than it ever has been. Not only have there been improvements in their look and feel, but there have also been technological advancements that enhance their performance.
You may have heard about some of these…Crypton, Nanotex, or Durablock. There are even silver-based treatments that help to make textiles antimicrobial, meaning it kills off bacteria.
When deciding whether to use vinyl or fabric for your lab, here is how the two stack up. Oh, and there is a third option…Polyurethane. More on this later!
Stainability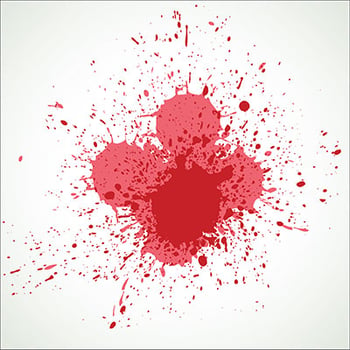 Unless fabric has a special coating like Nanotex, it will absorb liquids and stain. And, even if you do have this special coating, it can wear off over time.
Once a liquid has absorbed into the fibers, it is extremely difficult, if not impossible to get out. So, if you have a lab where you are using liquids, biological stains, or acids, fabric is not a good option.
Because vinyl by its nature is more resistant to fluids, it doesn't absorb liquids and stains like fabric does.
Therefore, vinyl is much more versatile when it comes to resisting stains.
Advantage: Vinyl
Durability
In the world of textiles, there is a measurement called double rubs. Double rubs measure a material's ability to withstand abrasion. When a person sits on a chair and then gets up off the chair, this is considered one double rub because their clothes are rubbing against the fabric or vinyl twice. The higher the number of double rubs a fabric or vinyl has been assigned, the better.
In general, vinyls can withstand more double rubs than fabrics. Over time, you will notice shiny or bald spots on the surface of a fabric. This is because the fibers are breaking down from continuous abrasion. So, if you have a lab environment where the technicians are constantly getting up out of their chairs, fabric is not the best option here.
Advantage: Vinyl
Cleanability
In the event of an accident or spill, the ability to clean your chair is very important. Fabrics are limited to using milder cleaning agents, such as laundry stain removers, rubbing alcohol, soap or all-purpose cleaners. A word of caution, liquid cleaners can leave a ring on the fabric when utilized. So, an extractor cleaner may be needed to avoid this issue.
Recent advances in vinyls have made them more versatile to cleaners. You can use bleach and water solution, rubbing alcohol and commercial cleaners. You definitely want to avoid cleaners that have abrasives in them. They will scratch and dull the surface of the vinyl.
Advantage: Vinyl
Static
Electrostatic Discharge (ESD) is a growing problem in industry. In an increasingly technological age requiring more sophisticated electronic components, the familiar shock we receive when walking across a carpet or shuffling around in a chair, can be costly or dangerous. ESD chairs are the solution.
Both ESD fabrics and vinyls are available for manufacturers of electronic products with ESD testing labs. In this case, it becomes an issue of durability and personal preference as to the choice for your lab.
Advantage: Both the Same
Clean Room
Fabrics are made of natural or synthetic fibers that break down over time. This does not make for a good option in a lab that is a clean room environment.
Vinyl is the only option for a clean room lab. Only specialized particle control vinyls should be used for these labs.
Advantage:

Vinyl
Affordability
You can find both fabrics and vinyls at all price ranges. However, there are more fabrics options in the more affordable price ranges than vinyls.
Advantage: Fabric
Comfort
This category is more of a personal preference category. I have talked to people who hate vinyl, typically women. This is especially true if they wear dresses or skirts, because skin tends to stick to vinyl. Others love vinyl because it is easier to get in and out of the chair without your clothes rubbing on it.
On the other hand, fabric is softer and has a more cushiony feel to it. Vinyl takes time to soften up. If the technicians in your lab sit for hours on end, both are comfortable, but fabric has a slight advantage here.
Advantage: Fabric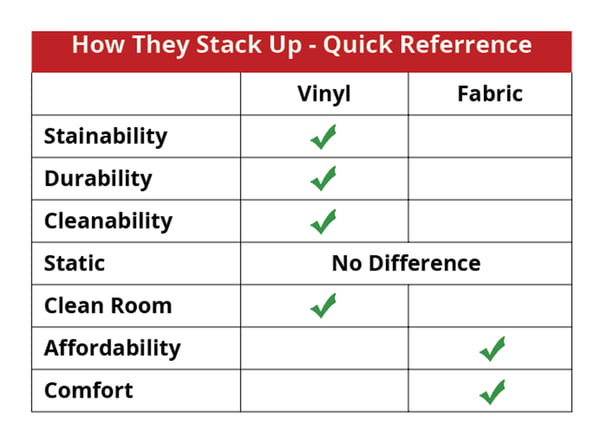 Hold on, before you go out and buy you vinyl or fabric chair, you need to look at Polyurethane.
Now Back To The Other Option...Polyurethane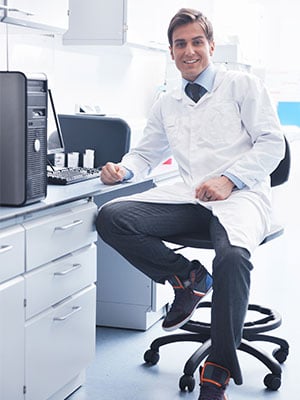 Polyurethane is an extremely versatile elastomer used in countless applications. Polyurethane chairs are designed for long-term seating and lasting use in the toughest working environments.
Polyurethane is resistant to stains, grease, water, punctures and chemicals. This makes polyurethane chairs one of the most durable chairs available for use in the toughest lab environments.
So, if you have a tough lab environment with strong chemicals, polyurethane is the chair you want to use.
Who Won?

For everyday lab environments, vinyl checks off most of the boxes for the criteria we have used and is one of your best solutions. If price and comfort are your main concerns, fabric is a great option, just know that there are limitations on whether you can use it for your particular lab environment.
For a tough lab environment, polyurethane is your best choice. And, if you check with your manufacturer, you may find that is more affordable than you think.
Final Consideration
One last thing to consider is the craftsmanship of the manufacturer. Make sure to look for ANSI/BIFMA certified lab chairs for high quality workmanship, and peace of mind. Products that have been certified by ANSI/BIFMA are held to a higher standard, and generally come with a longer warranty.
If the manufacturer's warranty isn't at least 5 years for wear and tear on the vinyl or fabric and 7 years on the mechanism…walk away! You will end up spending more time and money replacing chairs than you imagined.
In this case, you definitely get what you pay for.