A softwall clean room is another name for a portable or modular clean room. They provide a lower cost alternative to more permanent structures, while offering many of the same benefits.
This is key for any type of manufacturing or scientific research facility that requires a high level of cleanliness but is continually growing and not yet ready to invest in a costly permanent hardwall clean room.
Softwall clean rooms also tend to be more lightweight and easy to assemble than their permanent counterparts.
If your business requires the use of a clean room, here is some important information that will help you decide whether a softwall room is the right choice for your business.
What Does A Softwall Clean Room Include?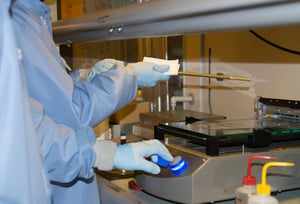 One of the most important items in a softwall clean room is its filtration system. A clean room is a space where airborne particles and chemical vapors are controlled in an effort to avoid contaminating products that are being constructed, sorted, tested or even packaged. Airborne particles may include dust, microbes and aerosol particles.
In more detailed terms, a clean room is defined by the concentration of particles of various sizes ranging from 0.1 microns to 0.5 microns, according to ISO 14644-1.
In a softwall clean room, High Efficiency Particulate Air (HEPA) filters trap these particles. How clean you need the room to be, according to ISO clean room standards, will determine the number and type of filters you need to use.
What your softwall clean room, in particular, will look like will also vary depending on your needs. It likely will have wall panels, ceiling, windows and at least one door. However, your clean room also may contain several pieces of equipment, such as:
In What Types Of Environments Are Softwall Clean Rooms Used?
Softwall clean rooms are commonly used when companies need to prevent contamination of electronic parts, medical parts and devices, medical testing samples and scientific experiments.
Typical industries that use this design of clean room include:
Semiconductor manufacturing
Pharmaceuticals
Biotech
Medical devices
Life sciences
They are also used in industries like aerospace, optics, military and the Department of Energy.
However, when a company chooses a softwall clean room versus a hardwall clean room, it is usually because the environment may change over time or does not have the same rigid standards as other applications require. This may be due to a number of reasons, such as:
A company is new and has limited funds (therefore, a more expensive permanent structure is not possible).
A company must meet certain cleanliness standards currently, but anticipates those standards will change in the future.
A company expects growth in size, and therefore anticipates a move of physical location may be possible.
High levels of air filtration are not required (which means the more expensive option of a permanent hardwall clean room does not financially make sense).
Where Should A Softwall Clean Room Be Placed?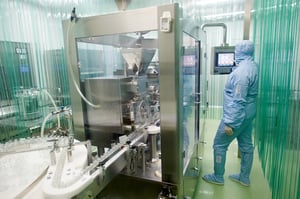 Perhaps the biggest benefit of a softwall space is the ability to install it where it makes the most sense. If your company is evolving, that location may change over time.
There are several factors, however, that should be considered when designing and placing your clean room, including:
The height of the space
Material on the existing floor and whether the floor is leveled
Overall accessibility of the space
Temperature of the space (not only now, but during different seasons)
What systems are already in place, such as plumbing and electrical
Whether there are any obstacles or columns that may impact the room's efficiency
It's also important to understand how the location of clean room features may impact efficiency, including where doors and pathways are located and how many access points there are, as both of these can impact airflow.
What Are The Benefits Of Softwall Clean Rooms?
Softwall clean rooms offer several benefits that make them a more realistic solution, especially for new companies and those who plan to expand in the future.
Softwall clean rooms are more affordable than traditional clean rooms - by a large margin. While the average cost for a 10'-by-10' portable clean room typically ranges from $10,000 and $15,000, Lab Design News estimates the cost per square foot of a permanent structure can cost up to $1,500. That's $150,000.
Softwall clean rooms are also much easier to reconfigure. They can become larger, smaller or moved to an entirely new location. This flexibility allows for growth of size and scope of application.
Softwall clean rooms can be manufactured, delivered and installed very quickly compared to the time associated with building a permanent clean room. This also reduces costly downtime while you wait for your clean room to be completed and installed.
What Should I Look For In A Manufacturer?
If you have determined a softwall clean room is the best choice for your application and company's projected growth, the next step is partnering with a manufacturer to design the best space that meets your needs.
When evaluating manufacturers, look for one that:
Has knowledge and experience of ISO particle count standards. It is critical that your manufacturer has the technical knowledge to ensure your space works the way you need it to operate.
Prioritizes high-quality manufacturing. Purchasing a high-quality product will ensure a longer lifespan - a feature that is likely important to you if your company will highly utilize the space. Look for an American manufacturer, in particular, since American manufacturers are known for making their products to meet higher standards.
Meets your timeline. How long you have to wait for the design of your space to be completed can have a significant impact on your operation. It's important to consider shipping time as well when choosing a manufacturer. If you're working on a tight deadline, make sure the manufacturer you choose can accommodate your timeline.
Personalized service. A mass-produced design may work for some companies, but if you have unique technical, size or material needs, you'll want to work with a manufacturer that can meet these design needs.
Also, don't be afraid to ask for references or examples of companies a manufacturer has worked with in the past. Other companies can provide valuable information that can give you insight on what type of experience you can expect.
Need more tips on what to look for in a softwall clean room manufacturer? Check out our article, What To Look For When Evaluating Modular Clean Room Manufacturers, for the most important features of a manufacturer to ensure you receive a top-quality product and experience.