Solid surface countertops are a mainstay today in professional environments like laboratories.
This material boasts a lot of advantages that make it the perfect addition to workspaces, and these advantages often land it on the top of the list of materials managers consider when upgrading their labs.
Yet choosing the right countertop material for your laboratory can be complicated. Every material has its pros and cons, and in labs where environments can quickly change, choosing the right countertop is critically important.
Here are 4 insider tips about what the best solid surface countertops offer that you should know before making this major investment in your lab.
Solid surface can withstand SOME extreme conditions.
Solid surface countertops offer customizations.
Costs can range based on several factors.
Your manufacturer or distributor plays an important role in your final product.
Solid Surface Can Withstand SOME Extreme Conditions
Solid surface countertops can withstand some extreme conditions often found in laboratory spaces. One of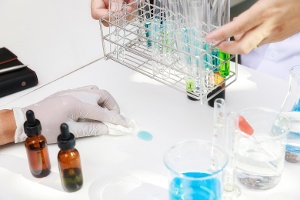 the greatest advantages of solid surface material is that it has a non-porous surface.
This water-proof feature is ideal for environments where moisture or water is present, including around sinks. Because solid surface is moisture resistant, water cannot seep into the tiny imperfections found in natural stone. This feature also means bacteria, mildew and fungus cannot survive on this type of surface. In lab environments where strict cleanliness requirements are present, solid surface countertops can help keep the area hygienic.
This non-porous feature also helps the countertop resist stains.
Moisture is just one harsh condition often found in labs, however. Many lab managers need a material that can withstand chemicals, abrasives and heat. In these instances, solid surface may not be the best choice.
Harsh chemicals can damage solid surface countertops, so labs that use harsh chemicals on a regular basis may need to opt for a different material, such as chemical laminate.
Open flames or hot instruments may also discolor and damage a solid surface countertop. If your lab routinely uses open flames and other sources of heat, epoxy resin or phenolic resin countertops may be the better option.
Solid Surface Countertops Offer Customization
Solid surface countertops have a reputation in the industry for being aesthetically-pleasing. One of the greatest reasons behind this is that they generally feature invisible seams.
Solid surface is made from a non-porous, homogeneous material that maintains the same composition throughout the countertop. This material is similar to plastic in that it is often made from acrylic or polyester resins and features a filler material.
This composition allows several pieces to be molded to fit perfectly together and used across a large area of countertop space. This is just the beginning of what makes solid surface countertops aesthetically-pleasing, however.
This mineral portion of the mixture depends on the desired final look and may include minerals like marble and granite. When designing solid surface countertops, manufacturers can customize:
Colors and patterns
Finishes
Edging
Colors can range from clean, sleek white to vibrant reds and bold blues. Mineral portions can be customized so that the end product mimics the same patterns of granite, marble and other natural stones.
Manufacturers can add special finishes like gel coating, gloss, matte and textured appearances that create subtle patterns.
Because manufacturers can mold solid surface material into different shapes and sizes, this allows them to create a wide variety of edging options as well. Some of the most popular edges include French cove, beveled, bullnose, roundover, and small and large ogee.
You can explore more customization options in our article, Solid Surface Countertop Detail: 4 Ways To Customize.
Costs Can Range Based On Several Factors
One of the first questions a manager likely has is: How much do solid surface countertops cost? The answer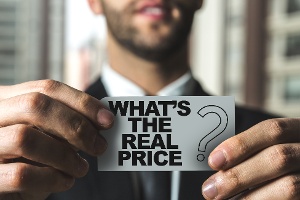 depends on a number of factors. In general, the cost of solid surface countertops can range anywhere between $50 and $200 per square foot.
How does that price compare to other popular materials found in labs?
Granite: $50 to $110 per square foot
Phenolic resin: $15 to $18 per square foot
Chemical laminate: $20 to $80 per square foot
Epoxy resin: $100 to $200 per square foot
High pressure laminate: $25 to $40 per square foot
Stainless steel: $75 to $150 per square foot
As you can see, countertop materials vary widely in price. Solid surface costs can vary widely as well depending on customizations you choose. Here are a few factors that impact your final price:
Heat resistance:

Depending on the desired resistance to conditions found in a workspace, the material can also be heated to around 320 degrees F and cooled in order to improve the countertop's heat resistance.

Pigments:

When solid surface countertops are constructed, the minerals and binding resins are mixed with a powdered filler (typically aluminum trihydrate) and pigments. Fillers and pigments can mimic the appearance of granite, marble and stone. They can also create colorful designs that range from beige hues to warm golds, rich blues and vibrant reds.

Special finishes:

Finishes can include gel coating, gloss, matte and textured appearances.

Edging finishes:

Certain edges of the countertops like square or eased tend to be less costly than specialty edging finishes like French cove or beveled.

Added features:

Adding items like sinks and backsplashes made out of the same material can increase the cost of your overall purchase.
When calculating your final costs, keep in mind that shipping distance and installation impact this as well. Typically, the manufacturer will quote you the shipping cost separately. Most manufacturers will also quote the cost for installation separately or have a distributor quote you. This quote should include the removal of your old countertops, if that is required.
Your Manufacturer Or Distributor Plays An Important Role
If you have settled on purchasing solid surface countertops, it's important to know that the manufacturer or distributor you choose plays a role in the quality and cost of the product that you receive.
As we mentioned above, shipping costs should be factored into your overall price for the product. Purchasing American-made furniture may reduce shipping costs, as well as lead times since it typically takes three to four weeks alone to ship a product from overseas. That's before the product arrives at customs (another week or more at least) and gets on a truck to be delivered to you.
A quality manufacturer will also take the time to send one of its manufacturing representatives or a dealer representative to your site if you need assistance. The manufacturer will also have a design staff ready to help you plan what you want your solid surface countertops to look like.
Lead time is another important consideration. If you're working on a tight deadline, having a manufacturer that can work with you on lead time could become a major issue in who you select.
In the end, the best manufacturers and distributors prioritize quality products, excellent customer service care and providing you with the customizations you need to ensure your solid surface countertops are the right investment for your lab.