An industrial workbench is the foundation for your workspace. It's often where much of the work in your operation is conducted, and it can make or break a space.
But as technology evolves and companies rely more and more on complex electronic devices that can cause damaging electrostatic discharge (ESD), many manufacturers are asking if there is a workbench that can withstand harsh environments and offer protection against this significant concern.
The answer to these challenging conditions is industrial ESD workbenches. Here's what you need to know about this type of state-of-the-art industrial furniture and whether you need them in your manufacturing environment.
What Is Electrostatic Discharge?
To understand how an ESD workbench works and the benefits it provides an industrial space, it's important to understand what causes electrostatic discharge, or ESD, and the dangers of this workplace hazard.
Electrostatic discharge is a natural occurrence in which electricity passes through a body or other conductor before discharging onto another object. A common ESD event is the shock we feel when we touch a doorknob.
ESD is a significant problem for many manufacturers, including those that assemble or construct:
Electronics and other electrical components
Medical devices
Automotive and aviation equipment
Plastics
Printing and painting
In cleanroom environments, ESD can derail a project by attracting dust and other airborne contaminants. A static discharge can also ignite flammable materials or vapors in a laboratory or factory.
Static discharge can cause damage to sensitive devices used in industrial applications as well with as little as 1 volt of electricity. Most devices need about 100 volts before they are damaged beyond repair. Yet people can't feel a static discharge until about 2,000 volts and higher, so just because a worker does not feel the zap does not mean damage did not occur.
For industries that depend on the reliability of components, especially in extreme conditions like aerospace manufacturing, the need for a protection against ESD is paramount.
What Are Industrial ESD Workbenches?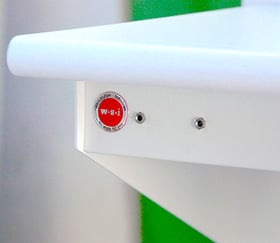 Industrial ESD Workbenches are highly specialized pieces of furniture used in environments where electrostatic discharge is a concern.
An ESD workbench is often used in industries such as electronic assembly, aerospace manufacturing and those that require clean room environments like flat panel manufacturing.
In most of these environments, an industrial workbench (versus a workbench used in an office setting) is already required. That's because industrial furniture is typically constructed with materials that can handle the destructive nature of dangerous chemicals and other damaging substances. You can read about the difference between industrial furniture and office furniture with an industrial look in our article, How Industrial Style Furniture Isn't Industrial Furniture.
However, when ESD is a concern, lab managers or manufacturing companies should take the design of a workbench one step further by including protection against electrostatic discharge through an ESD resistant work surface.
An ESD workbench is made with a high quality ESD laminate top that has an embedded carbon layer, which dissipates the static. ESD dissipation rates should be greater than 10/6th but less than 10/9th and be capable of handling 100,000 ohms.
Although ESD bench tops can be assembled to any type of frame, in an industrial or manufacturing setting, your workbench should feature durable steel frames with grounding bolts attached to each end of the table. This will provide the most strength and flexibility, and will provide the longest product life cycle.
Do I Need Industrial ESD Workbenches?
Electrostatic discharges happen all the time. For example, the static a person may feel after drying clothes in a clothes dryer is a typical occurrence of ESD.
Of course for many industries, an electrostatic discharge can be much more serious than a simple shock. In fact, static discharge can ignite flammable mixtures or vapors in laboratories, damage sensitive electronics, and can attract contaminants in clean environments.
Even just 1 volt of electricity can damage sensitive devices. What's most concerning is that humans can't feel static discharge until 2,000 volts or higher. That means just because you didn't feel the zap doesn't mean it didn't damage your products.
But the question remains for some facilities that wonder whether they really need the added expense of an ESD workbench. After all, cost is an important factor in any purchasing decision, and with ESD workbenches, there is an extra cost associated with the ESD laminate used to construct them.
In fact, you can expect to pay about 15 to 30% more for an ESD product over its non-ESD counterpart. However, it is important not to scrimp when it comes to getting the materials you need for your facility.
Here's just one example of why. Static charge can also impact precision weighing, which often occurs in laboratories and in manufacturing industries. When this occurs, static charges attract particulates, including dust. These particles build up on scale components, a weighing pan or the item being weighed. This can then result in weighing inaccuracies, which can be costly.
Addressing static electricity risks in your workspace is critical if it has clean room requirements or specific ESD requirements. Not doing so can end up costing you must more in the long run.
Does My ESD Workbench Need An ESD Chair?
If your facility can benefit from incorporating ESD workbenches into your workspace design, you will likely benefit from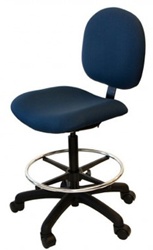 also using ESD chairs.
When you sit in a chair, the contact between your clothes and the chair can generate electrostatic charge on your clothing. As you stay in contact with the chair, body voltage will stay low. But as you lean forward and your back moves away from the chair's back, you will take the electrostatic charge with you. In fact, your body voltage can rise rapidly to a high level as the charge separates from its counter charge on the chair.
Eventually, those high voltages will discharge onto another object, possibly damaging expensive equipment or goods. A person can even cause ESD damage to an electrical component simply by waving a hand a few inches from it since static charge can jump from one object to another.
An ESD chair helps prevent this from occurring by offering resistance to static electricity. ESD chairs are manufactured with high-quality non-flammable, non-conductive ESD fabrics and vinyls. Key features include:
Conductive backrests that feature height adjustment options

Heavy-duty, robust metal frames

Pneumatic height adjustments for each user

Ergonomic seating

Sturdy base

Static-free casters
If you're considering incorporating an ESD workstation into your facility, don't forget additional furniture pieces that extend that same level of protection to other areas of your workspace.
What Else Should A ESD Workbench Include?
If ESD is a major concern for the work you perform and your employees, it's easy to focus only on this important safety feature that works toward the prevention of electrostatic discharge. However, a complete ESD workbench includes other accessory options as well that can improve productivity.
Industrial workbench ideas that improve your space include:
Drawers: Features to consider include configuration, ergonomically-designed benefits and whether they provide security through locks and individual keys.
Other storage features: These include design options like shelves, upper cabinets, and bin rails or panels for storing parts and accessories.
Organizational tools: These help your team stay organized and include electrical power strips, articulating monitor arms, keyboard trays, CPU holders and pegboards.
Utility needs: Utility duct ways for data, air and gas can be attached to the upright.
Lighting options: Overhead LED lighting can prevent the need for a desktop lamp.
Comfort features: Additions like footrests can provide ergonomic support through the simple addition of a horizontal bar, a pan that attaches to the horizontal bar, or a freestanding foot rest.
You will also want to consider the weight load capacity of the ESD workbench. You typically have three choices in weight load capacity:
Heavy duty: Around 5,000-pound capacity, though width can impact this
Extra heavy duty: 10,000- to 20,000-pound weight load capacity
Standard: 750- to 1,000-pound weight load capacity
Finally, the construction of the ESD workbench can impact its strength and durability as well. A heavy duty ESD workbench will typically feature 14 gauge steel along with 2-inch square steel legs for long-lasting strength. On the other hand, an extra heavy duty workbench will feature 12 gauge steel and will be welded with 3-inch square bench legs.
If your workspace doesn't require a high level of construction, a standard workbench features 16 gauge steel and is typically welded with 2-inch square legs.
Where Do I Buy Industrial ESD Workbenches?
To ensure you get the highest quality of product, it's important to work with the right manufacturing partner that will make sure your production is protected and all other needs are met.
When weighing your options, look for a manufacturer that:
Has expertise in manufacturing not only ESD workbenches, but other industrial furniture such as ESD chairs
Will bring your ideas to life and offer customization options in a time frame that gets your lab up and running as soon as possible
Emphasizes safety for your workers and follows any regulations that are enforced in your industry
Considers your needs as your company grows, which is important since your facility may have evolving needs that should not be overlooked when choosing industrial furniture
Streamline the process without sacrificing cleanliness requirements
Will

customize the workbench

with features such as storage options, weight load capacity, workbench capacity and even aesthetics like color
Can meet your deadline, which should include production time and how soon the product will arrive at your facility for assembly and immediate use
Keep in mind that a domestic manufacturer will minimize the risk of working with a foreign manufacturer that likely will have longer lead times. It's critical to ask any workbench manufacturer you are working with about lead times, since many factors can impact how long it takes for a product to arrive at your facility.
It's also important to ask how the company ships its product. The best manufacturers or distributors will deliver their product using their own truck or a trucking company that they trust and use frequently.
When a product is shipped into a different state or across the country, common carriers are often used. If your order isn't large enough to fill the entire truck, the trucking company will pick up products from other customers to make the trip financially feasible.
It is extremely important in these situations that the manufacturer packages their product so that it is protected on that truck. You don't want it getting damaged and impacting the completion time of your workspace.