If you're looking for industrial furniture for your laboratory space, you've likely begun researching the options that are available to you.
Simply doing a Google search on "industrial furniture" will return hundreds, if not thousands, of results. Unfortunately, most will not fulfill the quality of product you need to meet industry and safety standards for your workplace.
That's because industrial style furniture - pieces that are inspired by raw elements often found in warehouses and factories - is mostly cosmetic in look and design.
Industrial style furniture is not the same as industrial furniture.
The two may look similar, featuring materials like metal, concrete and wood, but we can assure you the aesthetic trend of industrial style home decor will not withstand the harsh conditions of your laboratory or warehouse space.
When searching for industrial furniture, it's important to realize the distinction between industrial style or inspired furniture, and actual industrial furniture constructed for industrial workspaces. Here are some features that separate the two and make industrial furniture the better option when you're looking for quality that goes beyond aesthetics.
Different Materials Are Used For Construction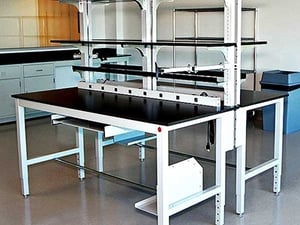 If your facility handles corrosive substances or other dangerous chemicals, industrial furniture is typically constructed with materials that can handle the destructive nature of these substances.
Not all materials are created equal, especially if your workspace is vulnerable to moisture, bacteria, chemicals, heat and heavy equipment.
Our article, Top 5 Materials To Consider For Your Lab Countertops, provides more details about materials you should consider for your workstations, workbenches and other surfaces.
Even the material in your office chairs can make a difference in the performance of your operation. While fabric may provide more comfort and is more widely used in most office settings, this type of material doesn't wear as well as vinyl, particularly when chemicals are present. Vinyl also typically resists stains better and is easier to clean. Polyurethane is another tough material that is more appropriate for work in harsh conditions.
If static electricity poses a danger in an industrial setting, you'll want to consider ESD chairs and ESD Laminate work surfaces.
You'll Notice A Difference In Price
Industrial furniture specifically created for withstanding harsh environments likely will cost more up front than furniture created for aesthetic purposes only.
Having said that, the statement, "You get what you pay for" couldn't be more true when it comes to industrial furniture.
If you opt to purchase inexpensive chairs, workbenches or other pieces for your space, you'll likely find yourself paying more in the long run. That's because cheap prices often lead to low quality and higher costs overall since they will need to be replaced more often, especially when they are used in laboratory and industrial applications.
Higher-quality pieces that have features such as ergonomic support, ESD materials and chemical- and heat-resistant materials play an important role in the safety, comfort and health of your employees.
Personalization Goes Beyond Looks
Though some companies - especially small businesses that customize furniture - will allow you to personalize your pieces to fit a certain area of your office or home, most companies don't utilize the technology available to create pieces that can withstand the specified harsh conditions of your lab.
In addition to building pieces that meet any space constraints, an industrial furniture manufacturer will work with you to choose:
Storage features you need, such as cabinets, shelving and drawers
Countertop materials that are durable and resistant to chemicals you use
Safety features that include ergonomic support and adjustability for workers who are on their feet or sitting for long periods of time
Other features such as utility and lighting options, electrical systems and fabric specifications
Even in industrial settings, your ideas can come to life even as manufacturers make modifications to ensure all safety requirements are met.
You're Buying Pieces That Have Been Tested
Unlike other types of casual furniture, industrial furniture manufacturers are more likely to undergo stringent testing to ensure their products are safe for use in certain work environments.
When searching for industrial furniture, you'll want to make sure the pieces you select are UL Listed and SEFA Certified.
UL Listed is especially important if you have any electrical components in the pieces you select, since Underwriters Laboratory is the Gold Standard in North America when it comes to electrical safety. A furniture piece with a UL certification has undergone routine inspection to ensure all components are manufactured and assembled with the highest degree of safety.
Members of SEFA (the Scientific Equipment and Furniture Association) have defined a set of quality standards for lab furnishings ranging from fume hoods to work surfaces, fixtures and safe chemical storage. To be certified, manufacturers must prove they adhere to a set of standards at every stage of their process, from design to production.
Purchasing industrial furniture that features these certifications can reassure you that you're choosing safety as a top priority for your manufacturing or lab space.
Bottom Line
Purchasing furniture is a major investment.
When it comes to industrial furniture, it is important to make sure you're getting more than just aesthetics. Make sure you're also maximizing your return on investment and getting the best bang for your buck.