Many people think about industrial furniture as being just big, heavy-duty and made to be functional, but the truth is that industrial furniture design has continued to evolve and advance to be both rugged and innovative. Products are now designed to foster efficiency, meet the needs of various employees and situations, and enable ergonomics, while still looking great and holding up to intense conditions.
The trends we're seeing in industrial furniture design today and into the next few years revolve around these three pillars: Productivity, Flexibility and Ergonomic Compliance.
Productivity
Industrial furniture design that improves productivity is a must have for industrial work environments. Things like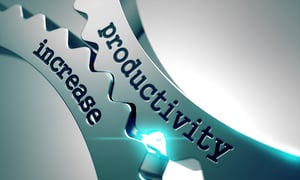 technology integration and add-on accessories can reduce the time it takes to complete many tasks and improve the overall employee experience.
Choose industrial furniture designed with built-in electrical, data or mechanical systems like air, gas or plumbing. Industrial furniture should also offer space for specific types of monitors or testing equipment.
In shared spaces or meeting areas, furniture should have plug and play capabilities so that a technician can easily plug in a test monitor, or use their lap top or mobile devices to present.
Industrial automation is also becoming a big part of some environments, meaning that these automation technologies will have to be incorporated into the designs as well.
Flexibility
Flexibility is a trend in industrial furniture design that is not going away anytime soon. This is for two main reasons.
Employees want to be able to choose how to use their industrial furniture and equipment based on the type of work they are doing. For example, for collaboration or innovation there might be open workbenches or casual seating that can facilitate group work and conversation. When concentration is needed or individual work, there might be private work areas or secluded workbenches.
Industrial furniture should be able to scale based on the needs of the worker or workgroup. For example, if an employee over six feet tall wants to use the same workbench as an employee under five feet tall, the workbench must be flexible enough to accommodate these varying heights.
Industrial furniture like modular workstations is essential to fostering these two kinds of flexibility. Modular workstations are built using a starter and adder approach. The starter station is finished on one end and is where all electrical and mechanical components are connected to the worktop. Each adder piece connects to the unfinished end of the starter station and can be added to as many times as needed. The modular stations are the then finished off with an end piece.
This approach allows for workstations to be easily added, removed or reconfigured while easily connecting electrical, air, gas or data from workstation to workstation.
Other accessories such as work surfaces, shelving, overhead cabinets and lighting can be added to these modular workstations in a variety of materials and sizes to accommodate different employee needs.
Ergonomic Compliance
Improper and repetitive movements often lead to injury. Think about slouching, reaching for a sample or even sitting for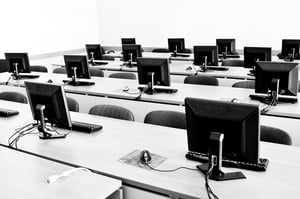 long periods of time. This is why ergonomics have become such an important part of industrial furniture design. To protect employees from painful muscles and joint conditions, there are several ergonomic features to look for in industrial furniture.
Adjustable height worksurfaces allow people to either sit or stand when working, which is key to meeting the needs of employees of varying heights.
Ergonomic chairs or stools that allows the user to adjust things like arm position, height, seat depth and even back lumbar support helps each employee – regardless of size – to find the correct posture and position for their body type.
Monitor arms allow for easy movement of one, or multiple computer monitors in order to keep them at the correct eye level for different employees.
Keyboard trays can help keep employees' shoulders and wrists in the correct position when a height adjustable desk is not an option or when an employee is working in a shared space.
Add-on accessories to modular workstations are available to improve posture and prevent injury from reaching too far or in the wrong position. These accessories include bins, shelves, lighting, document holders and headsets.
To learn more about ergonomic design principles, check out one of our other blogs.
Not all Industrial Furniture is the Same
Though it may seem like common sense to incorporate productivity, flexibility and ergonomic enhancements into all industrial furniture designs, not all industrial products are the same.
Make sure you do your research before you commit to purchasing and keep your eye on industry trends to see what is changing in industrial furniture design.