Being tasked with running a laboratory comes with many challenges. At some point, every lab manager will be forced to deal with one or more of the following concerns.
How does my organization efficiently and cost effectively add new laboratory space?
How can we perform multidisciplinary activities under one roof?
Is it possible to refresh, modify or replace my existing facilities, furniture and equipment?
How can I cost effectively adapt to my labs changing needs?
Modular Laboratories
For laboratory managers seeking answers to these burning questions, modular laboratory design has emerged as an innovative solution.
In recent years, modular laboratory units have grown in demand, particularly from governmental agencies. Specific uses include environmental surveillance, resource testing such as air and water quality, response to natural disasters and terrorist attacks, and disease outbreaks such as the recent Ebola outbreak in 2014.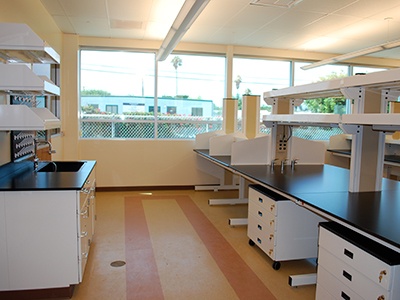 Modular laboratory buildings are effective during emergency response because they can be packed up and shipped to any location on demand and they can be set up within hours.
In addition to their ease of use, mobility and flexibility, modular laboratories offer some unique features including point-of-use ultra pure water systems, localized vacuum systems, ductless fume hoods and labor-saving devices that are conveniently hitched to walls and ceilings.
As a result of the growth in demand for modular units in the government sector, there are many modular innovations specifically modular furniture solutions that are finding their way into traditional laboratory environments that improve work flow and are allowing mangers to get more bang for their buck.
Why Your Furniture Selection Is Important?
There are three primary reasons why modular laboratory furniture should be given consideration when configuring your lab.
Ease of Use
Ease and convenience are required for labs to run efficiently, and the flexibility offered by modular furniture solutions can accommodate each user's individual needs.
Laboratories that offer flexible configurations allow technicians to work at their highest capacity without being hampered by poor ergonomic design. When it comes to your laboratory environment, it's important to ensure that your technicians have easy, unimpeded access to their equipment and materials.
Rigid and poorly designed furniture can create many difficulties, particularly when users are attempting to perform experiments or laboratory testing. Having to constantly bend or reach out for materials that are not conveniently located in the workstation can slow down productivity and increase incidents of workplace injury.
Laboratory furniture that can be adjusted or customized for users' unique needs and characteristics can greatly enhance your labs productivity. For example, furniture that can be modified to accommodate a disabled technician that allows them to perform as a productive member of your team.
Safety
Laboratories by their very nature require well thought out protocols to protect the safety of its workers. Modular laboratory furniture can not only create an easier and more convenient environment for its users, but can also help to improve safety standards. Here's How:
Layouts that also promote a freedom of movement for lab workers can also minimize the risk of technicians bumping into one another while trying to maneuver around poorly designed furniture, or equipment that does not work with the furniture layout.
Laboratories that are heavy users of hazardous chemicals can be volatile and dangerous places. Labs that are laid out effectively with movable furniture can prevent dangerous and hazardous situations.
Flexible lab arrangements can help make the area more prepared in the event of a disaster, as furniture will be able to move to minimize harmful outcomes.
Conversely, furniture that is in a fixed position and inconveniently located is at risk of suffering significant damage and can be a major problem if there is a chemical spill or contamination.
By eliminating or greatly reducing these types of hazards with a flexible design and movable furniture, you can ensure the safety of your lab and its occupants.
Adaptability
Modern laboratory technology continues to advance at a furious pace in the scientific community. By utilizing modular laboratory furniture, you can ensure that your lab can quickly adapt to advancements with new equipment, technology or methodologies.
Connectivity, data ports, online network access and power points are crucial to scientific work in the modern laboratory environment. Structuring your lab furniture in a flexible way that so that everyone connects easily will allow for an efficient and highly productive work environment.
Finding the Right Partner
For organizations that are in the process of new construction or renovation of an existing laboratory space, one of the biggest challenges will be finding the right manufacturing partner.
Because of the complexity of the laboratory environment and the sophisticated operations of lab technicians, it is important to move beyond price when comparing modular laboratory furniture options. Purchasing inferior cheaply manufactured equipment from shoddy manufacturers and distributors may cause more problems than any cost savings realized.
Price, product innovation, experience, engineering capacity and quick lead times are among the necessary attributes of a capable partner.
Choose a partner that has specialized experience working with your type of laboratory environment that can provide guidance for improving workflow, electrical systems, load capacities, and work surface types for the specific chemicals in your lab
If your laboratory needs a change, modular laboratory furniture is quickly becoming an attractive option and worth the time to speak with an expert to determine if it is right for your project.