If something goes awry in your laboratory, it's critical to have the right supplies in place to ensure your employees are safe. A lack of preparation can have disastrous consequences, impacting both the work you perform in your lab and the safety of your team.
Lab safety checklists are important tools to help employees identify potential hazards in the workplace. Employees should regularly use them … sometimes as often as every shift depending on the scope of work performed and the tools and machinery used in your lab. They can also be handy during routine inspections, as well as valuable record-keeping documents.
While every lab uses different chemicals, substances, equipment and procedures, we've gathered some important lab safety supplies that should be on your checklist if applicable.
Lab Safety Supplies Checklist: Emergencies
Fire extinguishers (mounted near doorways, fully charged and unobstructed)

Fire blankets

Eyewash centers

Safety showers

Emergency lights

Chemical spill kits

Evacuation route signs

Telephones with access to 911 services

Emergency information posters

First aid kits
Important Notes About This Emergency Checklist
Laws require that laboratories have multiple fire extinguishers on hand in the case of a fire. However, the types of fire extinguisher you have on hand will depend on the hazards your lab may pose.
There are four types of fire extinguishers:
Class A extinguishers, which are used for ordinary combustibles

Class B extinguishers, which are used for flammable liquids and gases

Class C extinguishers, which are used for electrical equipment

Class D extinguishers, which are used for combustible metals and metal alloys
Each type of fire extinguisher is made with a special substance that will only extinguish a specific type of fire. If you do not use the right kind of extinguisher, you may fail to extinguish the fire or make it worse.
Fire blankets also play a role in extinguishing fires, including to smother fires or to wrap around a person whose clothes have been set on fire. They are constructed using wool and are treated with flame retardant fluid.
There should be several eye wash stations readily accessible so that laboratory personnel can quickly access them if an accident occurs. Some labs may also require safety showers. These emergency showers are used when dangerous chemicals accidentally come in contact with a person's skin. An employee should first remove any contaminated clothing and then enter the shower. An overhead handle typically releases the water.
Chemical spill kits can be purchased ready-made or you can construct a kit by purchasing the supplies separately and placing them together in one place. Kits should include items like:
Disposable nitrile gloves

Caution tape

Hazardous waste bags and tags

Neutralizing materials

pH paper

Plastic bags

Mercury in-line vacuum trap kit

Personal protective equipment (PPE)

Dustpan and broom
Emergency information posters should include relevant telephone numbers, such as the phone numbers for local police, fire and emergency services. They can also include information such as how to perform CPR, how to perform the Heimlich maneuver and what to do in the event of an active shooter, severe weather or medical emergency.
First aid kits should be placed around a laboratory so they are readily accessible in case of an emergency. Ensure all lab technicians know where these first aid kits are located.
In each first aid kit, you should include: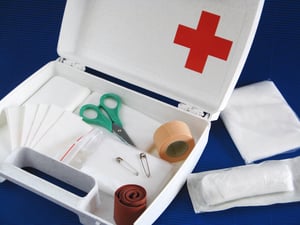 Bandages

Scissors

Tweezers

Hand sanitizer

Antibiotic ointment

Antiseptic cream

Sterilizing wipes

Sterile dressings

Gauze

Eye dressings
Make sure these kits are restocked when needed and that all expired products have been removed.
Lab Safety Supplies Checklist: PPE
Eye protection like lab safety glasses, goggles and face shields

Gloves

Protective hearing devices

Hard hats

Respirators

Safety shoes and protectors

Surgical face masks
Important Notes About This Emergency Checklist
When choosing clean room garments, it's important to remember your lab's application and what factors must be taken into consideration. For example, if ESD, or electrostatic discharge, is a concern in your lab, you will want to ensure your technicians wear PPE or clothing that is made of static dissipative fabric.
Fabric should also be resistant to hazardous conditions. For example, with chemical exposure, polypropylene allows moisture to evaporate more quickly than traditional clothing. It is also resistant to many acids and alkalis that may be used in a laboratory setting. Synthetic fibers tend to melt and stick to exposed skin when exposed to flames, so they should be avoided in labs where open flames are present.
Lab safety glasses, goggles and face shields all provide different levels of protection. Lab safety glasses often have shatter-resistant lenses and are designed to stop large objects from injuring eyes. Lab safety goggles may be a better fit if your lab workers regularly deal with chemicals, bloodborne pathogens or other substances that produce mists, vapors or fumes.
Face shields are not designed to be the only appropriate eye protection a lab worker should wear. Instead, they can help provide additional protection when worn over eye protection glasses or goggles. Face shields also help protect the entire face, rather than only eyes.
Lab Safety Supplies Checklist: Fume Hood
Ensure the hood sash is opened to the proper height to provide the proper level of protection.

Check the air gauge to ensure the airflow is within the required range.

Make sure the exhaust fan is working so that hazardous chemical fumes can escape.

Check the baffles in the exhaust fan since these keep airflow uniform.

Double check there are no spark sources nearby that can cause a fire or explosion.

Examine the air filters to ensure they are not clogged.

No chemicals should be stored in the hood.
I
mportant Notes About This Emergency Checklist
A laboratory fume hood is an essential piece of laboratory equipment because it keeps technicians safe from toxic chemicals by providing a ventilation system.
Fume hoods have a fan that creates a positive airflow to pull contaminants into the filtration system. There are two types of fume hoods: Ducted and ductless. The major difference in fume hood design occurs in the manner used for venting the contaminated air.
Ducted fume hoods have ductwork that is attached to the building and are stationery with a fixed position in the lab. Ductless fume hoods operate off a carbon filter system that recirculates filtered air into your building.
Our fume hood safety checklist shows how to keep a fume hood working at a high performance level.
Lab Safety Supplies Checklist: Other Hazards
Electrical cords in good condition

Outlets and switches have cover plates

Multiplug adapters carry overload protection

Ground fault circuit interrupters are available for use in wet conditions

Chemicals have proper storage in dedicated laboratory cabinets

Containers are clearly marked with appropriate labels
Important Notes About This Emergency Checklist
An important lab safety supply is a laboratory cabinet. However, a lab cabinet should be made from the appropriate materials that can safely store the substances you use in your lab.
For example, variations of steel, such as stainless steel, are some of the most common materials used to construct lab cabinetry because steel components are heavy duty and provide maximum strength and rigidity.
You can read more about which materials you should use in your lab in our article, What Are Laboratory Cabinets And Countertops Made Of?