According to industry guidelines, fume hoods should be inspected at least every 18 months.
However, while this inspection should be done to ensure that the fume hood is working at a high performance level, everyday safety checks by workers are just as important.
What should be included in a fume hood safety checklist?
A fume hood safety checklist should include:
Before Use
Ensure users are properly trained
Know the chemicals
Ensure sash is opened to proper height
Check the air gauge
Ensure exhaust fan is working
Keep spark sources away
Check the air filters
During Use
Ensure eye protection is available
Make sure motion is limited
Do not block baffles
Keep materials away from sash
Clean spills immediately
After Use
Close the sash
Avoid storing chemicals in the hood
Report any problems
A fume hood is one of the most reliable engineering pieces in the lab … when it is designed and used properly. There is an important caveat though...Fume hoods cannot perform as they are intended unless they are used correctly and safely.
That is why it is critical that employees follow safety protocols during and in between uses, whether you have a ducted fume hood or a ductless fume hood . A fume hood safety checklist can help prioritize these safety procedures and serve as a reminder to not overlook important everyday best practices.
Before Use
Ensure Users Are Properly Trained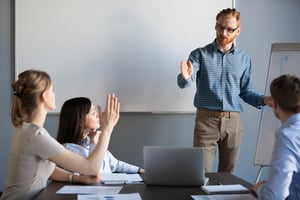 Although this item isn't one that will necessarily require action every day, it serves as a good reminder that all employees should be up to date on proper use of the equipment.
This is especially true in large facilities since employees may come and go. It's essential to ensure anyone new who comes on board is fully trained in operating the fume hood. Any current employees should regularly undergo refresher training, especially if a new chemical is being used under the hood.
Know The Chemicals
Before using the fume hood, users should understand the potential reactions of the chemicals they are working with, such as whether the chemicals could explode, liquefy or evaporate under certain circumstances.
If users are unsure of these potential reactions, they should refer to the chemical's Material Safety Data Sheet for more information.
Ensure Sash Is Opened To Proper Height
The fume hood sash should be opened to the proper operating height. If the sash is too high, there is not enough of a barrier between the user and the chemicals to provide protection. The proper height is usually indicated by a set of arrows located on the frame.
Check The Air Gauge
Double check that the air gauge shows that the air flow is within the required range.
Ensure Exhaust Fan Is Working
Check to make sure the exhaust fan is working prior to operating the fume hood. This includes checking the baffles, which are the movable partitions that create openings in the back of the hood and keep airflow uniform.
Keep Spark Sources Away
Before you begin, it is critical to ensure there are no sources near the hood that may cause a spark. This includes electrical receptacles and sources of static electricity.
Check The Air Filters
Check the fume hood filters to make sure they are clean or if they need replaced. Filters are important because they remove hazardous fumes and particles. They should not be clogged.
During Use
Ensure Eye Protection Is Available
Make sure the proper eye protection is available and that all fume hood users are wearing it. Even when the sash is in place, users should still wear eye protection when handling chemicals inside the fume hood.
Make Sure Motion Is Limited
Before and during the use of the fume hood, check to make sure there is limited motion around and in front of the hood while you're working. Excess movement could cause the fume hood to vibrate and disrupt airflow.
Make Sure Baffles Aren't Blocked
Double check that baffles or exhaust slots are not blocked while working in the fume hood. This could prevent air from flowing into and out of the hood.
Keep Materials Away From Sash
All materials should be at least 6 inches from the sash opening inside of the hood.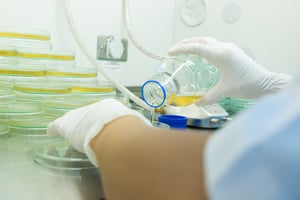 Clean Spills Immediately
If a splash occurs, wipe clean the glass on the fume hood.
After Usage
Close The Sash
When an employee is not working inside the hood, the sash should remain closed.
Avoid Storing Chemicals In The Hood
Employees should never store any chemicals inside the hood when it is not in use. Chemicals should instead be stored in industrial furniture cabinets equipped to hold hazardous chemicals. However, large equipment can be stored in the hood as long as it is on top of blocks to allow air flow under the equipment.
Report Any Problems
Promptly report any issues you have experienced with the fume hood to a supervisor. It is important that a supervisor takes this fume hood out of service until it can be repaired to ensure the safety of employees.
Another Important Consideration
No one likes to think that an accident may occur. However, if it does, it is always better to be prepared and know what the proper response looks like.
The most important step to take in the immediate aftermath of a fume hood accident is its response. Take any and all actions to safeguard people working in the lab first and foremost. That may include putting out any fires, containing spills, evacuating the area, attending to the injured and contacting emergency services.
After the accident, an investigation must immediately begin. This will prevent important data from being lost and witness forgetting important details. By determining whether safety procedures were followed and whether equipment worked as it should have, new protocols can be put into place to prevent similar future accidents.
Our article, Fume Hood Safety: Steps To Take In The Event Of An Accident, further outlines what procedures should be in place should an accident occur in your facility.