Businesses use laboratories in a multitude of ways these days. And, with tight budgets, limited square footage, changing business dynamics and safety considerations involved, businesses sometimes struggle when it comes to purchasing lab furniture.
One important decision comes when it's time to purchase a chemical fume hood for your new laboratory or during a redesign.
And, let's be honest, the stakes can be high. Just check out this article about a tragic laboratory accident at UCLA to see the potential consequences of working in a fume hood.
Here we look at your options...a ducted fume hood or a ductless fume hood?
The Standard – Ducted Fume Hood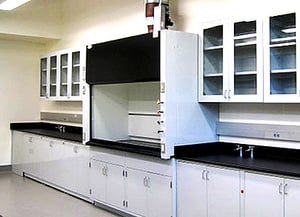 Ducted fume hoods have ventilated enclosures, operate within the framework of your building infrastructure and pull contaminants out of your building through the HVAC system.
Ducted fume hoods have a base, work surface, hood, blower and ducting that carries the air outside of the building. The engineer of the heating, ventilation and air-conditioning (HVAC) system needs to determine if your room has enough air to provide the necessary volume of ventilation to the hood.
The maintenance of the fume hood is performed as part of the building's maintenance, and is generally performed by those in charge of the mechanical systems. Typically, the Maintenance or Environmental Health and Safety team take care of any issues.
Your HVAC engineer can work with your team to provide optimal air supply and balance, so that everything functions properly within the fume hood.
Ducted fume hoods are considered safest for workers in laboratories, and its often the easiest for employers to maintain. Many universities ONLY allow ducted fume hoods in their facilities to maintain worker and student safety.
Advantages and Disadvantages of Ducted Fume Hoods
| | |
| --- | --- |
| Advantages | Disadvantages |
| Safer for lab workers | More expensive |
| Can handle a wide range of chemicals | More difficult to install |
| Easy to operate and maintain | Stationary in the lab |
| Exhaust system keeps contamination outside lab | More difficult to move or relocate |
| | Uses more energy |
The Alternative – Ductless Fume Hoods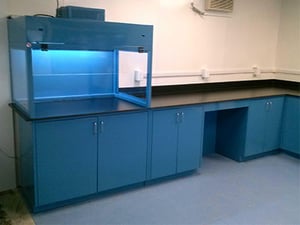 Ductless fume hoods operate off a carbon filter system that recirculates filtered air into your building. Ductless hoods are often referred to as re-circulating range hoods. They filter the air and then return the clean air back into the workspace. They are self-contained filtered laboratory enclosures. Their primary features are mobility, they save energy, are easy to install and cheaper because no ductwork is required.
The disadvantage is that workers are at a greater risk of chemical exposure, filter maintenance is required, they can be noisy due to the internal blower and there are limited applications for filter options.
Ductless fume hoods are ideal for labs that require mobility, handle light to moderate chemical loads and are looking for a cost-effective option from both an installation and operational perspective.
Advantages and Disadvantages of Ductless Fume Hoods
| | |
| --- | --- |
| Advantages | Disadvantages |
| Less expensive | Handles Limited chemicals |
| Easy to install | Need to replace filters |
| Mobile in the lab | Not as effective at removing chemical fumes |
| Easily moved or relocated | Not for constant use |
| Use less energy | |
Is A Ducted Fume Hood or Ductless Best for My Laboratory ?
So, how do you determine which is the right fume hood for your laboratory...ducted or ductless?
Here are some questions to ask yourself:
1. Do you work with more than 10 different chemicals?
2. Are you working with small or large volumes of chemicals?
3. Does your lab have a high volume of inexperienced people working with chemicals, such as a university lab?
4. Does your building have an HVAC system and a team to manage it?
5. Is mobility necessary for your operation?
6. Do you have techs that can properly maintain a system, e.g. changing out filters?
7. Will the chemicals you are using adequately filter through carbon?
Answering these questions about how you work with chemicals in your lab will help you determine the appropriate application for your needs.
Laboratory safety and workload should be the primary deciding factors in your decision. In a ductless fume hood, there should be no extreme heating, no more than 10 chemicals should be used per application, small volumes of chemicals should be used (approximately 500 mls or less) and exposure time should be within 2-3 hours per day.
There are a range of filters that have different chemical trapping capacities, but if your application doesn't match available filters you'll be required to move forward with a ducted fume hood. Talk to your fume hood provider about the various filters for chemical groups.
Lastly, determine how often you will be replacing your carbon filter, this will also give you a more accurate financial cost. Keep in mind that the filter life depends on the chemicals used, evaporation rate, chemical volume, duration of usage and the temperature of the chemicals.
Fume Hood Safety Considerations
Regardless of which type fume hood you choose, safety is always important. Fume hoods, when used properly, help protect lab employees and students working with toxic or volatile chemicals and compounds.
The fume hood serves as a physical barrier between the employee and the harmful fumes, fires, explosions and spills that might result from handling or experimentation. Because of this, fume hood safety is extremely important and can help protect your employees and student workers from injury.
Even though fume hoods are designed to protect against unexpected reactions of volatile chemicals, laboratory workers must serve as the first line of defense against. The equipment can only perform and protect if used properly.
Learn more about safety in our article, A Fume Hood Safety Checklist For Everyday Use.
Summary
It is important to make sure that you have the right fume hood for your lab application, because the safety of your work and your employees is at stake.
It is always best to consult with an expert fume hood manufacturer, so that your lab does not go up in smoke!