As the pace of research and development has accelerated dramatically, the need for laboratories to produce timely, accurate results has increased.
In order to keep up, laboratories have had to continually introduce new technologies and automation into their work environments. And the successful companies are the ones that design their laboratories to not only address their current needs, but are also capable of adapting to future demands as well.
Here are the areas that companies should factor in when designing their labs today:
Flexibility
The changing nature of work in laboratories makes it necessary to have a facility that adapts to change. This is especially true because of the continuing advancement and addition of new instruments, equipment, and robotics in lab environments.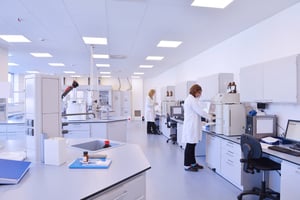 As a result, more and more companies are purchasing laboratory furniture that allows their research laboratory teams to transform their spaces to meet their changing needs.
That's never been more true in 2021 as more laboratories are taking on applications that involve COVID-19 testing and vaccine manufacturing. As the need for COVID-19 testing, the manufacturing of supplies and the manufacturing of vaccinations continues, many companies are finding themselves in an unusual position … creating goods that were never part of their business plans.
It is critical for laboratories to choose materials that can withstand the harsh conditions that these advanced testing environments pose.
Some have turned to installing portable clean rooms to keep up with the demand quickly, especially because more permanent structures like traditional clean rooms can take months to complete.
Others have invested in countertops made of top lab grade phenolic resin, known for its ability to withstand the use of chemicals and conventional cleaning agents, as well as moisture, impact and stress fractures. Investing in this top countertop material offers a laboratory a high degree of flexibility … able to take on any application that may come its way in quickly changing times.
Another lab design trend today focuses on modular laboratory furniture. According to the National Institute of Building Sciences, one company designed its lab so that "research teams were able to create over 60 different custom laboratory configurations" as soon as they moved in.
Other companies are making it easier to move lab technicians, by providing them with mobile drawer pedestals to keep all of their tools and materials. When the technician needs to move to a new work area, they simply bring their set of drawers with them. The same is being done with mobile storage carts for computers and equipment.
Typically, the more flexibility built into a lab building, the more it costs upfront. However, this built-in flexibility offers cost savings over time. Because companies have discovered that it is far more cost-effective to move staff around using in-house maintenance and facilities people, rather than contractors to accomplish frequent space reconfigurations
Collaboration
Another new trend for companies and research institutions is the idea of using collaborative research teams. This concept has been accelerated by younger scientists coming from more contemporary academic models where students solve problems in team environments.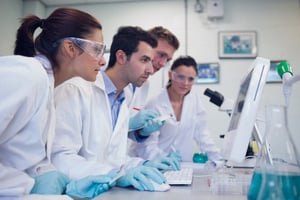 In this new work model, researchers share not only the space itself, but also equipment, bench space, and support staff. This open lab concept facilitates communication between scientists and makes the lab more easily adaptable for future needs.
The downside to this design is that some researchers and technicians find it difficult to work in a lab that is open to everyone. So, typically, there will a couple of small, closed lab rooms adjacent to the larger open lab. The idea is to allow them to move back and forth to work alone or as a team when necessary.
By allowing technicians to have equipment and bench space that can be shared in the large open lab, costs for the lab can be reduced.
Ergonomics
The extensive use of technology has changed how people work. This has created a need for employee safety and comfort.
Recent research has shown that sitting for long periods of time have been linked to health concerns, such as obesity and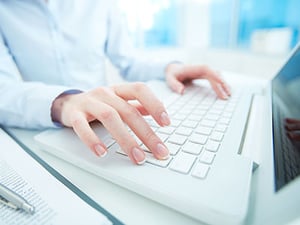 metabolic syndrome (a cluster of conditions that includes increased blood pressure, high blood sugar, excess body fat around the waist and abnormal cholesterol levels, not to mention chronic back pain).
Because of this more companies are incorporating height adjustable lab workstations that allow lab technicians to sit or stand at the push of a button. It also makes it easy to customize the workstation to the varying heights of employees.
Monitor arms, server platforms, and keyboard trays are also being incorporated into laboratory design to minimize soft tissue injuries that can result in costly worker's compensation claims and absenteeism.
You can find out more on why ergonomics is important in lab design in a recent article I wrote on the subject.
Sustainability
According to the National Institute of Building Sciences, "a typical laboratory currently uses five times as much energy and water per square foot as a typical office building". This is the result of large numbers of containment and exhaust devices, heat-generating equipment, 24-hour access for scientists and the need for fail-safe redundant backup systems and uninterrupted power supply (UPS) or emergency power.
Companies today need to focus on energy-efficient technologies, including air quality monitoring systems, water conservation and recycling, heating technology and low energy exhaust systems.
The bottom line is that Sustainable design of lab environments typically reduces costs and improves productivity.
Get Expert Help
There is a lot to consider these days when designing a laboratory. A reputable lab furniture manufacturer has experience and knowledge that can help you design a lab that can serve you well today and long into the future.