When it comes to industrial furniture, there's nothing standard about it.
Yet, many companies who aren't aware of the differences continue to purchase standard, ordinary furniture that doesn't hold up in the tough conditions industrial and laboratory workspaces often present.
Cabinets, in particular, must be able to effectively hold heavy equipment and laboratory substances, keep items secure and help organize your workspace. Because research and laboratory environments handle several types of chemicals, industrial furniture cabinets must also be able to hold substances that won't cause corrosion or other types of damage.
If you're not yet convinced industrial cabinets are the better choice for you, below are a few examples of how industrial cabinets differ from standard cabinets found in most furniture retail stores.
Weight Load Capacity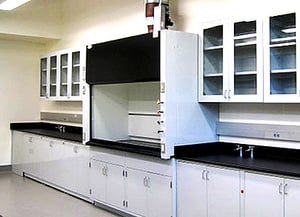 Industrial strength furniture is designed to withstand the rigors common in an active industrial workspace. It's far different than industrial-looking furniture, which may have a similar appearance, but cannot withstand corrosive substances or heavy wear and tear that occurs in industrial spaces.
One of the features of industrial furniture cabinets that allows it to hold up in these types of conditions is the weight load capacity, or load bearing capacity. Industrial cabinets are much more equipped to hold heavy pieces of equipment, such as microscopes.
Our tall storage cabinets, for example, feature shelves that each support a 200-pound weight load. The shelves can be adjusted, and adjustment rails are welded to the cabinet body to provide extra support.
Steel and stainless steel casework also provide reinforced features, such as 200-pound rated hinges, while all the steel components are heavy duty to provide maximum strength and rigidity.
Materials Used
As mentioned, steel and stainless steel cabinets provide an extra layer of protection when using harsh chemicals in a lab or manufacturing space. This is especially important when dealing with corrosive materials that can easily damage or contaminate surfaces.
Whereas many traditional cabinets you find in a typical office store are made of materials such as hardwood, plywood, veneers and particleboard, these materials would not hold up in any type of space where cleanliness and durability are musts.
Steel cabinetry is usually made of heavy duty, 12-gauge steel for heavy-duty use. It typically has a powder coat finish, which resists cracking, peeling and chipping. The powder coat is also abrasion, corrosion and chemical resistant.
This type of cabinetry or casework is typically best for chemical, clean room, dental, esd, electronics, industrial testing, photographic dark rooms, product testing, research and development, and school and scientific urology labs.
Stainless steel cabinetry is made of low carbon steel comprised of chromium and nickel. This makes it resistant to rust and corrosion. Stainless steel is also non-porous, so liquids cannot penetrate it. You may find this type of cabinetry in spaces dedicated to animal research, autopsies, biological sciences, chemicals, clean rooms, food testing, hospital rooms and pharmaceutical labs.
You can read more about the pros and cons of these materials in our article, What To Look For In Lab Casework.
Customization Options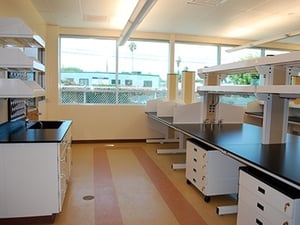 Details matter, even when it comes to industrial cabinets. Especially when it comes to laboratory and other industrial settings, paying attention to the fine details and customizing a piece of furniture to fit your needs can play a significant role in the success of your work.
Customization can also play a critical role in adapting your workspace to meet regulations, safety requirements and operational needs. Working with a company that allows you to do this - in a cost- and time-efficient manner - is key.
Standard cabinets often come "as-is." Just like when you're buying a home, you have to be prepared to accept what you get, even if that means less-than-ideal conditions. With industrial furniture, however, look for a company that allows you to customize and design the home of your dreams for your equipment.
Items you may want to customize include paint colors, locks and add-ons like casters and bins. We also offer double steel doors and double glass hinged doors with steel frames, or a sliding glass door as an option, both framed and unframed.
Even the inside of the cabinet can be customized to accept a steel tool pegboard or a multi bin rail holder.
Tested For Durability
While standard cabinets may need to meet certain safety requirements, with industrial furniture, you should look for cabinets that meet SEFA 8 performance standards for safety, durability and structural integrity.
The Scientific Equipment and Furniture Association produces this only existing international standard that is designed to ensure high-quality lab casework. SEFA 8-M tests examine various aspects of the casework, including the:
Strength and integrity of the cabinet construction
Structural integrity of the cabinet when under stress
Strength of the hinges and drawer hardware for lifetime usage
Integrity of drawer bottoms and joinery under impact from falling loads
Resistance to chemicals on the work surfaces and fixtures
This added level of protection provides reassurance that your cabinetry will hold up, even in the harshest of conditions.
Bottom Line
A quick search on the Internet for industrial cabinets will provide a wide variety of options. You'll likely see cabinets that have an industrial vibe, standard cabinets that you may find in any given office space, and furniture that offers a level of protection needed in industrial or laboratory settings.
While the first two may match what you're looking for aesthetically, they cannot offer the benefits industrial furniture provides. Industrial cabinets can offer both, thanks to their attractive and high-tech design that can withstand the rigors of an active industrial workspace.
Our article, The Difference Between Industrial And Industrial Modern Furniture, further outlines the major differences between the two, and why choosing a commercial industrial office furniture manufacturer with quality products ensures your cabinetry is built with your needs in mind.