What the last five years have taught many of us that work with and support the scientific community is that researchers now more than ever are being called on to do more with less. Budgets are being stretched thin and lab managers have to be creative on how to manage their precious financial resources.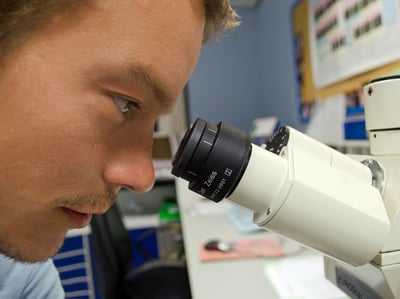 The scientific research community received a shot in the arm with increases in federal funding with the passage of the 2016 federal budget. For at least the next two years, the federal funding outlook is positive after several years of funding declines.
The federal Fiscal Year 2016 Budget calls for increases to appropriations for research & development at the National Institutes of Health (NIH), National Science Foundation (NSF) and other agencies that rely on federal funding.
However, the longer term funding outlook is murkier and largely dependent upon the upcoming 2016 Presidential Election and the uncertainty that comes with new Federal leadership.
Many Labs Need an Overhaul
Many laboratories around the country are in need of an overhaul either because the harsh conditions and raw materials found in the laboratory environment has taken a toll on the existing furniture, or because changing research priorities have made current lab configurations less than ideal.
Either way many lab managers have found themselves with the dilemma of needing to update their laboratories while trying to stick to tight budgetary constraints.
In order to help, we have highlighted a few simple fixes that can go a long way towards helping lab managers stretch their budgets when new furniture is not in the cards.
Here several options to help you update your laboratory furniture on a budget.
Add Casters to Existing Furniture
One of the simplest and most cost effective fixes is to add casters to the bottom of existing furniture. Casters add immediate mobility to existing furniture and allow for easy reconfiguration of your layout allowing you to adjust your workflow as your needs change.
Many available casters have weight ranges up to 1,000 lbs., which makes retrofitting older equipment a fairly easy task, and something to consider for budget strapped lab managers.
One of the growing trends in modern laboratory design is need for the ease and convenience that is provided by flexible lab configurations.
Unfortunately, many existing labs are encumbered with rigid stationary furniture that do not allow technicians to work at their highest capacity because of poor workflow. Stationary furniture can create many difficulties, particularly when users are attempting to perform experiments or laboratory testing, and also when attempting to clean up spills or other laboratory mishaps.
It's important to ensure that your technicians have easy, unimpeded access to their equipment and materials. By adding casters, you can add flexibility for a small investment.
Add New or Additional Shelving
Another quick and inexpensive fix for outdated labs is to add shelving to laboratories or existing work benches. Many lab environments are suffering from a lack of usable space or crowded storage space.
Poor lab design and lack of effective storage are a big nuisance. Many technicians are working with cluttered workspaces which leads them to have their raw materials (e.g. chemicals, parts, etc.) right on their lab work surface due to a lack of usable space.
This creates not only an inefficient work environment, but can also lead to serious workplace accidents.
By adding shelving when space permits, you can easily add vast storage and ergonomic functionality to your workbenches and laboratory. This can immediately improve your lab techs work flow and improve safety.
Dollar for dollar this is one of the most economical and easiest solutions to implement.
Replace Worn Countertops
For more comprehensive lab overhauls, one consideration before investing in entirely new furniture is to replace workstation and lab bench countertops with a new work surface.
Many times the existing casework is in reasonable condition, but the countertops are in bad shape from spills or accidents that have occurred over the years. Countertops can also be scored from harsh chemicals or inappropriate cleaning methods which will can lead to your lab looking worn and dated.
By replacing worn countertops with new surface materials, you can instantly update the look, feel and functionality of your laboratory for a fraction of the budget of all new furniture.
Our favorite choice for upgraded countertops is phenolic resin.
Phenolic resin countertops are lightweight, hard, durable and highly chemical resistant. They are oil and moisture resistant and are resistant to most bacteria and fungus. Phenolic resin is an excellent choice for laboratory environments with continuous heat exposure up to 350°F (176°C).
These types of countertops are excellent choices for environments where lab experiments must be performed in an environment free of contamination. In this type of environment, hygiene, cleanliness, chemical and stain resistance are of utmost importance.
Phenolic Resin Countertops and table tops meet the requirements of most laboratories while at the same time bringing a range of additional benefits. These benefits include chemical, wear and water resistance.
Shorter lead times, budget friendly and availability, make Phenolic Resin Countertops an extremely attractive option.
Upgrade Over Time with Modular Lab Furniture
Depending on the age and condition of the furniture in your laboratory, a full upgrade of your furniture may be your only option. The new trend is acquiring modular laboratory furniture.
Modern laboratory technology continues to advance at a furious pace. Modular laboratory furniture is highly adaptive so you can ensure that your lab can quickly reconfigure as advancements with new equipment, technology or methodologies change your needs.
Connectivity, data ports, online network access and power points are crucial to scientific work in the modern laboratory environment. Structuring your lab furniture in a flexible way that so that everyone connects easily will allow for an efficient and highly productive work environment.
Modular laboratory furniture is budget friendly because you can start with a base workbench and add components as your needs change. This is one of the quickest ways to get a project off the ground and maintain budgetary control and flexibility.
Running a modern laboratory and sticking to a budget is a challenge. These simple fixes can go a long way. If your laboratory needs a change, speak with an expert to determine the right course of action for your project and your budget.