Choosing an industrial workbench for your workspace isn't as easy as flipping the pages of a catalog and choosing one.
In fact, designing one involves a lot of careful consideration since each feature you select can impact the safety, efficiency and workflow of your space.
When designing an industrial workbench with light and accessories, be thorough when determining what you currently need and what you may need down the road. If you're in need of some design inspiration, here are seven ways to incorporate helpful tools and essential features into your industrial workbench.
1. Lighting To Enhance Visibility
Lighting enhances visibility at a workstation and is a critical component during assembly or laboratory applications. Overhead lighting fixtures are among the most common and come in a variety of widths to meet the needs of a space.
Light fixtures that feature LED light bulbs can last longer, use less electricity and save on operating costs. They also typically feature higher brightness and intensity levels. Prismatic lenses disperse light over a larger surface area.
Under-shelf lights brighten up specific areas of the workbench, offering a customized look. For those on a tight budget, economy light fixtures are a great option to consider.
2. Storage Options To Stay Organized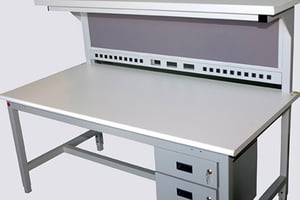 Adding storage to an industrial workbench is a great way to help employees stay organized while removing the need for additional furniture that can take up expensive space.
Utility drawers are one of the most common additions to a workbench and come in a variety of sizes and configurations. Other options include shelving that can be installed below or above the work surface, upper storage cabinets that feature flipper doors, and bin rails or panels that can store parts and accessories.
Keep in mind that the actual drawers can be customized as well, right down to the handle used to pull the drawer open. Options include plastic cup handles, aluminum cup pull handles, full finger steel pulls that run the length of the drawer, lab grade aluminum pull handles and chrome wire pulls.
3. Space-Saving Features To Enhance Design
Even after taking advantage of the storage options above, additional space-saving features can maximize surface space and keep tools organized. This is important, as a workbench is often used by multiple employees during back-to-back shifts.
Examples of space-saving features that can be designed into a workbench include:
Articulating monitor arms that can accommodate flat screens and laptops
Keyboard trays or articulating arms
CPU holders that can be fixed or adjustable
Pegboards that can be installed between the uprights to attach tools
Utility duct ways, mounts and power poles can also make managing wires easy and offer a clean look.
4. Industrial Workbench Tops To Meet Conditions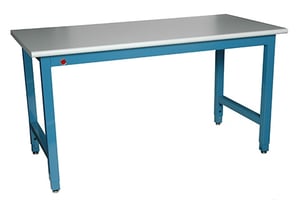 While lighting and storage options are among the most popular ways to customize an industrial workbench, these features are just the tip of the iceberg when it comes to personalizing a space based on your company's needs.
One important feature not to overlook is the material used for the workbench countertop. With harsh conditions often found in laboratories or manufacturing settings, it's essential to choose a material that can withstand high temperatures, exposure to damaging chemicals and other extreme elements like moisture and fire.
Customizing the countertop on your workbench can help ensure it holds up to these extreme conditions. But which one do you choose when designing your workbench? The answer comes down to a number of factors, including your application.
If high resistance to bacteria, chemicals, fungus and moisture are important, you'll want to take a closer look at materials like phenolic resin and epoxy resin. If your application involves continuous heat exposure, stainless steel might be the better option since it can withstand continuous heat exposure above 1500 degrees F.
If static electricity is a concern, ESD laminate surfaces might be the best choice. If budget is your top priority, high pressure laminate (HPL) may meet your needs as long as your environment does not include any of the extreme conditions outlined above.
Our article, Top 5 Materials To Consider For Your Lab Countertops, provides a more comprehensive overview of these materials so you can choose which one best fulfills the current and future needs of your application.
5. Capacity To Ensure Safety
Although it's easy to overlook, selecting the weight load capacity for your workbench is one of the most important aspects during the design process.
Before purchasing any type of industrial furniture, take into consideration how the workbench will be used now as well as how it will be used in the future. Weight load capacity directly impacts the safety and function of the workbench.
Three options are typically available to you:
Heavy duty, which has a weight load capacity of around 5,000 pounds
Extra heavy duty, which typically features between 10,000- and 20,000-pound weight load capacities
Standard, which has a lower weight load capacity at around 750 to 1,000 pounds
Keep in mind that the width of a workbench can impact its load capacity. For example, a 96-inch wide workbench would have a load capacity of around 4,000 pounds.
6. Construction Features That Impact Durability
Like the weight load capacity, how a workbench is customized directly impacts its durability and strength. Features like a workbench's legs, mounting plates and bars all affect the structural stability of this piece of furniture.
Construction varies depending on if the workbench is classified as heavy duty, extra heavy duty or standard.
Heavy duty benches are usually constructed with 14-gauge steel and feature 2-inch square steel legs. A lower shelf or horizontal bar offers more structural stability, and leveling foot plates allow for floor anchoring to improve stability.
Extra heavy duty benches are constructed using 12-gauge steel and are welded with 3-inch square bench legs. A lower shelf and pre-punched floor mounting plates on the legs give the bench added structural stability.
Standard workbenches, on the other hand, are typically constructed from 16-gauge steel and feature 2-inch square legs. They may include a lower shelf or foot rest bar, although they usually come with floor leveling glides or optional casters.
When adding casters during construction, make sure you choose ones that will support the weight of the workbench. Casters bought online may only hold a few hundred pounds of weight and are typically more suited for office environments. In industrial settings, casters should hold a weight load capacity of at least 1,000 pounds when all four casters are in use.
7. Chairs To Maintain Productivity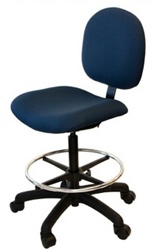 It's easy to focus on the workbench itself and forget about another important component … an industrial chair. A high-quality chair plays an important role in the safety, comfort and health of your employees, and therefore a workspace's productivity.
When choosing a chair, here are a few items to consider:
Material: Fabric, vinyl and polyurethane are most commonly seen in laboratory and industrial settings. Fabric provides more comfort, but doesn't hold up as well to extreme conditions as vinyl and polyurethane, particularly when chemicals are present. If static electricity poses a danger, consider an ESD lab chair that prevents friction.
Comfort: Poor posture can lead to health issues such as back pain and tension headaches. Invest in chairs that keep employees comfortable and productive to minimize these risks. Look for chairs with sturdy frames, adjustable heights and comfortable backrests and seats.
Price: The cost of a chair may seem like an obvious consideration, but keep in mind there is more to its cost than its price tag. In other words, the price of a chair includes the total cost of ownership, such as assembly costs, repair costs, how often it needs to be replaced, user efficiency and additional operating costs.
How To Get The Workbench You Need
Now that you have seven features to consider when designing an industrial workbench, your next question may be, "How do I get these design needs met?"
When customizing a workbench, look for a company that will work with you every step of the way to ensure you have a product that meets the needs of your facility in a timeframe acceptable to you.
The best industrial furniture companies will emphasize safety, consider your current and future needs, and bring your ideas to life.
For more information on what to look for in an industrial furniture manufacturer, check out our article, Why Personalization Matters In An Industrial Furniture Company.