It doesn't matter how efficient your workers are. If they don't have the right workstation that meets their electrical needs, their efficiency will suffer.
Electrical workstations include electrical outlets that are designed to provide a source of power for the use of tools and equipment. How this type of workstation is designed plays an important role in how organized and efficient that workspace proves to be for your employees.
Below we will explore how to design your best electrical workstation in order to help your employees be as efficient as possible.
Determine Your Electrical Needs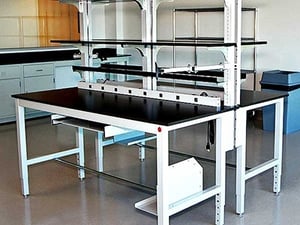 Electrical needs go beyond how many outlets you should have to accommodate the tools most frequently used in a workstation.
Items to consider include:
Where electrical outlets/strips should be placed
How much power/voltage is required for equipment being used
If two- or three-pronged outlets are needed
Any special lighting needed, such as inspection lights and overhead lights
Whether USB outlets are needed
The weight and dimensions of instruments and equipment used at the workstation and whether they need to be on the work surface or next to the workstation
If an emergency power source is required
The source of power in workstations should be easily accessible, not only for the sake of efficiency, but to promote ergonomics as well.
If an employee will be plugging and unplugging devices from an outlet regularly, it is important to design the workstation so these are within easy reach. Overlooking the placement of power sources can result in injury and inefficiency, which is why more industrial workbench manufacturers support ergonomics.
In fact, some of the most recently available data for manufacturing injuries shows sprains, strains and tears were the leading type of injury for workers in 2017. By simply taking into consideration where electrical components are placed, manufacturing companies and research facilities can avoid costly worker injuries and downtime.
Choose A Work Surface
In addition to any electrical components you may need, you will need to consider other design options as well. This includes the workstation's work surface.
This is especially true if your laboratory or manufacturing space deals with assembling electrical components in which static electricity can pose a major problem.
Static electricity is a reaction caused by friction. This can impact production, accuracy and worker safety. To prevent static electricity from occurring, workstations are equipped with electrostatic discharge (ESD) materials.
ESD laminate, in particular, provides a safe work surface for environments where static electricity is a concern. As an added benefit, ESD laminate surfaces are also resistant to staining and chemicals that include acetone, gasoline and 10% ammonium solutions.
Other work surfaces to consider include:
High Pressure Laminate: Used for basic, non-extreme applications. While they are functional and durable, they're also very affordable.
Phenolic Resin: Typically used in labs, and are designed as one solid, lightweight countertop that is durable and long-lasting.
Epoxy Resin: Durable and non-porous, and holds up very well under harsh and extreme conditions such as high heat.
Stainless Steel: Resistant to bacteria, rust and corrosion. They also are stain and heat resistant. This makes stainless steel an ideal choice for laboratories where high heat and open flames are used.
Butcher Block: Traditionally used in woodworking and basic assembly applications. While this type of countertop is sturdy, it's also porous and can dent easily. This type of material likely isn't an appropriate choice for a laboratory workstation unless used in non-work areas or in labs where abrasive chemicals are not handled.
Because work surfaces can be a significant investment, keep in mind that technology is constantly changing and new applications may require changes in your lab or manufacturing workspace. While evaluating countertop choices for an electrical workstation, consider any work on the horizon that may impact the need for a change in material.
For more information on best materials for workstation countertops, reference our article, Top 5 Materials To Consider For Your Lab Countertops.
Add Components To Increase Efficiency
An electrical workstation includes other components and features as well that can impact the efficiency of work being done on it.
Efficiency is always the top concern for a work area. Customizing an electric workstation is a great way to increase efficiency through the addition of:
Utility drawers that come in a variety of sizes and configurations
Shelving that can be installed below or above the work surface
Upper storage cabinets with flipper doors
Articulating monitor arms that can accommodate flat screens and laptops
Keyboard trays that can be added to any work surface or articulating arm
CPU holders that can be fixed or adjustable
Pegboards that can be added between the uprights to attach tools
Bin rails or panels to store parts and accessories
Electrical workstations can also be designed to include an ergonomically adjustable hydraulic feature. By allowing employees to adjust the height of the workbench using a manual, hand crank or electric control, workers can choose whether they want to sit or stand. In other words, workers are not required to adjust the work surface or shelving by lifting it themselves.
You can learn more about adjustable workstations in our article, Too Much Sitting? The Benefits of An Adjustable Workstation.
Select The Right Chairs
When designing your best electrical workstation, do not forget that seating is important. A high-quality workstation chair plays a significant role in the safety and comfort of employees.
Employees often spend long periods of time sitting, which is why it is important to choose a chair that provides ergonomic support.
Another important factor to consider is material. Typically, three types of material are used in laboratory and industrial applications: fabric, vinyl and polyurethane. Fabric provides the most comfort, but does not stand up to wear and tear as well as vinyl, particularly when chemicals are present.
Polyurethane is a tough material that is synthetic. This makes it a great choice for environments that feature harsh conditions.
ESD chairs are also available for workstations that have electrostatic discharge requirements.
For more tips on selecting the right chair for an electric workstation, read our article, What To Consider When Buying Industrial Furniture Chairs.
Work With A Company That Customizes
To create the best electrical workstation, it is important to find a company that can customize the workstation based on your individual needs.
While there are plenty of workstations available on the web or sitting in manufacturing warehouses waiting to be purchased, most of these feature a one-size-fits-all design.
A high-quality manufacturer will look at several different factors to ensure your workstation is designed to meet the needs of the workspace and functions at the highest possible level. This includes:
Assisting you with figuring out your exact needs
Bringing your ideas to life
Emphasizing federal and industry safety requirements
Our article, Why Personalization Matters In An Industrial Furniture Company, further explores the benefits of choosing a partner that balances high-quality customization and construction with a timely delivery.
It is also important to note that almost all manufacturers will provide technical data sheets that expand upon the information available about the workstation you are considering. The best industrial workstation manufacturers will share their knowledge about how certain workbenches have performed in similar environments as yours, which will help you determine the best workbench for your application.
Final Thoughts
Designing the most efficient electrical workstation is key to maintaining lean manufacturing or productive research.
The best workstations are designed to offer easy access to any electrical components needed to complete the goals of the application.
Because the design of a workstation often must address multiple needs and issues, working with a high-quality industrial furniture manufacturer is key to ensuring your space is maximized to its full potential.