Laboratories use a wide variety of chemicals, some of which can be toxic and/or volatile. Because of this, protecting lab employees and students is extremely important.
So, how do you do that?
One of the best ways to do that is through the use of a fume hood.
What Is A Fume Hood?
A fume hood is basically an enclosed industrial workbench with an exhaust system that is designed to limit the person doing work on the workbench from exposure to hazardous or toxic fumes, vapors or dusts. It has an enclosure on three sides, with the fourth side open for the lab worker to operate.
Fume hoods have a fan that creates a positive airflow to pull contaminants into the filtration system. The major difference in fume hood design occurs in the manner used for venting the contaminated air.
Types Of Fume Hoods
There are two types of fume hoods...Ducted and ductless. The major difference between the two is the method through which the fumes are vented away from the worker.
Ducted Fume Hoods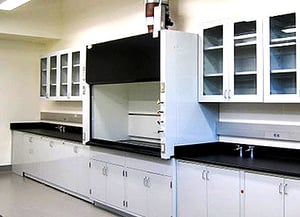 Ducted fume hoods handle a variety of chemicals. Fumes from procedures are safely vented outside using ductwork, so there is little or no danger of contamination in the lab.
Because they have ductwork that is attached to the building, ducted fume hoods are stationery with a fixed position in the lab. This ensures that there is always adequate egress from the lab in case of fire or chemical dispersion.
Ducted fume hoods are usually manufactured in standard sizes, however, a quality fume hood manufacturer can usually make a custom size that works best in your lab layout.
If you need to connect your fume hood to gas lines, ducted fume hoods often have the connections built-in, so you can plumb them directly to the gas lines. This reduces the risk of improper or incorrect connections, helping to ensure the safety of your lab procedures and personnel.
Advantages of ducted fume hoods include:
Considered the safest for workers in laboratories
Can handle a variety of hazardous chemicals
Easy to operate and maintain
Little to no contamination in the work area
Disadvantages of ducted fume hoods include:
May require infrastructure improvements or additions
More expensive choice up front
More difficult to install
Stationary in the lab
More difficulty in moving or relocating
Use more energy
Ducted fume hoods can be manufactured to include sinks and electrical outlets. You can also get a variety of countertop options that can stand up to any range of chemicals or temperatures.
You can read more about which countertop is best for your application in our article, Top 5 Materials To Consider For Your Lab Countertops.
Ductless Fume Hoods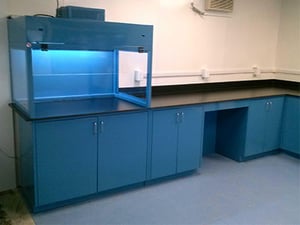 Ductless fume hoods operate off a carbon filter system that recirculates filtered air into your building. Ductless hoods are often referred to as re-circulating range hoods. They filter the air and then return the clean air back into the workspace.
A Ductless fume hood also known as a portable fume hood, is great for use in existing buildings where the ductwork is inaccessible, where mobility is necessary or cost is an issue.
Unlike ducted fume hoods, ductless hoods are self-contained and work well for laboratories where mobility is necessary. Laboratories that handle light to moderate chemical loads (no more than 10 chemicals per application, with a volume of approximately 500 mls or less) also may find ductless fume hoods to be a better choice operationally.
Advantages of ductless fume hoods include:
Typically does not require major infrastructure improvements
Less expensive upfront because there is no construction work needed
Easy to install
Movable in the lab
Relocatable due to its self-containing fume hood design
Use less energy
Great option for labs that don't handle as many hazardous substances or do not have space for a full-size ducted unit
Disadvantages of ductless fume hoods include:
User at greater risk of chemical exposure due to mobile design
Handles limited chemicals
Requires certain HEPA filters for specific chemicals, with filter maintenance needed
Not as effective at removing chemical fumes
Not recommended for constant use
Can be noisy due to the internal blower
Cannot handle extreme heating of chemicals
What To Consider Before Buying A Fume Hood
Now that you know more about the two types of fume hoods available for laboratory use, as well as their advantages and disadvantages, it's time to take a closer look at your workspace.
Before you purchase a laboratory fume hood, it's important to understand the needs of your work space. Here are 11 questions to ask yourself before buying a fume hood:
What chemicals will be used inside the hood?
How many different chemicals does your lab use?
Of these chemicals, are you working with small or large volumes?
Will the chemicals you are using adequately filter through carbon?
How experienced is your staff in working with chemicals?
Does your building already have an HVAC system?
If so, is there a team in place to manage it and provide maintenance?
Is mobility necessary for your operation?
What is your budget, both up front and long-term?
How quickly do you need the hood installed?
Do you anticipate your facility location changing in the future?
Answering these questions before your purchase a fume hood will help you weigh the advantages and disadvantages of each, and how they apply to your particular lab's needs.
Summary
Fume hoods are an important piece of equipment for any laboratory environment. When used properly, they help protect lab employees and students working with toxic or volatile chemicals and compounds.
Regardless of whether you are leaning toward a ducted or ductless fume hood, fume hood safety should be your first consideration. Be sure the fume hood you are considering is rated for the temperature, volume and chemicals you will use.
Our fume hood safety checklist also offers a blueprint for what elements should be part of your laboratory's training and other safety procedures that promote everyday best practices.