A quick Internet search for "industrial modern furniture" will produce a plethora of options. You will be presented with everything from coffee tables at World Market to shelving units at Crate a Barrel – items designed with an industrial look, featuring iron legs, unfinished wood and wire accents.
Industrial-Look vs. Industrial Strength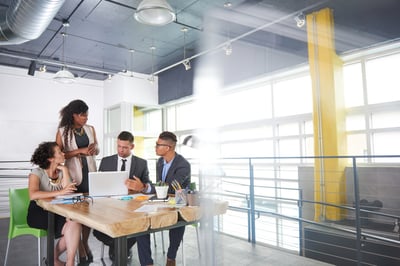 These industrial modern furniture pieces are meant to match the look and feel of an industrial space– that is no longer actually industrial. Think of a space that used to be a factory and is now an advertising agency or even a residential apartment.
This industrial modern furniture is very different from industrial strength furniture, which is designed to withstand the rigors and heavy wear and tear common in an active industrial workspace.
There is a major difference between industrial furniture and industrial looking furniture!
What Does Industrial Modern Furniture Even Mean?
Wait, it's not those copper pipe shelves my friend installed in his living room? Unfortunetly not.
When it comes to furniture, industrial actually means built for industry – designed for use in a complex work environment like a factory or test facility. This furniture will be made specifically to meet the needs of employees working in these spaces and support heavy equipment, harsh chemicals or a variety of other industry-specific requirements.
But what does that look like?
Let's break this down...
The difference between industrial and industrial "looking" is all in the load bearing capacity, construction and available surface materials.
An industrial-look table, approximately 48" X 36" can hold approximately 150 lbs of weight. This particular example is made from reclaimed wood and supported by thin metal legs that look industrial. Great option for your home office!
An office cubicle worksurface in any non-industrial office environment should be able to support a minimum of 200 lbs. It is constructed of laminate and wood composite material with metal legs or cantilevers connected to cubicle panels used to support it.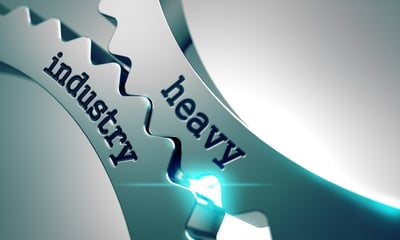 Now, in contrast, true industrial workbenches will have a 750 lb. to 1,000 lb. weight load capacity. These benches are made from 16-gauge steel are fully welded and have 2" square legs for durability and strength.
A heavy-duty industrial workbench will usually have up to a 5,000 lb. weight load capacity. These units are constructed with 14-gauge steel and also welded with 2" square legs for durability and strength. A lower shelf or horizontal bar will give these benches additional structural stability.
There are even industrial workbenches that support between 10,000 lb. and 20,000 lb. weight load capacities. These are considered "extra heavy duty" industrial furniture pieces. Extra heavy duty benches are usually constructed with 12-gauge steel and welded with 3" square legs for added durability and strength. They typically come with pre-punched floor mounting plates on the legs for additional stability.
For more details on the different industrial workbench options check out our article on the differences between standard industrial and heavy duty workbenches.
Incorporating Modern Design Into Industrial Work Environments
Just because true industrial furniture is designed primarily with function in mind, that doesn't mean that form has been completely forgotten. You may not be able to include reclaimed wood on your industrial workbench, but you absolutely can have butcher block as a surface for your woodworking shop or assembly line.
You also have options like phenolic or epoxy resin available that can add heat and chemical resistance, but also come in a number of colors like white, gray and black that can be used to create a unique and modern-looking workspace.
With trends in overall office design going towards more open and bright environments, industrial furniture has followed suit. There are are endless options for configuration that will allow for that open feeling, even in an industrial work area. Using open shelving vs. closed cabinetry for workstation storage is just one way to make the industrial furniture and overall space feel more modern.
Industrial Strength for the Win!
It's important to distinguish between industrial furniture that is meant to withstand the heavy-duty requirements of an industrial workspace and industrial modern office furniture that is designed to look like it is from an industrial space. If you're looking to furnish your laboratory, factory, workshop or other industrial space, remember to choose a commercial industrial office furniture manufacturer with quality products built with your needs in mind.