For almost two decades, the workplace has been transforming from the high-walled cubicle farmed landscape of the 80s and 90s to an open, collaborative space meant to attract and retain talent.
We have also seen industrial office furniture morph from walled cubes into open benches, and private offices trade away their solid walls for glass partitions.
These changes have enabled daylight to flood work environments and allowed for easier collaboration between employees and managers on a daily basis.
With all of this openness also came a decrease in perceived privacy and an increase in audio and visual distractions.
The Future Is All About Flexibility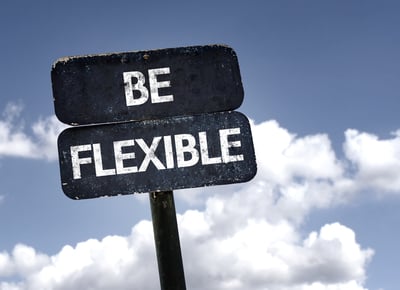 As we enter into 2018, many business leaders are asking, "is the open concept dead?" In an article written for Forbes, the author claims that the open office model is merely "shifting," rather than dying altogether.
The future is all about flexibility and giving employees different options for working. You need more privacy? Here is a small enclave that can be reserved by the hour. You need to collaborate, here is a shared work table and whiteboard wall for brainstorming. You want to work at a kitchen counter and enjoy a coffee? Here you go. You want to work on a couch, picnic table, or even outdoors? Fantastic!
The shift has begun both to support the varying styles of work employees need to complete their work and from continued advances in technology. Individuals don't always need to be seated at a desk to complete their work. They can carry their laptop to a coffee shop, send emails with their mobile device or even collaborate with teammates across the globe using only a desktop application and computer screen.
Why Industrial Office Furniture Selection Matters
The office of the future is essentially wherever and whenever you - the employee - wants to work. Furniture must be flexible enough to meet these new requirements.
In an environment like a laboratory, this shift can seem more complicated with safety, sterility and equipment requirements to consider. Fear not! Open labs have been around for a while. Open labs allow staff to share space and resources, while often providing some enclosed areas for heads-down research or sensitive equipment handling.
To create an open and flexible lab environment, modular case goods and mobile workstations are essential. This furniture selection, in combination with engineering the lab infrastructure for future changes (consider HVAC and mechanical elements) will allow for work areas that appeal to a variety of workers.
With this increased need for flexibility, selecting appropriate colors for industrial office furniture may appear challenging. Is there even any room for vibrancy?
The Future is Ultra Violet
PANTONE 18-3838 Ultra Violet to be exact. According to the Pantone Color Institute, this 2018 color of the year was chosen because it is, "Complex and contemplative, suggests the mysteries of the cosmos, the intrigue of what lies ahead, and the discoveries beyond where we are now."
For the most part, Pantone colors predict future trends in fashion design but often influence workplace interiors. No purple worksurfaces, please, but adding a pop of one of these Pantone colors to a chair or accent wall could make for an invigorating work environment that can still support workspace flexibility.
Industrial Office Furniture Solutions that Scale
As flexibility gains more importance in the work environments of tomorrow, the furniture you select must meet those needs. Consider questions like:
Can this workstation become larger or move across the room?
Is this work surface height adjustable?
Can this shelving unit be easily moved or reconfigured?
Modular workstations are an ideal solution to the growing need for flexibility in industrial office environments. These workstations are built using a starter and adder approach – much like puzzle pieces. The starter station is finished on one end (like the flat edge of an exterior piece of a puzzle) and is where all electrical and mechanical components are connected to the desks. Each adder piece connects to the unfinished end of the starter station and can be added to as many times as needed, much like the interior pieces of a puzzle. The modular stations are the then finished off with an end piece.
This approach allows for workstations to be easily added, removed or reconfigured while easily connecting electrical, air, gas or data from desk to desk.
Other accessories such as work surfaces, shelving, overhead cabinets and lighting can be added to these modular workstations in a variety of materials and sizes to accommodate different work styles and employee needs.
An industrial office furniture solution that can change along with the needs of your workers will help bring workplace satisfaction and employee productivity to new levels.