Choosing the right workbench can be difficult, especially when you start seeing all the options and costs associated with them. It is important to really take a look at your needs before you buy industrial furniture like a heavy duty industrial workbench, or it could cost you more than you anticipate.
Let's look at some of the factors you should consider:
Weight Load Capacity
Heavy Duty - Heavy duty benches will typically have a 5,000 lb. weight load capacity. If the workbench is 96" wide, the weight load capacity will usually go down to 4,000 lbs.
Extra Heavy Duty - Extra heavy duty workbenches will have between 10,000 lb. and 20,000 lb. weight load capacities.
Standard - Standard benches usually have 750 lb. to 1,000 lb. weight load capacities.
Construction
Heavy Duty - Heavy duty benches are usually constructed with 14 gauge steel, all welded with 2" square legs for long-lasting durability and strength. A lower shelf or horizontal bar give it greater structural stability. They may come with leveling foot plates to allow floor anchoring for better stability.
Extra Heavy Duty - Extra heavy duty benches are usually constructed with 12 gauge steel, all welded with 3" square legs for extra durability and strength. A lower shelf gives the bench added structural stability. They typically come with pre-punched floor mounting plates on the legs for additional stability.
Standard - Typically constructed from 16 gauge steel, these benches are fully welded and have 2" square legs for durability and strength. They may have a lower shelf or foot rest bar. They usually come with floor leveling glides or optional casters.
Tops
There are numerous tops to choose from. Here are the most common:
High Pressure Laminate - These tops are used for basic, non-extreme applications. They are functional, durable and very affordable.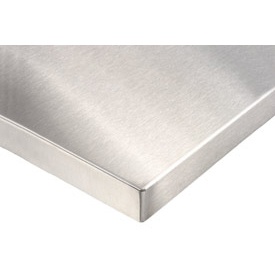 ESD Laminate - These tops are used in applications where parts and materials are sensitive to static and need protection.
Phenolic Resin - Typically used in labs, these worksurfaces are one solid, lightweight countertop that is durable and long-lasting.
Epoxy Resin - Also used in labs, these worksurfaces are durable, non-porous and hold up very well under harsh and extreme conditions. High heat can be used with this top.
Stainless Steel - Stainless steel resistant to bacteria,rust and corrosion. It is also stain and heat resistant, so tools with high heat and open flames can be used with this top.
Butcher Block - This is traditionally used in woodworking and basic assembly applications. It is sturdy, but can dent easily and is porous.
You can read more about the features and benefits of countertop materials here.
Accessories
All of these benches will usually be offered with the following options:
Utility Drawers - Drawers come in a variety of sizes and configurations.
Shelves - Shelves can be used below or above the worksurface; Steel, laminate and wire are usually offered.
Upper Cabinets - These are usually cabinets with flipper doors for storage.
Footrests - Footrests come in the form of a horizontal bar, an ergonomic pan that attaches to the horizontal bar or a
freestanding foot rest.
Electrical Power Strips - These usually mount to the worksurface or uprights.
Utility Options - Utility ductway for data, air and gas that is usually attached to the upright.
Lighting - Overhead LED lighting is available as an option.
Articulating Monitor Arms - Fully articulating arms are available to accommodate flat screens and laptops.
Keyboard Trays - Keyboard trays can be added to any worksurface or articulating arm.
CPU Holders - Fixed or adjustable CPU holders can be added to benches.
Pegboards - Metal pegboards can be added between the uprights to attach tools.
Bin Rails or Panels - Bin rails or panels can be attached to the uprights and holds plastic bins for storage of parts and
accessories.
ESD Grounding Kits - This allows for grounding of the bench for those that have ESD requirements.
Cost
There is a definite cost difference between standard, heavy duty and extra heavy duty benches. One average, you will pay 50% or more for a heavy duty bench, as opposed to a standard bench.
When going to an extra heavy duty bench, you will pay an additional 50% or more to the price of the heavy duty bench.
Add on accessories and your price can be more than you expected. That is why it is important to review your application and make sure you aren't paying for more than you need.
Best Advice
Benches are typically used for assembly, packaging, repair and testing in industries such as Automotive, Construction, Electronics, Laboratories, Manufacturing, Metalworking and Woodworking.
Your application and use is very important. For the most part, weight load will determine which bench you need.
My best advice...Don't pay for more than you need!
Use additional money for the right bench top and accessories.