High school and college labs experience many of the same harsh conditions found in research facilities and other professional laboratories.
Yet, school labs are often under even greater budget restraints, making the decision of which work surface to purchase for a school lab bench all the more important to get it right the first time.
Which work surfaces are best for a school lab bench? These five work surfaces are ideal for school laboratories because of the level of protection they provide against harsh conditions:
Epoxy Resin
Phenolic Resin
Stainless Steel
Chemical Resistant Laminate
HPL Laminate
Below we'll take a closer look at the protections they provide, cost and any other information you should know when deciding which surface is best for your school lab bench.


Epoxy Resin
Epoxy resin is flame retardant, which is one of its most attractive properties. This material also can withstand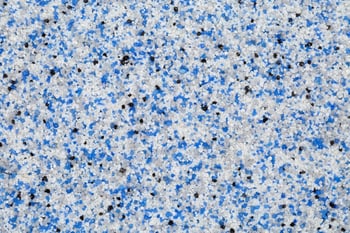 continuous heat exposure above 350 degrees F, making it the most durable on our list.
Epoxy resin countertops are made from a mixture of materials and then cured as a solid product. They are durable, heavy-duty, non-porous and hold up very well under harsh and extreme conditions.
Some of this epoxy resin's greatest advantages are that it:
Is highly resistant to bacteria, fungus, corrosion, chemicals, water, moisture and scratches
Holds up well against impact and stress fractures
Is resistant to the most aggressive chemicals and is easy to clean
Because it can withstand most extreme lab conditions, this level of protection comes at a cost. This could be problematic for science classrooms in middle or high schools that may be under more budgetary constraints. However, research and development labs at the university level may have more room in their budgets if their application warrants the use of epoxy resin.
Phenolic Resin
When investing in a school lab bench, a material that is durable and long-lasting can withstand the wear and tear that can come with student use. Phenolic resin countertops fit the bill because this solid, lightweight material is moderate duty and highly resistant to many of the substances found in a school lab.
Phenolic resin countertops are manufactured by layering natural kraft paper that has been saturated with phenolic resin and processed under high heat. Some of this material's greatest advantages are that it:
Is highly resistant to bacteria, chemicals, fungus, moisture and scratches
Is moderately to highly resistant to corrosion
Can withstand continuous heat exposure up to 350 degrees F
Holds up well to impact and stress fractures
Among some of the most popular countertop materials used in labs, phenolic resin is mid-priced, making this a great choice for a long-term investment and when budget may be a concern.
One significant drawback of phenolic resin is that it is not flame retardant. Student labs where open flames are routinely used may not benefit from this material.
Stainless Steel
Stainless steel countertops are commonly seen in labs because they are non-porous. No liquids or substances can penetrate the material, preventing bacteria and mold from forming or getting trapped.
Stainless steel countertops are made of low carbon steel that is made up of chromium and nickel. Chromium makes it resistant to rust and corrosion, while nickel makes it stain and heat resistant. This moderate to heavy duty material can withstand continuous heat exposure above 1500 degrees F, making it the ideal choice for school labs where high temperatures are found. However, discoloration can form at prolonged high temperatures.
Other advantages of stainless steel countertops are that this material is:
Highly resistant to fungus
Moderately resistant to chemicals and corrosion
Modern looking in appearance
Although one of the greatest advantages of stainless steel is that it can handle very high heat, it does have some disadvantages as well. For example, it has a low resistance to scratches and can dent easily on impact. It also features a high price when compared to other materials. Only epoxy resin is typically more expensive than stainless steel.
Chemical Resistant Laminate
Chemical resistant laminate countertops are made by applying a melamine resin over decorative surface paper.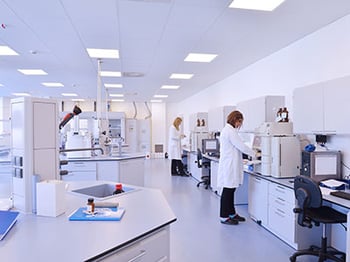 This is then bonded to a core of kraft papers impregnated with phenolic resin.
As the name implies, this material is highly resistant to chemicals, making it a great choice for labs that primarily use chemicals for experiments or research purposes. In addition to its high chemical resistance, this material is also:
Able to withstand heat exposure up to 275 degrees F
Available in different designer looks
Because chemical resistant laminate offers low resistance to bacteria, corrosion, fungus, water, moisture and scratches, this material likely won't work for all lab environments. However, it can be a great choice for student labs that focus on dental, pathology, photography and testing products. Among the different options for lab countertops, chemical resistant laminate is mid-price.
HPL Laminate
HPL, or high pressure laminate, is made by applying a melamine resin over decorative surface paper, which is then bonded to a core of kraft papers impregnated with phenolic resin. This creates a decorative work surface that is functional for non-extreme environments.
Some of its advantages are that it:
Can withstand heat exposure up to 275 degrees F
Offers designer looks
While HPL is priced low compared to other countertop materials, it doesn't hold up as well to conditions often found in labs. Whether or not to choose this material will come down to what types of applications are performed in your school lab.
For example, because HPL offers low resistance to bacteria, chemicals, corrosion, fungus, water and moisture, this material is likely not the best choice for labs where students are performing experiments using any of the above materials. On the other hand, HPL can be a great choice for chemical-free, dry application labs like computer, electron microscope or x-ray labs.
Other Options
Although epoxy resin, phenolic resin, stainless steel, chemical resistant laminate and HPL laminate are among the best choices for work surfaces for a school lab bench, there are a couple other choices available as well.
Butcher block workbench tops are typically found in some manufacturing spaces, such as woodworking and basic assembly applications. This material can also be a great choice for food labs found in culinary schools as long as they are sealed beforehand. This protects liquids from seeping into porous areas or natural cracks in the wood.
ESD countertops are typically found in labs that manufacture electronic devices and need protection against electrostatic discharge. An ESD laminate top features an embedded carbon layer, which dissipates the damaging static. Although ESD is typically not widely used in labs found in secondary schools, they are found in specialized institutions that focus on areas like electronic assembly and aerospace manufacturing.
When choosing a material for your school lab bench, consider what cleanliness requirements your students require, your budget and any potential applications you may absorb into your lab in the future. Work surfaces can be expensive to replace, and since many academic institutions have strict budgets that departments must operate within, it's important to get the right material for your current and future needs.