Having the right medical cabinets is more than just about storage. If your facility regularly deals with controlled drugs or hazardous substances, you may be required by law to keep them in a secure location.
A secure medical cabinet also protects expensive medical equipment, while withstanding any harsh conditions of a workspace that a typical commercial cabinet simply cannot.
With hundreds of configurations possible, how do you find the right medical cabinets that fit your needs? The answer begins with taking a closer look at the day-to-day operations of your facility.
7 Questions To Ask Yourself
Not all labs and medical facilities have the same requirements. While some need medical cabinets to store equipment, other facilities may need to take into account sterilization processes or microbial protections.
Choosing the right medical cabinet requires quite a bit of thought, especially if your workspace has safety considerations or your employees handle chemicals and other abrasive materials.
When weighing your options, begin by asking yourself these seven questions:
Does your workspace require a sterile or hygienic environment?
Do your employees regularly handle chemicals or abrasive substances?
Do you need your cabinets to hold heavy pieces of equipment, such as microscopes?
Does your storage require locks?
Do you need customizations such as the addition of casters or a certain paint color?
Do you want your cabinets to feature additional storage components such as bins or pegboards?
How quickly do you need your medical cabinets?
These seven questions can help get you started in determining what the right medical cabinets will look like and how to find them.
Draft Your Wish List
Now that you've asked yourself the seven questions above, it's time to gather some answers. Knowing what you require up front in a medical cabinet will make the process of finding one go more smoothly.
Cabinet Materials
The material you choose for your medical cabinets is one of the most significant decisions you will make.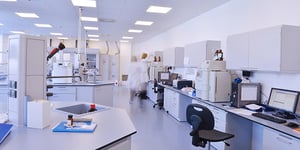 Some medical facilities may be able to incorporate materials found in traditional cabinets like hardwood, plywood, veneers and particleboard. However, most facilities that regularly use chemicals and other harsh substances need a material that can withstand this type of environment.
That's why you'll often see medical cabinets that are constructed in either steel or stainless steel.
Steel cabinetry is usually made of heavy duty, 12-gauge steel It typically has a powder coat finish, which resists cracking, peeling and chipping. Powder coat is also abrasion, corrosion and chemical resistant.
Steel cabinets are often found in chemical, clean room, dental, ESD, electronics, industrial testing, photographic dark rooms, product testing, research and development, and school and scientific urology labs.
Stainless steel cabinets are made of low carbon steel that includes chromium and nickel. These materials account for its ability to be resistant against rust and corrosion. Stainless steel is also non-porous, so liquids cannot penetrate it.
Stainless steel cabinets are often found in spaces dedicated to animal research, autopsies, biological sciences, chemicals, clean rooms, food testing, hospital rooms and pharmaceutical labs.
Cabinet Weight Load
One of the features that often separates medical cabinets from standard cabinets is their weight load capacity. Also known as load bearing capacity, this feature allows your medical cabinet to hold heavy pieces of equipment without buckling from the weight.
For example, some tall storage cabinets feature shelves that each support a 200-pound weight load. Look for casework that also provides reinforced features like 200-pound rated hinges.
Other Customizations
Another important feature to consider is whether you need locks on your storage cabinets. If you work with pharmaceutical drugs or simply have expensive equipment that you want to protect, storage locks are a must.
If you anticipate moving these medical cabinets, casters are another important add-on. If storing heavy medical equipment, it may be easier to move the cabinet itself than each piece of equipment when needed.
Casters also help determine how much weight a medical cabinet can hold. If your cabinet holds heavy equipment, it's important to take into consideration that the casters are strong enough to support it. It can be tempting to order casters online through retail sites, but most sold through these sites are meant for office or household environments and may only hold a few hundred pounds.
In lab environments where heavy testing equipment is used, casters should have the ability to support a higher weight load capacity. In general, look for a weight load capacity of at least 1,000 pounds when using all four casters.
Other customizations to consider include paint color and additional storage components inside such as shelving.
Final Important Note
If you are using the medical cabinets to store flammable liquids, you must use fire-resistant safety cabinets in order to meet any fire codes and regulations. These cabinets must meet OSHA and NFPA standards and help protect the building and employees if a fire occurs.
Flammable liquid storage cabinets not only prevent flash fires, but also keep spilled liquids from exceeding internal temperatures if a fire does occur. This helps to stop the spread of a fire, or worse, an explosion. These cabinets are typically red or yellow to alert emergency crews.
Find A Partner
Now that you know what you need in a medical cabinet, how can you find the best manufacturer that meets all
your needs?
There are several cabinet manufacturers across the world. Here are three qualities of a medical cabinet manufacturer to look for to ensure you get the highest quality product and service.
1. Medical Industry Experience
Medical facilities all have different needs. Some are highly specialized laboratories, while others manufacture equipment. A medical cabinet that holds flammable chemicals is going to have different requirements than a medical cabinet that holds pharmaceutical drugs or dental equipment.
Working with a medical cabinet manufacturer that has experience in your particular industry can help offer reassurance that the company knows what your business needs to meet all safety requirements. A top manufacturer will also have ideas to maximize efficient workflow in your facility such as storage solutions.
2. The Ability To Offer Customizations
Manufacturers that don't offer customization opportunities typically have cookie-cutter processes in place where medical cabinets are mass produced. Rarely does the medical industry utilize cookie-cutter processes to accomplish anything. The medical cabinet you choose shouldn't be mass-produced either.
If you have any specific needs like the ones we addressed above in the previous section, it's best to work with a medical cabinet manufacturer that can guarantee the final product meets these needs.
3. Reliable Lead Times
When looking for the right medical cabinet to fit your needs, you may find that one of those needs is a quick timeline.
If you are working on a tight deadline, it's critical to work with a manufacturer that is upfront with you on how long it will take to receive your workstation. Many companies are currently experiencing shipping delays due to supply chain issues.
Another item to watch for is how the company ships its product. When a product is shipping to a different state, common carriers are often used. If your order isn't large enough to fill the entire truck, the trucking company will pick up products from other companies to make the trip financially feasible.
How a manufacturer packages its products will determine if they are properly protected on that truck. Even if a manufacturer will replace a damaged medical cabinet, it will impact your timeline since you will have to wait for a new medical cabinet to be shipped to you.
Need more ideas on how to find the best medical cabinet for your facility? Our article, Industrial Furniture Cabinet Vs. Standard Cabinet, highlights why choosing the right medical cabinet involves looking beyond furniture retail stores.