Scour the internet and you'll find numerous articles and videos that describe how to make a fume hood.
While it may be tempting to build one yourself if you're trying to reduce costs or get one quickly, this DIY plan is not the safest approach. In fact, fume hood safety should be one of the top priorities for any lab or manufacturing facility that produces dangerous particles.
Fume hoods are one of the most reliable engineering pieces in a lab when designed and used properly. They are commonly found in a variety of industrial and manufacturing settings, from laboratories to high schools, plants and medical facilities.
As air flows into the hood, potentially toxic vapors, dusts, gases and fumes are removed from a space via an exhaust system. In doing so, the fume hood minimizes workers' exposure to hazardous materials, while creating a barrier between the lab and a chemical reaction when it occurs.
Creating a fume hood on your own that does not operate how it is intended can result in costly fines and dangerous implications for you and your employees.
However, the good news is you can still create and customize a fume hood that meets your exact needs by working with a high-quality fume hood manufacturer that will help you meet any timeline, budget and space requirements you face.
Below are some of the items you will need to consider before and while working with a fume hood manufacturer to properly design this important piece of safety equipment.
Decide Whether You Need Ducted or Ductless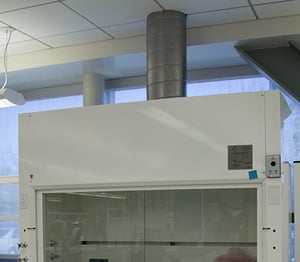 Ducted fume hoods have ventilated enclosures and operate within the framework of your building's infrastructure. Through a ventilation system, the fume hood pulls toxic fumes out of your space using an exhaust fan.
Ductless fume hoods are self-contained and work well for laboratories where mobility is a necessity. These types of fume hoods are often used in laboratories that handle light to moderate chemical loads (no more than 10 chemicals per application, with a volume of approximately 500 mls or less) or have plans for expansion in a different location.
Each type has its benefits, which are further explored in our article, Laboratory Fume Hood: Ducted Vs. Ductless. Knowing which one can better meet your current and future needs is important since your options for customization may vary based on the type of fume hood.
Gather A List Of Substances You Use
The fume hood design, and any additional features, is dependent on what types of chemicals and substances you currently use in your lab or manufacturing space - and what type of substances you may use in the future.
A fume hood manufacturer can help you customize a specialty hood based on the chemicals you use. This includes selecting the right materials for the hood's surfaces that will hold up against the chemicals you use, as well as any appropriate accessories and ventilation capabilities.
You should also know:
The volumes you work with of these chemicals
Whether the chemicals will adequately filter through carbon
The experience level of your staff in working with these chemicals
Narrow Down Where The Fume Hood Will Go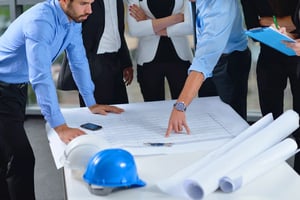 Knowing where you want to place the fume hood will assist a manufacturer with narrowing down the designs that will work for your space.
There are many types of fume hoods and their enclosures vary greatly. Some are small, while others are several feet wide and tall. If you have a small space that can only accommodate a certain size of fume hood, you don't want to waste your time and effort working with a manufacturer to design a fume hood that is too large.
Knowing the approximate size of the fume hood you need will also allow a manufacturer to determine whether that size can accommodate the size of the room where it will operate and whether any factors of the workspace could impact the efficiency of the fume hood.
These include the proximity to doorways and windows where the fume hood will be placed, as a well as the overall workflow pattern to the space itself.
Determine Other Customization Features
Once you begin working with a fume hood manufacturer, you can start to determine what other types of customization you may need.
Laboratory safety should be your top priority, but you need the fume hood to work for you and your space as well. Going through your options can be overwhelming, but a fume hood manufacturer can help you sort through them and answer any questions you have about these specifications, such as:
Countertop material
Color options
Additional cabinets and storage space
Other fixtures
Final Thought
The internet has an endless supply of knowledge, but sometimes that knowledge makes it look like designing and creating an intricate piece of equipment is easier than it actually is. Building a fume hood that doesn't operate efficiently - or worse, doesn't work properly - can have devastating consequences for you or your employees.
A high-quality fume hood manufacturer can work with you to properly design a fume hood that meets the specifications of your workspace, works within your budget and delivers this critical piece of safety equipment in a timely manner.