Understanding how to monitor and properly maintain your clean room environment is essential to ensure optimal performance.
Used in laboratories and other settings where a controlled environment is necessary, permanent or modular clean rooms vary in size, complexity and use.
However, one thing is the same across all industries: Keeping a room contaminate free requires proper procedures put into place to maintain a stringent level of cleanliness.
Here's what you need to know about how to maintain a clean room environment so that you can reduce the risk of contamination in your pharmaceutical or industrial environment.
Keep A Clean Design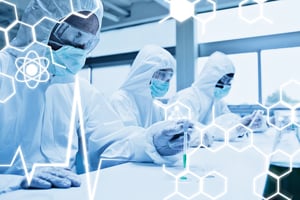 Your clean room's layout plays an important role in maintaining clean room standards. That's because every piece of furniture or equipment can interrupt air flow and cause contamination.
And, because workers can be the largest contamination source in a space, maintaining a clean layout is critical to reducing this risk.
While during the design process of your clean room, you likely took into account placement of doors and pathways, as well as how many access points you should have (one is ideal). You probably also considered furniture placement that allows for proper airflow and the type of furniture you want to incorporate.
It's important to maintain the same high level of quality in each piece you bring into a clean room, from the surfaces you work on, to the chairs you sit in.
If you're working in an environment where static electricity is a concern, for example, furniture pieces such as ESD chairs are essential to maintain a clean environment.
Actively Maintain Regular cleanings
Regular maintenance is needed to keep surfaces contaminate free. That's why it's critical for your company to institute cleanroom housekeeping procedures and schedules.
You may be surprised to know that floor finishes or chemical cleaning products can be a source of contamination in a cleanroom, however. Even the wrong type of vacuum cleaner, mop and sponge can impact your controlled environment.
Though you likely already know which clean room classification you fall under, it's critical that you know how that number impacts how often your clean room must be disinfected and so you can choose the right type of cleaning chemicals to use in doing so.
Special cleanroom-friendly cleaning solvents, brooms and other materials are available to clean surfaces without adding more contaminants into the air.
In the United States and Canada, the primary authority is the International Standards Organization (ISO) classification system, ISO 14644-1. Clean room classes included in this system are ISO 1 through ISO 9, with the ISO 1 as the cleanest and ISO 9 as the least clean.
Properly Train Staff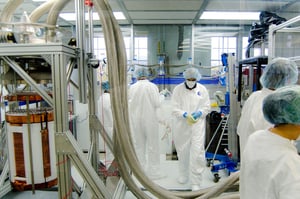 Did you know shedding skin accounts for a significant proportion of particulates found in any given environment? Imagine how that could impact a clean room, which requires a much higher threshold for cleanliness than an average space.
Here are some other common items that can contaminate a clean room:
Oils from skin, hair and saliva from a sneeze or cough
Cosmetics and perfume
Certain clothing that easily sheds lint or other fibers
Properly training staff to adhere to a strict dress code and any protective clothing that should be worn is critical for everyday use in a clean room. Protective clothing may include special gowns, jumpsuits, masks, gloves, goggles and hoods.
Other areas that should be addressed during training include:
What to do if spills occur
How to properly use equipment located inside the clean room, including fume hoods
How to decontaminate oneself before entering a clean room, such as cleaning with scrubbers or passing through showers
Regularly Monitor Air
Air sampling on a regular basis is critical to ensuring a clean room environment meets specifications.
Typically, there are two ways to do this: through air samplers and through settle plates.
Air samplers draw in air, usually a specific volume. That air is passed over what's called a media plate, which reveals viable organisms as well as shares particle size and how many particles per cubic feet.
Settle plates, on the other hand, look like Petri dishes and contain sterile growth media. Settle plates are exposed to the environment for up to four hours by being left out in the open.
If you choose to use settle plates, your employees must be careful not to damage or move them. To help prevent this, you can purchase settle plate stands that keep the plates at an appropriate height away from the work surface.
You'll also want to make sure your HVAC control system receives regular "check-ups" to test for pressure, temperature and humidity requirements specific to your lab.
Bottom Line
Now that you know how to maintain cleanliness in your clean room, how can you be sure the standards and procedures you have put into place are appropriate to meet your specific needs and requirements?
By working with a clean room manufacturer, you can better assess how to implement any clean room standards and go over the options you have to improve your space. A clean room expert will work with you to ensure your facility is maximizing production while minimizing any contamination that could potentially derail product quality.