Workers and students can spend countless hours at a computer lab bench. That's why creating the right workspace that is both safe and efficient is important.
While it can be tempting to order a standard desk online, doing so may leave you scrambling to come up with solutions to meet the needs of those sitting at the lab bench. It is much more cost- and time-efficient to create the right work or learning environment that you want from the beginning … and that includes choosing the right computer lab bench.
If it's time to update your workspace and you are considering your options for a lab bench that will maximize productivity, you will want to ask yourself if your computer lab bench has these five elements:
1. Access To Electrical Components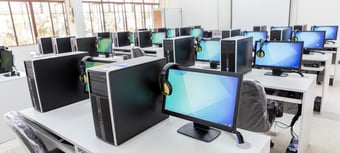 A computer lab bench can be used for multiple purposes, whether it's working on a computer or building a computer itself. It seems like a no-brainer, but this type of workspace should include easy access to electrical components.
This can be achieved in a few different ways. If outlets are located directly below the computer lab bench, a simple access hole can be created on the computer work bench, allowing the electrical cord to be placed through it.
USB charging ports are another necessity in any computer lab, and the most efficient lab benches will offer easy access to these so that users can charge electrical devices like phones, tablets and other equipment needed in a lab space. Utility duct ways can also be included in the design of a computer lab bench, allowing data and cords for LED lighting to pass through.
In some situations, you may need more efficient access to outlets or multiple outlets if several tools are being used on the workbench. In this case, electrical power supply strips can be mounted on top of the worksurface for easy access and convenience, allowing you to not only charge any computers, but plug in additional lighting, tools or power cords you may need.
2. An Ergonomic-Friendly Design
Sitting is the new smoking. That's because numerous studies have pointed to the fact that extended sitting can be harmful to a person's health and make you much more likely to get heart disease and other health conditions. Excessive sitting can also put huge stress on a person's back muscles, neck and spine.
Incorporating ergonomics into the design of your computer lab bench can help prevent these common injuries. Ergonomics is defined as fitting a workspace to a user's needs. This type of science aims to increase productivity and reduce discomfort.
So what are some of the ways that you can ensure your lab furniture is more ergonomically-friendly? Making it adjustable is a good place to start.
Adjustable workstations are designed to provide flexibility to workers by allowing them to manage their environment and choose whether they sit or stand at any given time.
Many computer lab tables may also include other features like monitor arms and keyboard trays, allowing workers to tailor the height of their workstation's components to what feels comfortable for them. This allows users to work on their computers or complete their given tasks while in their bodies' optimal neutral position, which is the posture your body is at its strongest and most efficient.
Another area where ergonomics can be improved is in the chair you choose. When your employees or students are sitting, they should be in chairs that ergonomically support them. Chairs should also include sturdy frames, adjustable heights and comfortable backrests and seats to maximize comfort and productivity.
3. The Right Size For Your Space
In professional or school computer labs, you may have individuals working individually or collaboratively. While
a smaller bench may be more appropriate for individual work, a larger-sized workbench can accommodate either.
Depending on the layout of your space, several lab benches can be joined together to create a bigger workspace when needed as well. In this case, you may want to consider casters for easier movement. You can read more about what to look for in casters in our article, Avoid These 5 Mistakes When Designing Your Portable Lab Bench.
Computer lab benches can come in a variety of sizes, often available in lengths that range from 36 to 96 inches and depths that range from 24 to 36 inches.
When determining which size of computer work bench is the best for your space, consider what types of computers may be used on the workbench (laptop versus desktop). If you're using the space to manufacture computers or other electrical equipment, keep in mind how much space you need for work items like tools and other accessories.
4. A Countertop That Meets Your Computer Lab's Requirements
There are several types of materials you can choose for the countertop that sits on top of your computer lab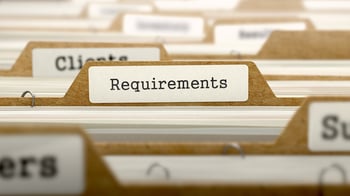 bench.
In most dry environments, HPL, or high pressure laminate, is a great choice. This type of material is very affordable compared to other types of countertops, ranging from $25 to $40 per square foot. Yet unlike several other materials, you can choose from a palette of colors and designs, such as marble and wood looks. This allows you to personalize your workspace for a high-end feel.
However, if your lab's application involves computer repair, the manufacturing of computer parts or anything related to working with electronics, you may want to consider more protection against ESD, or electrostatic discharge.
ESD is a natural occurrence in which electricity is passed through the body, or other conductor, and discharges onto an object. It can be extremely damaging to electronics, even in small amounts that a human may not feel.
An industrial ESD workbench is made with a high quality ESD laminate top that has an embedded carbon layer, which dissipates the static. ESD dissipation rates should be greater than 10/6th but less than 10/9th and be capable of handling 100,000 ohms.
You can read about some of your other countertop options in our article, Top 5 Materials To Consider For Your Lab Countertops.
5. Ample Storage For Tools And Accessories
While a simple standard lab bench may suffice to meet your computer lab's needs, you may find that storage space is a hot commodity, especially if your lab has additional applications.
For example, any type of computer repairs that may occur in your lab would require the use of several tools. The most efficient spaces will have these tools be readily available to employees or students. An unorganized workspace will likely lack the room to store these tools.
To solve this problem, there are several storage possibilities, from drawers to upper cabinets and shelving. When evaluating your options for drawers, consider whether you need to provide security. In this case, locks can be installed that require either a master key or its own individual key for access. Upper shelves can increase your storage space by holding important manuals or tools, while CPU holders can create a space for bulky computer equipment.
Other organizational tools for your computer workstations to consider include pegboards that can hold accessories, keyboard trays and articulating monitor arms for electronic equipment, and bin rails or panels that can hold parts, products or office supplies.
It is also important to consider that you may not need storage space and therefore allocate your funding to other necessities for your lab bench. For example, if your computer lab is being used for research or testing, you may not need the same level of storage that you would in another type of lab.
Customization That Meets Your Needs
To get the most out of your computer lab bench, it's important to work with an experienced manufacturer that can customize the design of your bench based on your immediate and future needs.
The best manufacturers will not only work with you to determine these needs, but offer space planning and additional ideas on how you can improve workflow while meeting any safety requirements you have in your space.
Make sure that your manufacturer will also give you a clear picture of when you can expect the design and completion of your computer work bench. The best companies will work with you to provide this information and ensure the delivery of your lab benches are made in a timely manner.