According to a Knoll Research Paper, Booming Biotech: Characteristics and Priorities of the Modern Biotech Workplace, the biotechnology industry has experienced accelerated growth in recent years because of "large pharmaceutical companies looking for their next blockbuster drug coupled with an aging population facing a long list of chronic diseases."
As a result, this has brought challenges in the workplace.
Biotech Workplace Trends
The Knoll Research Paper further explained, "Several factors are driving up the cost and complexity of the biotech workspaces today, including the pressure to be near an innovation hub, the need to attract top talent with excellent amenities and the need for flexibility to change workspaces as the company grows. All of these factors combine to make biotech workspaces uniquely challenging to create and maintain."
So, how does this impact biotech workspaces? Here are five areas Knoll has identified: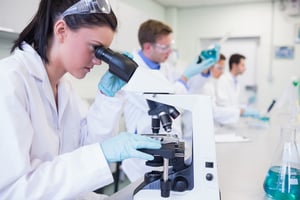 1. Changing Balance of Office to Lab Ratios - As a biotech company grows, the ratio of office to lab space varies. Young companies typically require less square footage and most of that is taken up with lab equipment and bench space, but this changes as drugs are developed. A 30/70 office to lab ratio is common at an early stage, followed by 50/50 when the drug shows promise, and then 70/30 as the drug is approved.
2. Need to Attract and Retain Employees - Building location, facilities and amenities matter to biotech companies because they matter to employee prospects. Class A, fully-outfitted lab spaces can be a way to attract top scientists. And other amenities such as walking paths, eating places, game rooms and fitness centers also help recruitment.
3. Encouraging Collaboration - Biotech companies want to make sure their employees are talking, collaborating and innovating together whenever possible. To create this atmosphere, biotech offices have moved to open seating, more meeting rooms, fewer private offices and more spaces with comfortable seating, monitors and power outlets to encourage interaction.
4. Adapting to Technology - With digital advances like 3D modeling software, robotics and data transfer through the internet from lab to laptop, lab space is not as populated as it once was. Scientists set up the process they need a machine to complete and then step away from the lab to work on other projects. But this means that labs have to be able to accommodate technology.
5. Provide Room for Focus - More open plans mean distraction, so biotech companies are building in areas or rooms for silent, concentrative work. Shared quiet spaces, as opposed to private offices, is the way designers are answering this need.
Trends Show Need for Modular Laboratory Furniture Systems
These trends in the biotech industry are a reflection of the trends in lab design today. And, we have been talking about many of these issues in our recent blogs.
Understanding these new lab needs helps companies employ furniture and space design strategies to not only meet current needs but also plan for the future.
Here are some of the strategies we suggested:
Plan With Flexibility In Mind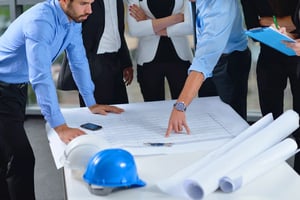 The changing nature of work in laboratories makes it necessary to have a facility that adapts to change.
One way to do this is to purchase laboratory furniture systems that allows their laboratory teams to transform their spaces to meet their changing needs by using mobile casegoods or modular workstations. This not only allows staff to be mobile, but also allows laboratories to move locations and reconfigure at the drop of a hat.
According to the National Institute of Building Sciences, one company designed their lab so that their "research teams were able to create over 60 different custom laboratory configurations" as soon as they moved in.
While building more flexibility into a lab building may cost more upfront, this built-in flexibility offers cost savings over time.
Designing for Collaboration
Many companies and research institutions are using collaborative research teams because of younger scientists coming from more contemporary academic models where students solve problems in team environments.
In this new work model, researchers share not only the space itself, but also equipment, bench space, and support staff. This open lab concept facilitates communication between scientists and makes the lab more easily adaptable for future needs.
Single-sided and double-sided modular workstations are perfect laboratory furniture systems to use in order to provide this type of collaboration.
Plan For Technology
It is important that companies incorporate their technology plans into their lab design. This information includes big pieces of equipment that need to be accounted for, how many people will be working in the lab or data and electrical needs.
Planning for this up front is crucial, because oversight can be very costly. If you have to bring in contractors in a hurry or after the fact to make changes, you will be paying extra money for their time.
Having a design now, with plans for growth that includes the use of the lab furniture you are planning to put in, will save you a big headaches and money later.
You can read more in our article, Top 6 Lab Design Mistakes Companies Make.
Summary
There is a lot to consider these days when designing a laboratory. And, today's businesses also have the added burden of anticipating what their future needs will be.
A reputable lab furniture manufacturer has experience and knowledge from working with lots of other companies. Let them share that with you and help you design a lab that can serve you well today and long into the future.