Fume hood safety should be one of the top considerations when looking for a new fume hood for your lab. Some techniques for ensuring fume hood safety in a lab are obvious, but some are less obvious, especially when the lab designer is not familiar with fume hood design and protocols.
The following is a basic primer to help you ensure that your lab meets standards for fume hood safety.
Basic Design Features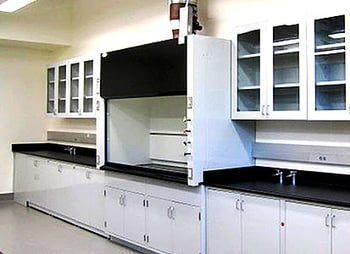 All fume hoods include a mechanism for venting noxious chemicals and dangerous substances away from the person performing the work. They provide an enclosure on three sides, with the fourth side open for the lab worker to operate.
Fume hoods have a fan that creates a positive airflow to pull contaminants into the filtration system. The major difference in fume hood design occurs in the manner used for venting the contaminated air.
Ducted fume hoods vent air to the outside, using the buildings existing HVAC ductwork. Ductless fume hoods pass the air through a charcoal filter to trap contaminants, and then returns the cleaned air to the room. Whether your lab needs a ducted or ductless hood depends on multiple factors, including the types of chemicals and materials used, the temperature of experiments or projects and even the skill level of the lab technicians.
For example, students and novice technicians are often safer with ducted fume hoods, because there are fewer adjustments. Labs that use only a few chemicals and need a fume hood only rarely use a ducted fume hood, as a ductless fume hood is adequate and saves money.

Ducted Fume Hoods
Ducted fume hoods can handle a variety of chemicals, even those that cannot be adequately filtered using charcoal. Fumes from procedures are safely vented outside using the building's existing ductwork, so there is little or no danger of contamination in the lab.
Ducted fume hoods are stationary, with a fixed position in the lab. This ensures that there is always adequate egress from the lab in case of fire or chemical dispersion. Ducted fume hoods also come in an array of standard sizes, so you can choose the size that works best in your lab layout.
If you need to connect your fume hood to gas lines, ducted fume hoods often have the connections built in, so you can plumb them directly to the gas lines. This reduces the risk of improper or incorrect connections, helping to ensure the safety of your lab procedures and personnel.
Ducted fume hoods can include sinks, electrical outlets and come with a wide variety of countertop options that can stand up to any range of chemicals or temperatures.

Ductless Fume Hoods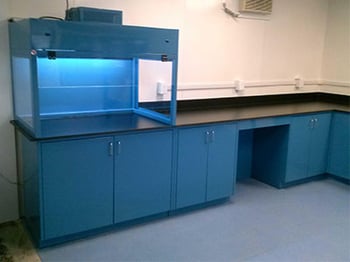 Ductless fume hoods are great for use in existing buildings where the ductwork is inaccessible or where it provides inadequate volume. They are also a good choice in a lab that only does procedures intermittently, or that does procedures that require only a few chemicals.
It is less expensive to purchase and install a ductless fume hood, because they do not require permanent attachment to ductwork. Because ductless fume hoods run only when in use, they may be more cost effective, although the initial cost advantages may be outweighed over time by the cost of replacement filters.
To learn more about the benefits of ductless fume hoods, check out our recent blog on the topic.

SEFA Certification
Regardless of whether you are leaning toward a ducted or ductless fume hood, fume hood safety should be your first consideration. Be sure the fume hood you are considering is rated for the temperature, volume and chemicals you will use, and always look for the SEFA certification seal.
SEFA (The Scientific Equipment and Furniture Association) works with laboratory owners, architects, contractors and others to advance the goal of creating a safe lab environment. SEFA members, who are furniture and lab equipment manufacturers, are committed to laboratory safety and quality. They work together to establish and monitor industry-wide recommended practices for fume hoods, laboratory work surfaces, furniture installations, casework and fixtures.
Buying SEFA certified hoods helps ensure the safety of lab employees and the quality of your results. SEFA member companies work with their customers to recommend the best equipment for fume hood safety. Read our recent blog post on the topic to learn more about the SEFA process and the benefits of buying SEFA certified lab equipment.