Metal offers a sleek, modern look for any workspace. In fact, because of its sturdiness and durability, metal is frequently used in many commercial and retail markets.
However, if your laboratory experiences extreme conditions or works with harsh chemicals, it is important to choose a metal that is durable and resistant to damage.
But, are metal workstations right for your lab?
It depends on several factors, including the types of experiments or work conducted in the lab and your budget.
Steel
Most steel cabinetry is made of heavy duty, 12-gauge steel for heavy-duty use. This type of metal usually features a powder coat finish, which helps prevent cracking, peeling and chipping of the surface. The powder coat also prevents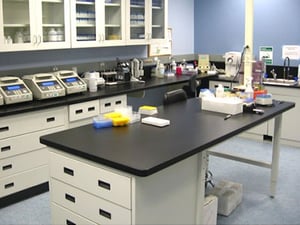 damage caused by abrasive and corrosive chemicals.
Steel finishes offer several other benefits as well. In addition to being heavy duty, this material offers:
Moderate bacterial resistance
Moderate chemical resistance
Moderate scratch resistance
High fungal resistance
High water and moisture resistance
One of the greatest benefits of choosing steel for your metal workstation is that compared to other materials, steel is low to mid-price.
With any material, however, there are some drawbacks. Perhaps the greatest drawback to steel is that it can dent on impact. That means if your laboratory frequently moves around heavy equipment, damage may occur more easily.
If bacteria or chemical resistance is an issue for your lab, it should be noted that steel is moderately resistant to bacteria and chemicals. In the unlikely event that metal cabinetry is splashed with a chemical during a spill, for instance, steel is easily cleanable. Pairing steel cabinetry with a workbench top that is more resistant to bacteria and chemicals can provide the appropriate level of protection for your workspace.
Typically steel is best used in applications such as clean rooms, dental offices, spaces with electrostatic discharge requirements, industrial testing facilities, photographic dark rooms, product testing facilities, research facilities, and development, school and scientific urology labs. Steel can also be a great material in labs where excessive moisture may be an issue with other materials.
Stainless Steel
Stainless steel is made of low carbon steel composed of chromium and nickel. This metal material makes it a great option for labs where rust and corrosion are a concern, such as wet labs and during intense liquid-based sterilization processes.
The nickel in stainless steel also makes this material heat resistant. Stainless steel can sustain continuous heat exposure above 1500 degrees F, although there may be some discoloration with prolonged high temperatures.
Stainless steel is also non-porous, so liquids, bacteria, fungus and mold have a difficult time penetrating surfaces. With routine sanitation practices, the risk of germs spreading or cross contamination occurring is significantly reduced.
Stainless steel finishes offer several other benefits as well. In addition to being moderate to heavy duty, this material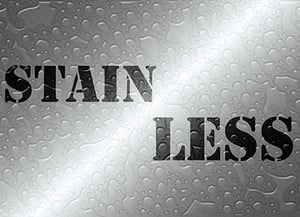 offers:
High bacterial resistance
Moderate chemical resistance
Moderate corrosive resistance
High fungal resistance
High water and moisture resistance
Although stainless steel offers many benefits, it does have low scratch resistance and can dent easily on impact. It is also higher in price, compared to other materials used to construct workstations for laboratories.
Because of this material's benefits, stainless steel is a great option for laboratories that perform animal research, autopsies, biological science experiments, food tests and tests in which the results depend on non-contamination. Stainless steel is often found in clean rooms, hospitals, medical facilities and pharmaceutical labs because this material is easily cleanable and is resistant to many cleaning agents.
Other Considerations
When searching for steel or stainless steel casework, there are a few considerations to keep in mind that will help ensure you get a high-quality product for your lab.
Look for a manufacturer that offers upgrades or customizable options. For example, stainless steel casework can be upgraded to medical 316 stainless steel if needed for a laboratory's application.
Our article, How To Customize An Industrial Workbench With Storage, further explores features you should consider before choosing a workstation, including the weight load capacity, the durability and strength required of your workstation, and storage options available to you.
In addition to countertops, several features of a workstation can also be available in steel or stainless steel, including shelving, cabinets, drawers and drawer handles.
Also, working with a company that guarantees all cabinets and workstations are built in the United States ensures higher quality and craftsmanship.
Final Thought
Metal offers a sleek, streamlined look that is sought after in many laboratories. Many steel and stainless steel products can be customized to meet the aesthetic look of your lab and the needs of your application, from customized colors to storage designs.
It's important to do your homework, however, when it comes to choosing which type of metal is best for your lab to ensure your purchase is an excellent long-term investment.
Not sure whether metal workstations are right for your lab? Our article, Selecting The Right Material For Your Lab Casework, provides an overview of some of the most commonly used materials in laboratories so you can better determine which one meets the needs of your applications.