You don't want to be known as the person that tried to save a few bucks and put your employees or students in harm's way by making a bad laboratory design and purchasing decision.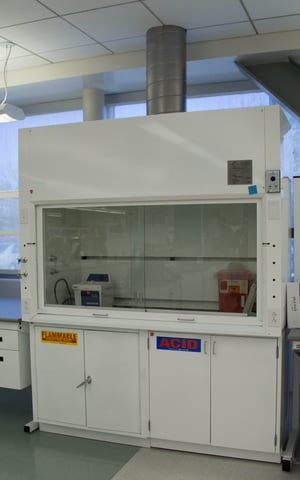 An important safety decision comes when it's time to purchase a chemical fume hood for your new laboratory or during a redesign.
Let's be honest the stakes are high. Check out this article about a tragic laboratory accident at UCLA to see the potential consequences of working in a fume hood.
With ductless fume hoods becoming a new popular alternative, there are many questions that should be asked to determine the MOST appropriate fume hood for your laboratory project - ducted or ductless.
Here are a few:
Do you work with more than 10 different chemicals?
Are you working with small or large volumes of chemicals?
Does your lab have a high volume of inexperienced people working with chemicals, such as a university lab?
Does your building have an HVAC system and a team to manage it?
Is mobility necessary for your operation?
Do you have techs that can properly maintain a system, e.g. changing out filters?
By answering these questions about how you work with chemicals in your lab, you can determine the appropriate application for your needs.
The Standard – Ducted Fume Hoods
There are generally two types of fume hoods, the standard type of ducted fume hoods which have ventilated enclosures, operate within the framework of your building infrastructure and pull contaminants out of your building through the HVAC system and the newly popular ductless fume hoods which operate off a carbon filter system that recirculates filtered air into your building.
Ducted fume hoods are considered the safest for workers in laboratories, and its often the easiest for employers to maintain. Many universities ONLY allow ducted fume hoods in their facilities to maintain worker and student safety.
Ducted fume hoods have a base, work surface, hood, blower and ducting that carries the air outside of the building. The engineer of the heating, ventilation and air-conditioning (HVAC) system needs to determine if your room has enough air to provide the necessary volume of ventilation to the hood.
From a user standpoint, once they are installed they are easy to operate and maintain. Once it is installed it does its thing and expels air outside of the building. The maintenance of the fume hood is performed as part of the buildings maintenance, and is generally performed by those in charge of the mechanical systems.
Typically, the Maintenance or Environmental Health and Safety team take care of any issues and lab techs needn't know how to maintain the system.
Your HVAC engineer can work with your team to provide optimal air supply, and balance, so that everything functions properly within the fume hood.
The Alternative – Ductless Fume Hoods
Ductless hoods are often referred to as re-circulating range hoods. They filter the air, generally through a carbon filter, and then return the clean air back into the workspace. They are self-contained filtered laboratory enclosures. Their primary features are mobility, they save energy, are easy to install and cheaper because no ductwork is required.
The disadvantage is that workers are at a greater risk of chemical exposure, filter maintenance is required, they can be noisy due to the internal blower and there are limited applications for filter options.
Ductless fume hoods are ideal for labs that require mobility, handle light to moderate chemical loads and are looking for a cost-effective option from both an installation and operational perspective.
How Do I Choose?
Laboratory safety and workload should be the primary deciding factors in your decision. In a ductless fume hood there should be no extreme heating, no more than 10 chemicals should be used per application, small volumes of chemicals should be used (approximately 500 mls or less) and exposure time should be within 2-3 hours per day.
Another important question to ask if you are considering the ductless route, is will the chemicals you are using adequately filter through carbon?
There are a range of filters that have different chemical trapping capacities but if your application doesn't match available filters you'll be required to move forward with a ducted fume hood.
Talk to your fume hood provider about the various filters for chemical groups.
Last determine how often you will be replacing your carbon filter, this will also give you a more accurate financial cost. Keep in mind that the filter life depends on the chemicals used, evaporation rate, chemical volume, duration of usage and the temperature of the chemicals.
Ductless fume hoods are growing in popularity, but ducted fume hoods in many cases are the more appropriate choice for most laboratory operations.
Make sure that you have the right application for your job. Speak to an expert fume hood manufacturer today, so that your lab does not go up in smoke!